Escape to paradise in this spacious vacation home in Lighthouse Point, Florida. With 3 bedrooms and 2 bathrooms, this split floor plan house is perfect for families or groups of friends. The master bedroom boasts a comfortable king bed, en-suite bathroom, while the two guest rooms are both equipped with comfortable queen beds.

Relax in the hot tub after a long day at the beach or unwind in the backyard hammock. The house is fully furnished with new and modern furniture, and all appliances have been updated. Plus, with on-site washer and dryer, you'll have everything you need for a comfortable stay. The windows are impact windows, ensuring your peace of mind and safety.

As you enter the house, you will be greeted by a modern and stylish interior. The open-concept living area is perfect for entertaining and spending time with loved ones. The large windows allow for plenty of natural light, creating a bright and airy atmosphere.

The kitchen is fully equipped with all new appliances, including a refrigerator, stove, oven, dishwasher, and microwave. You'll have everything you need to cook delicious meals during your stay.

The backyard is the perfect place to relax and unwind. The hot tub is the perfect spot to soak and relax after a day at the beach. The hammock is a perfect place to relax and enjoy the Florida sunshine. The backyard is also a great place to entertain and spend time with loved ones. There is plenty of space for everyone to enjoy.

Lighthouse Point is a charming and picturesque city that offers plenty of activities for visitors. Whether you're looking to spend time at the beach, explore the local parks, or try some of the local restaurants and shops, you'll find something to suit your interests. The city is also home to the famous Hillsboro Inlet Lighthouse, which is a must-see attraction.

Book your stay today and experience the best of Florida living in this beautiful vacation home in Lighthouse Point. With its spacious interior, modern amenities, comfortable furnishings and comfortable sleeping arrangements, you're sure to have a relaxing and enjoyable stay. Whether you're looking for a family vacation, a romantic getaway, or a fun-filled adventure with friends, our vacation home is the perfect place to make memories that will last a lifetime.

*Please note that there are two Ring Cameras on the front and side of home. They cannot access any private areas whatsoever.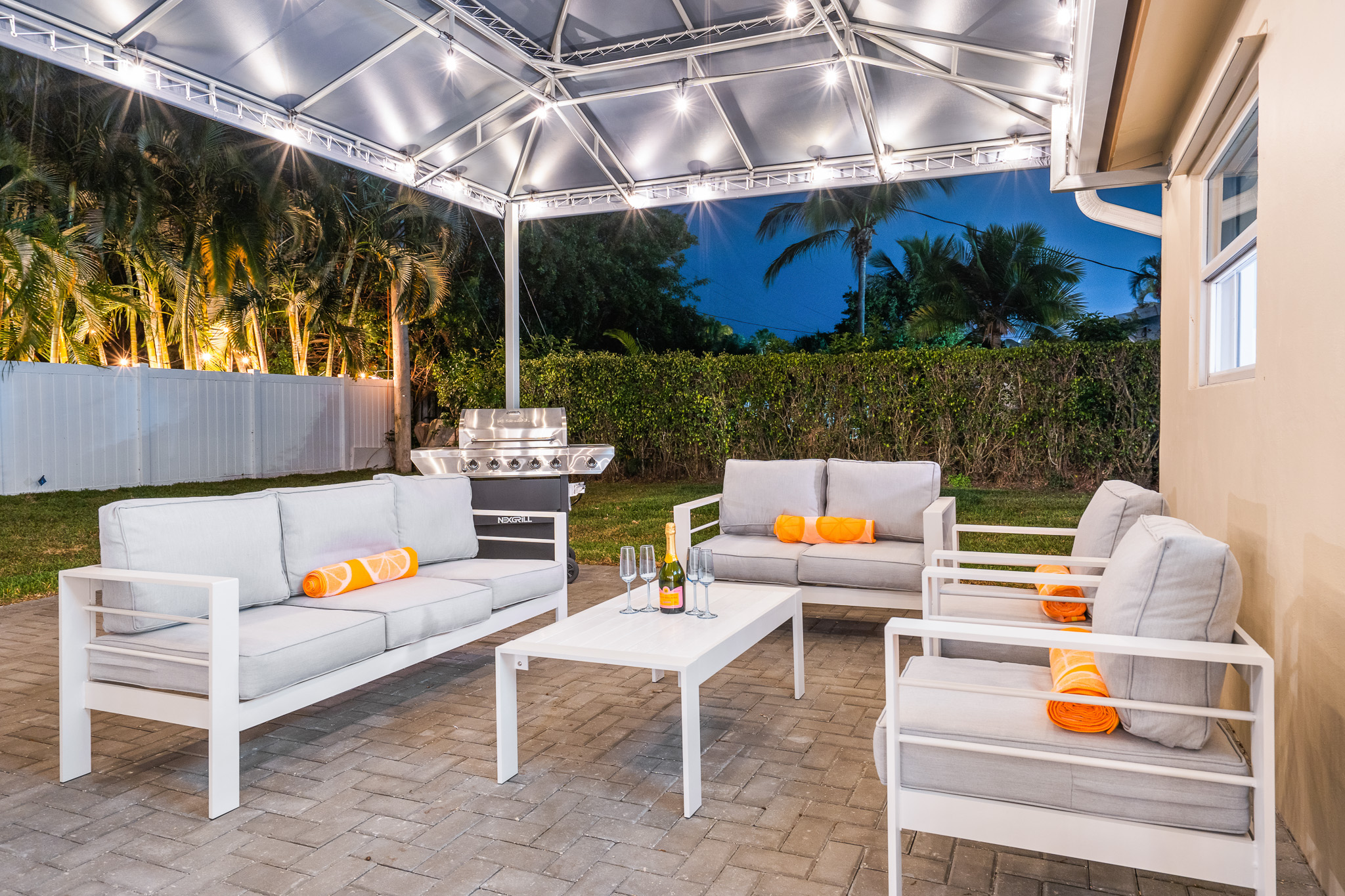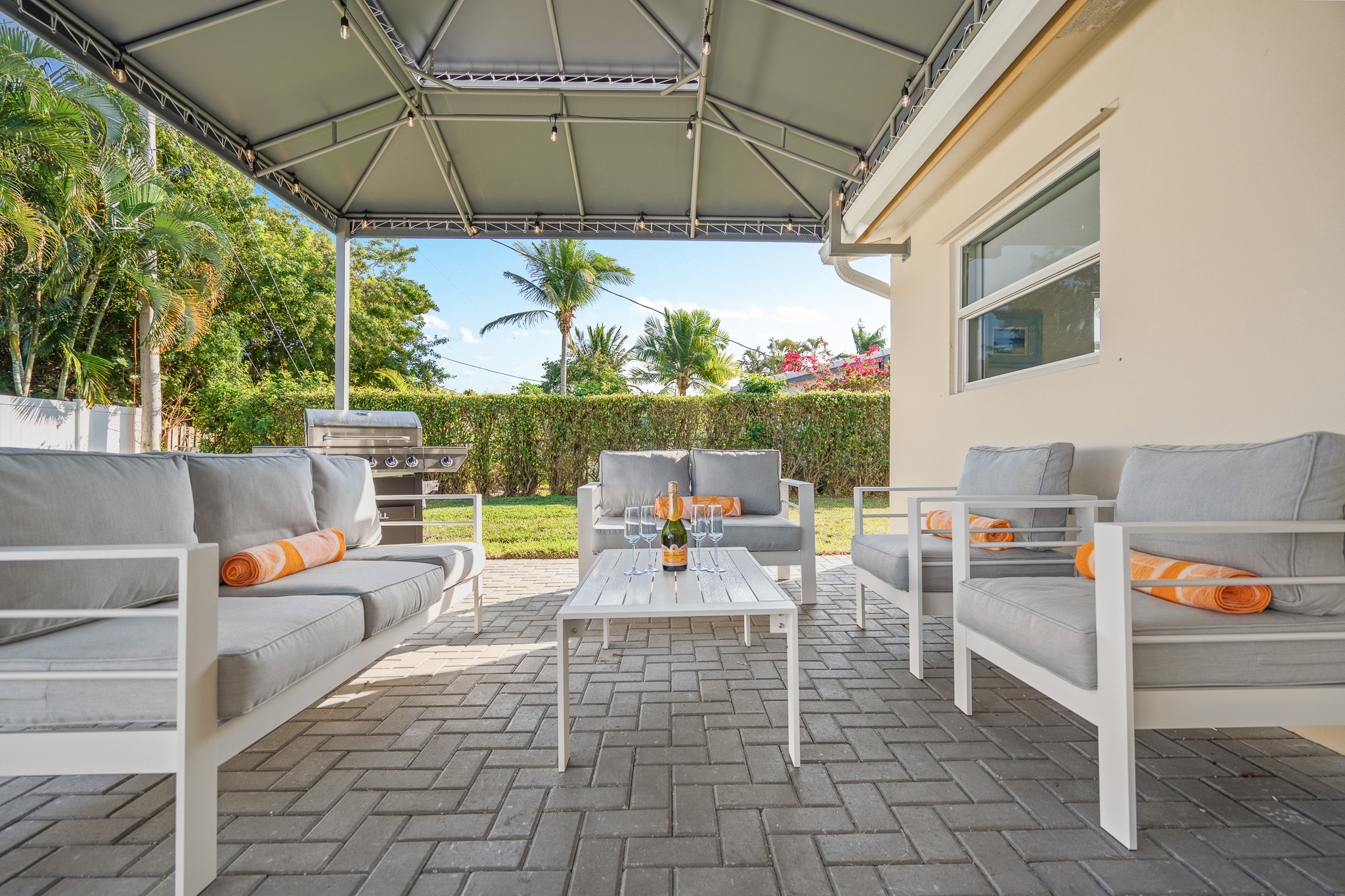 Stay out of the sun and relax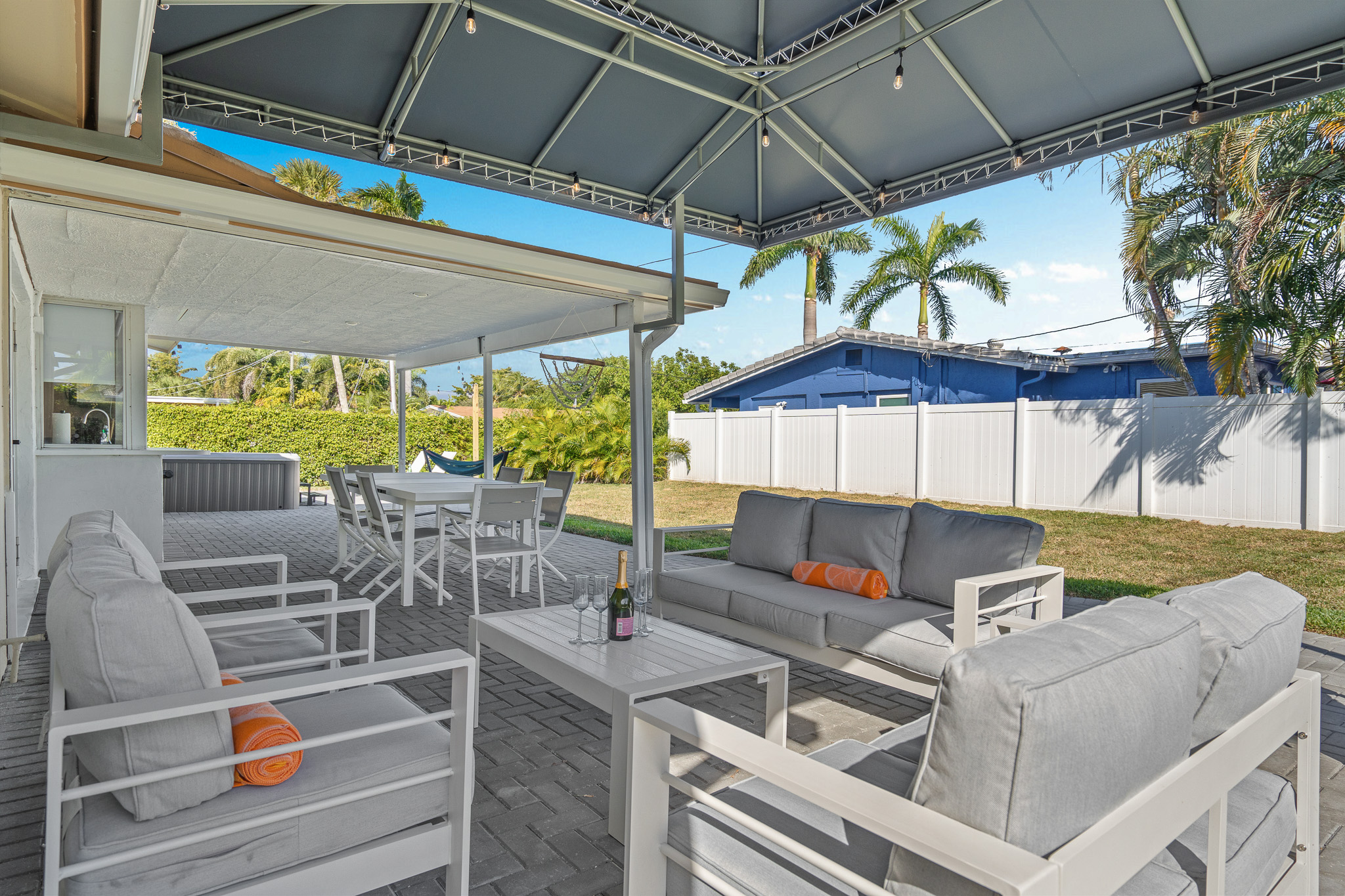 Lots of covered space for lounging and dining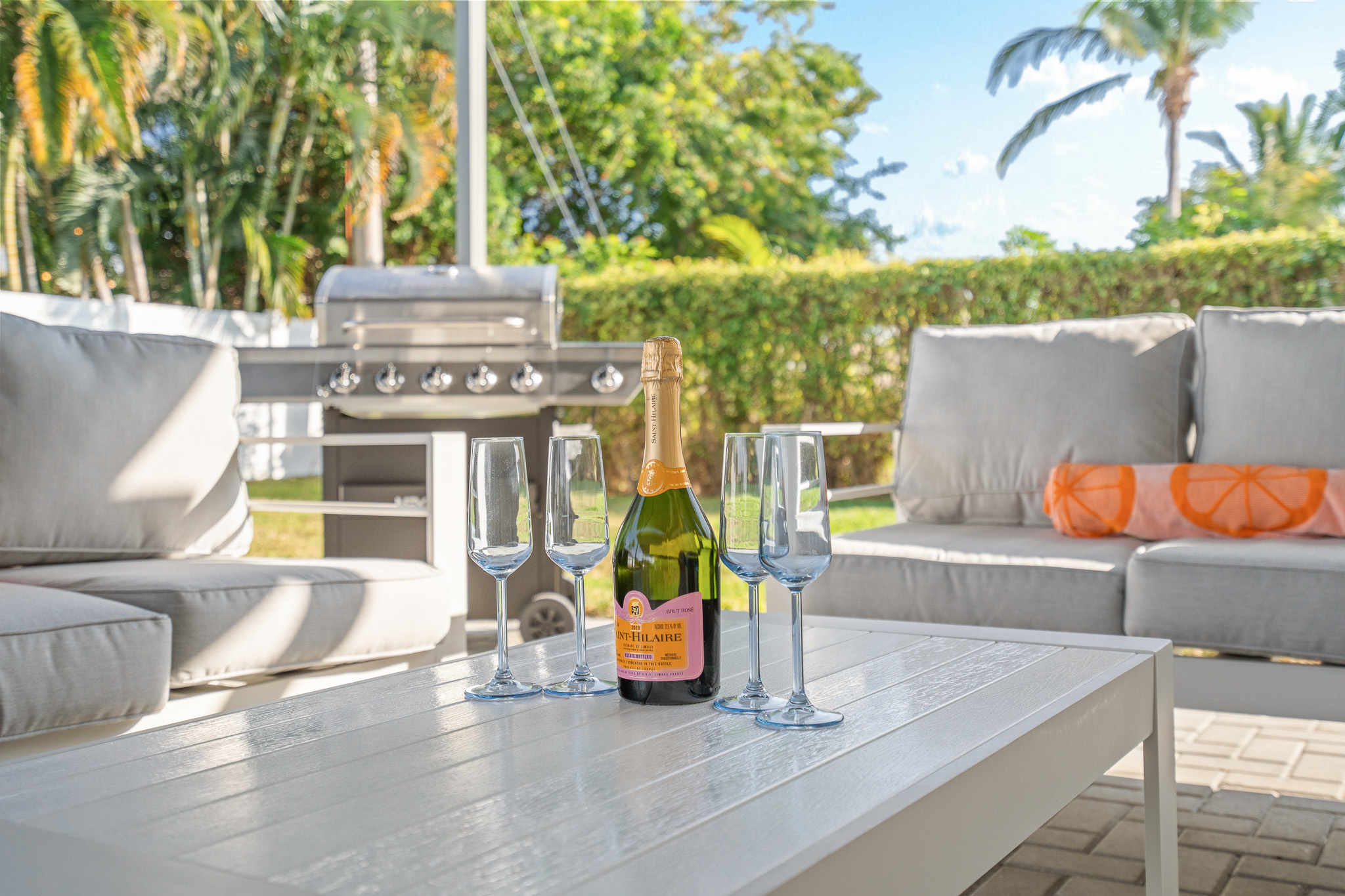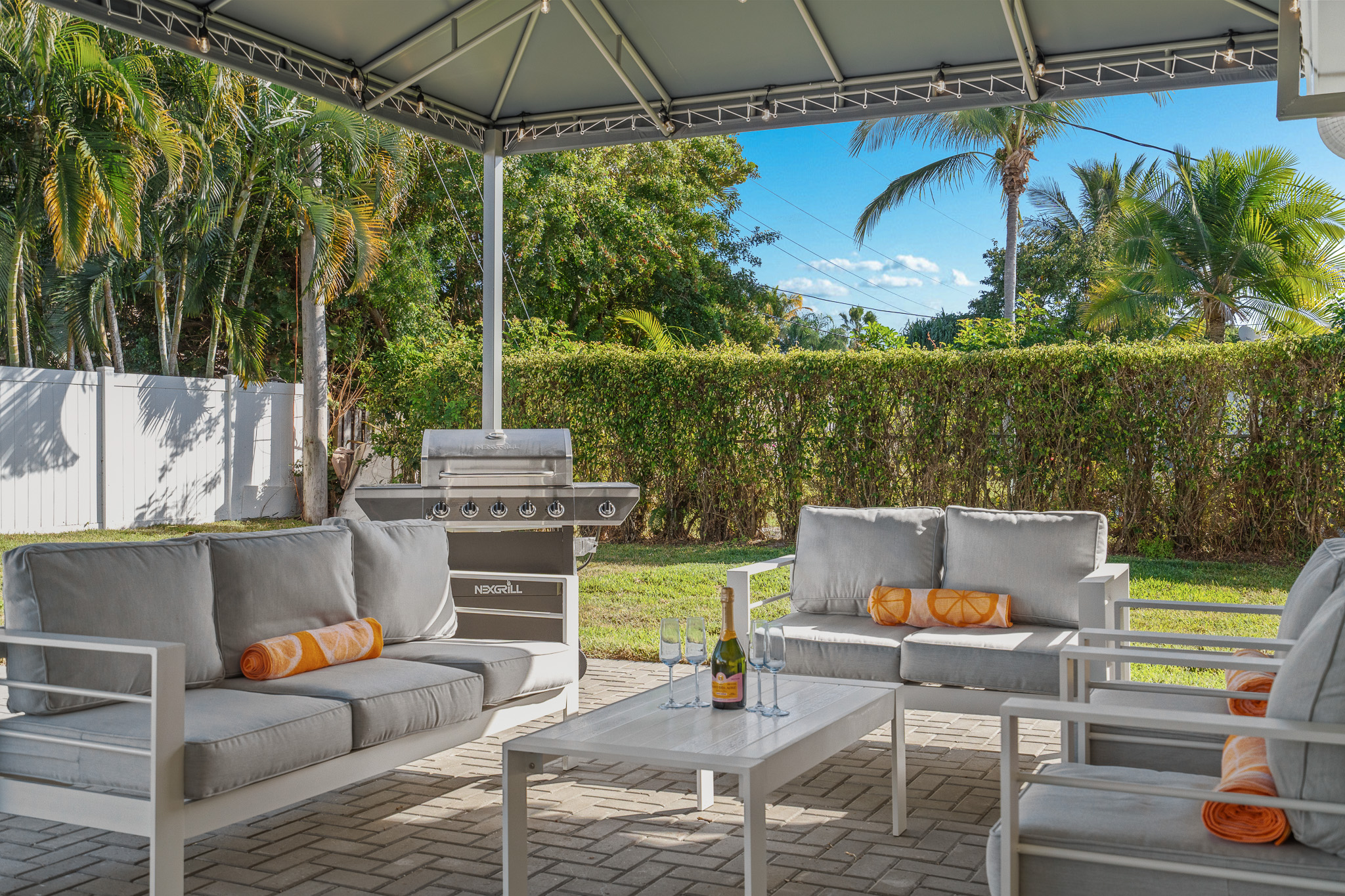 Life is good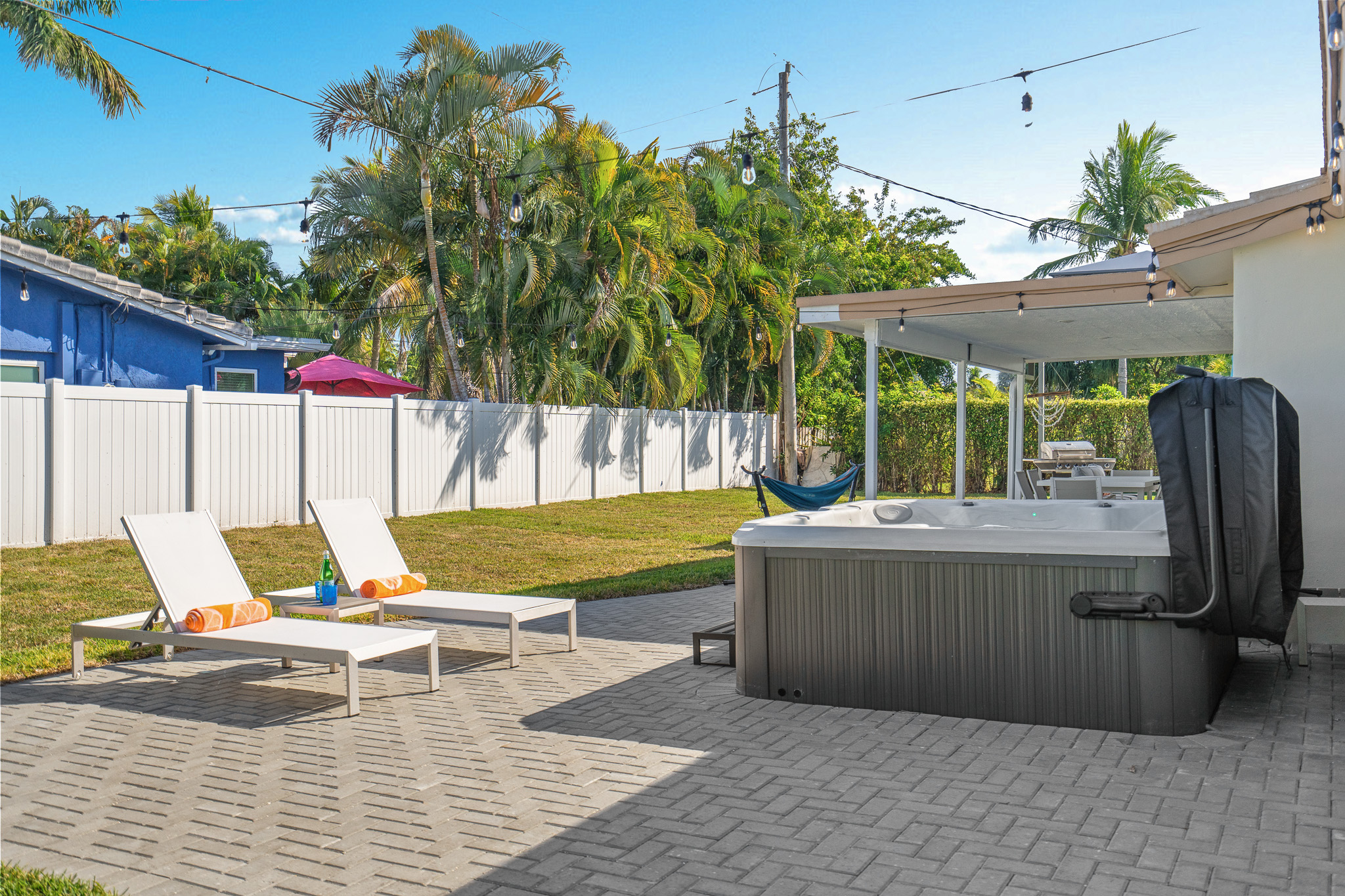 Sunbathe or go in the jacuzzi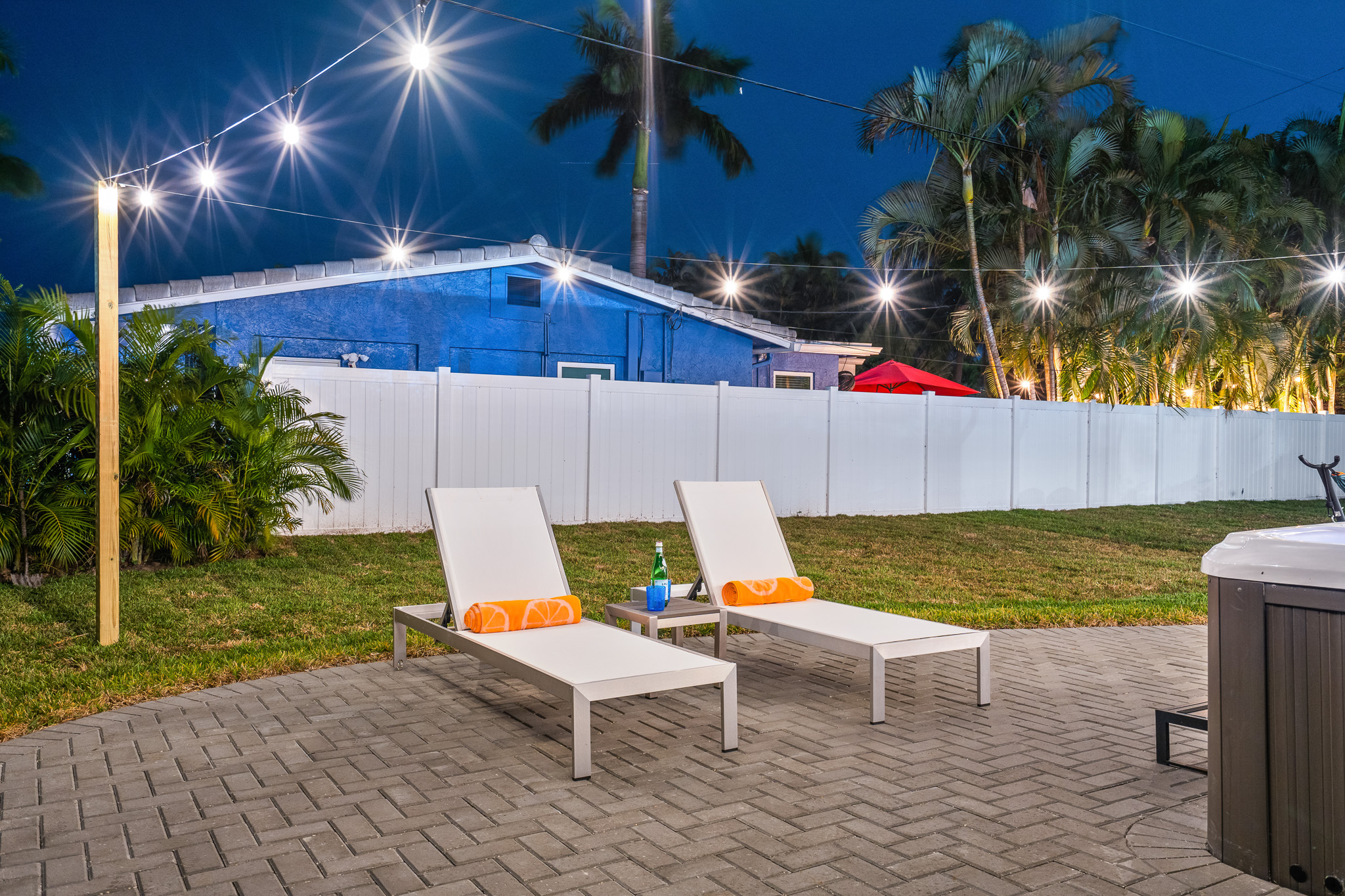 Take a nap in the evening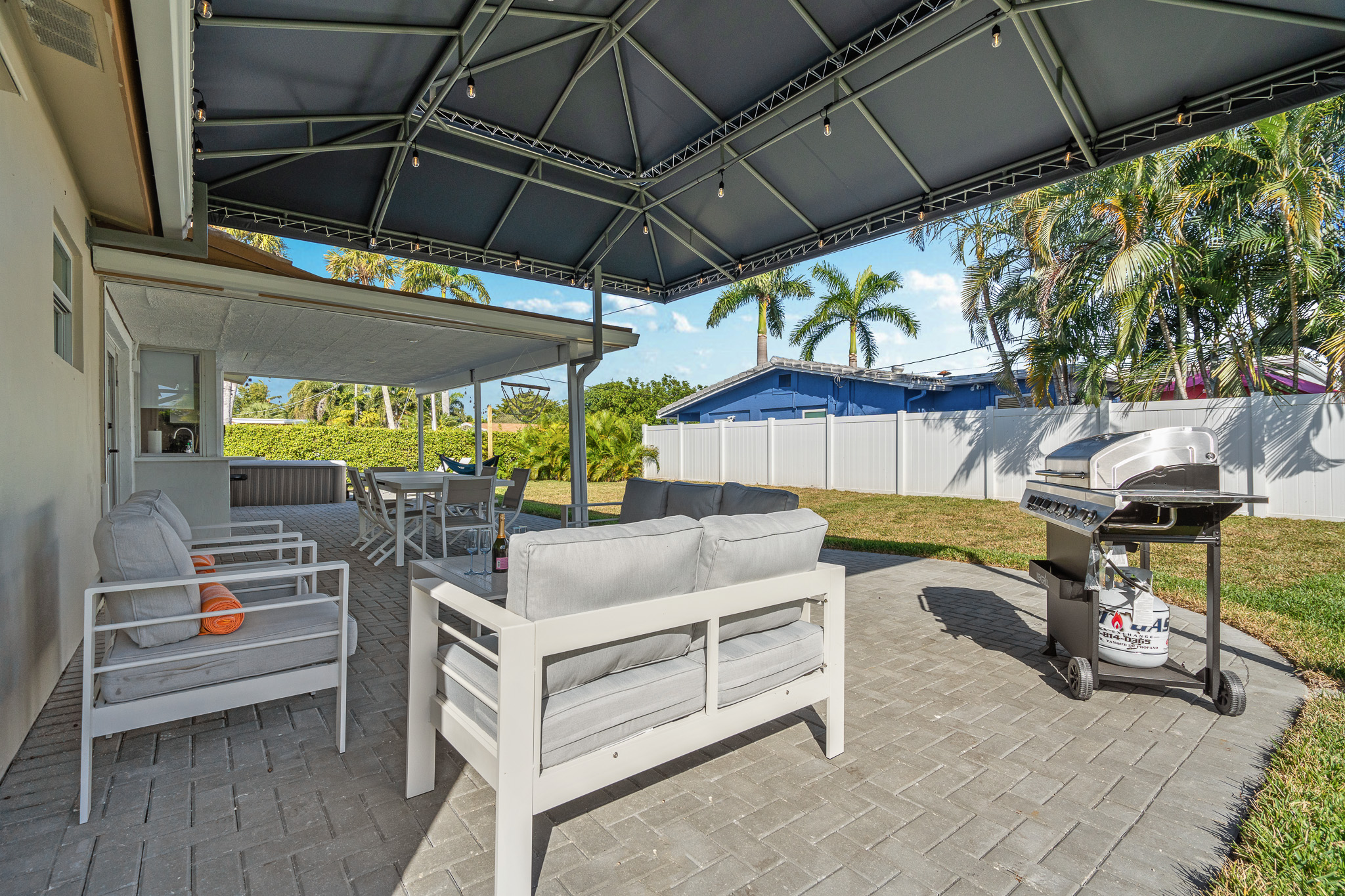 A fenced in private yard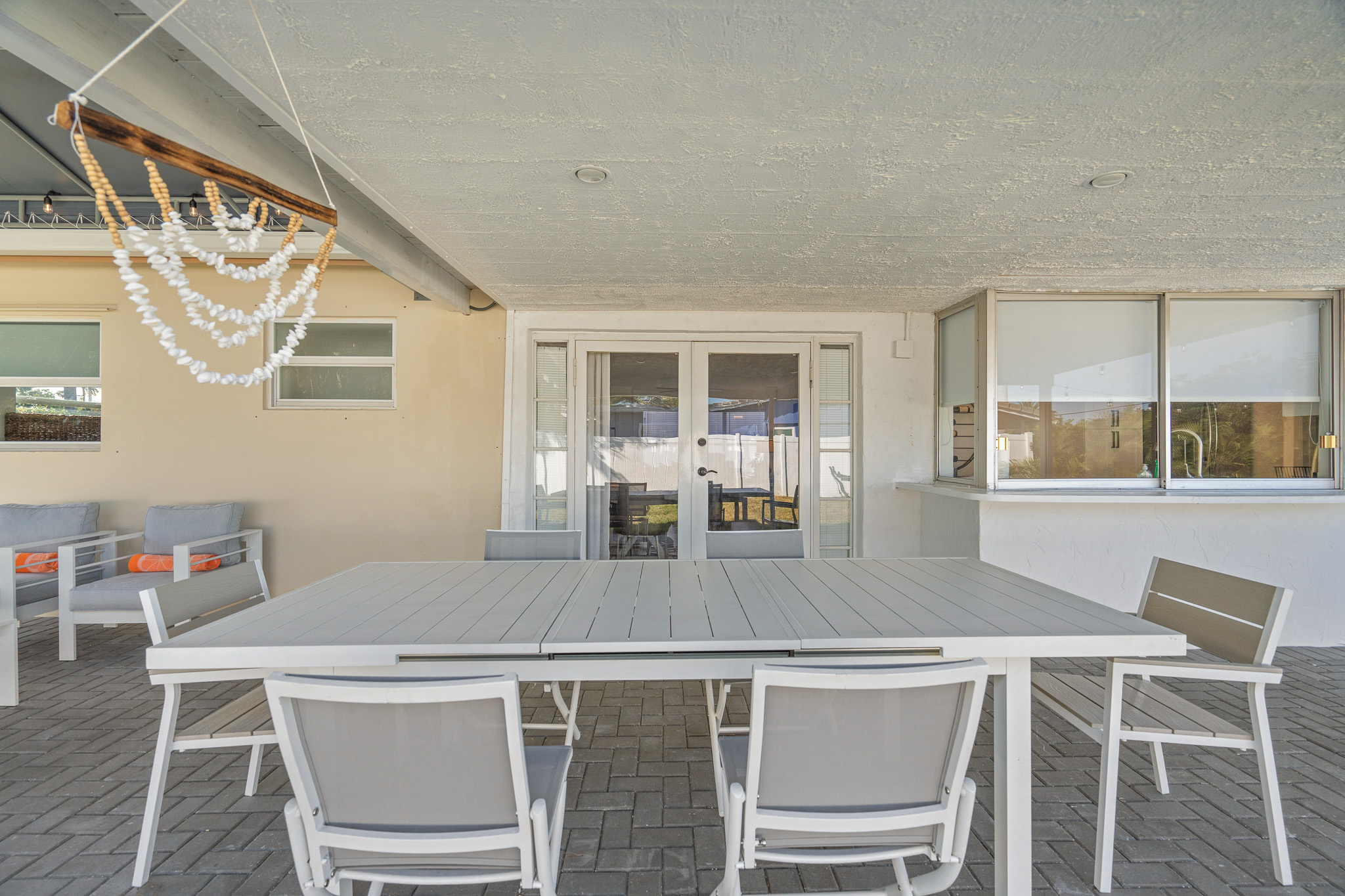 Covered area alfresco dining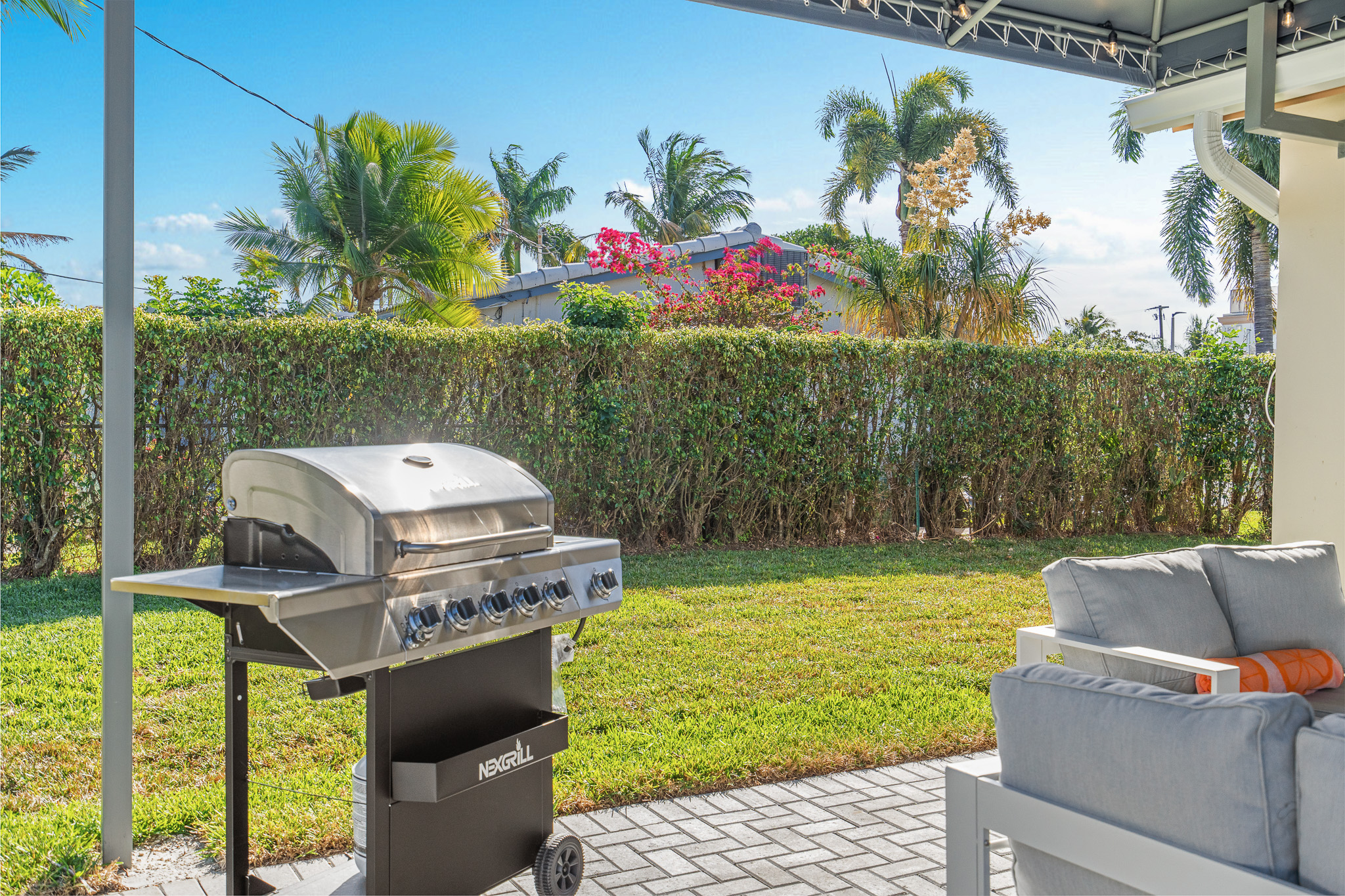 Great gas grill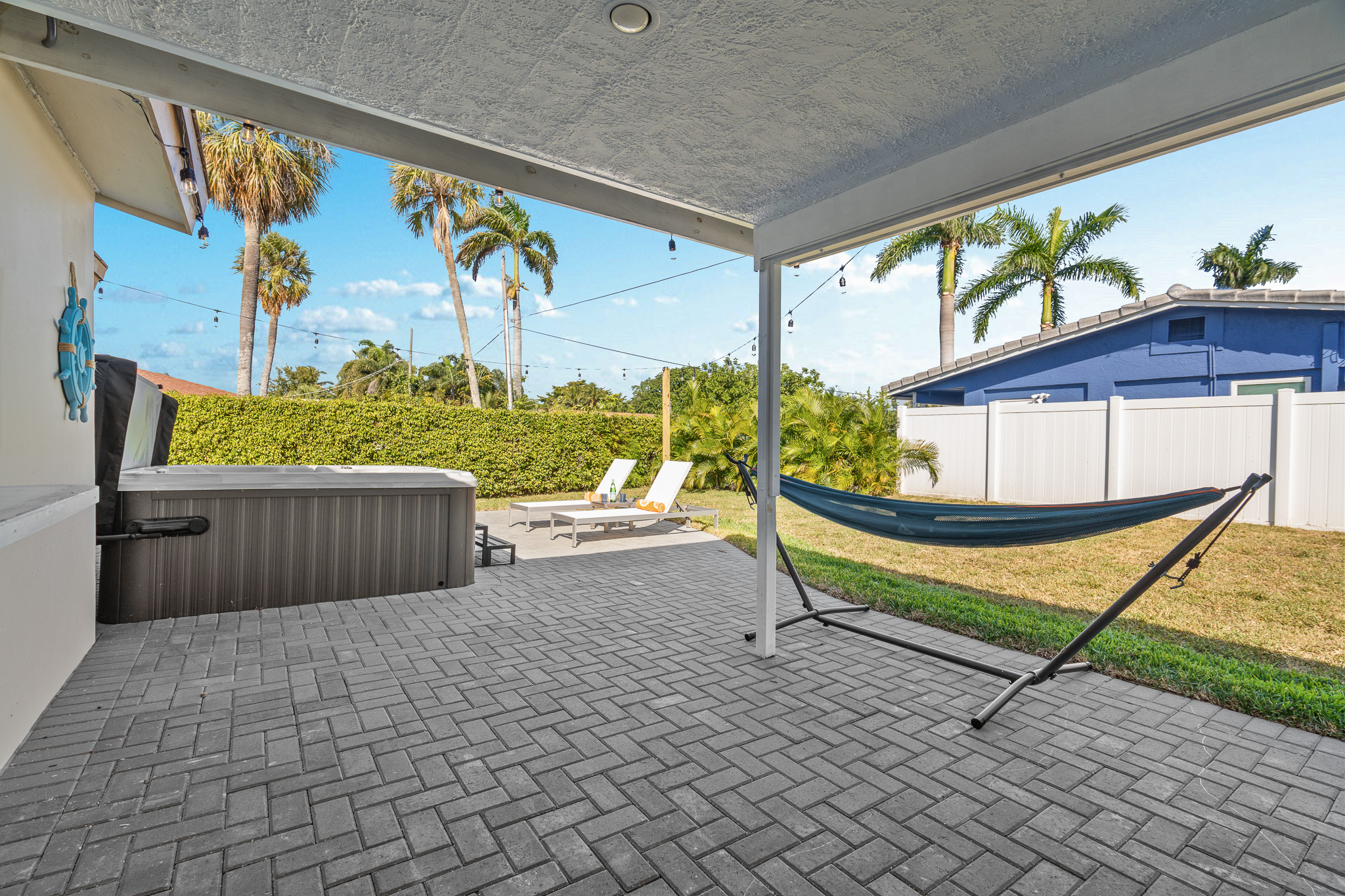 Relax in the hamock
Enjoy dinner come rain or shine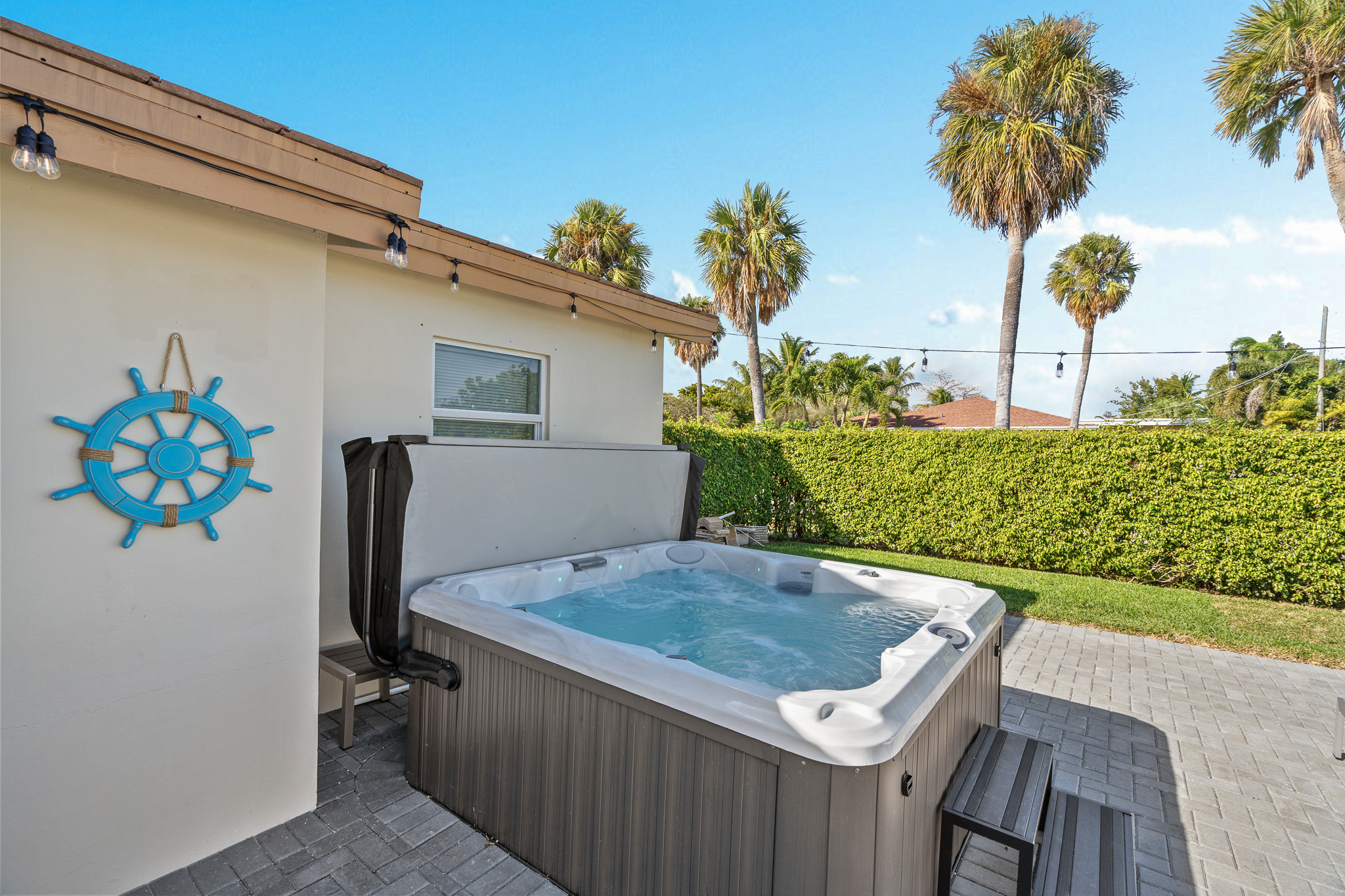 A large jacuzzi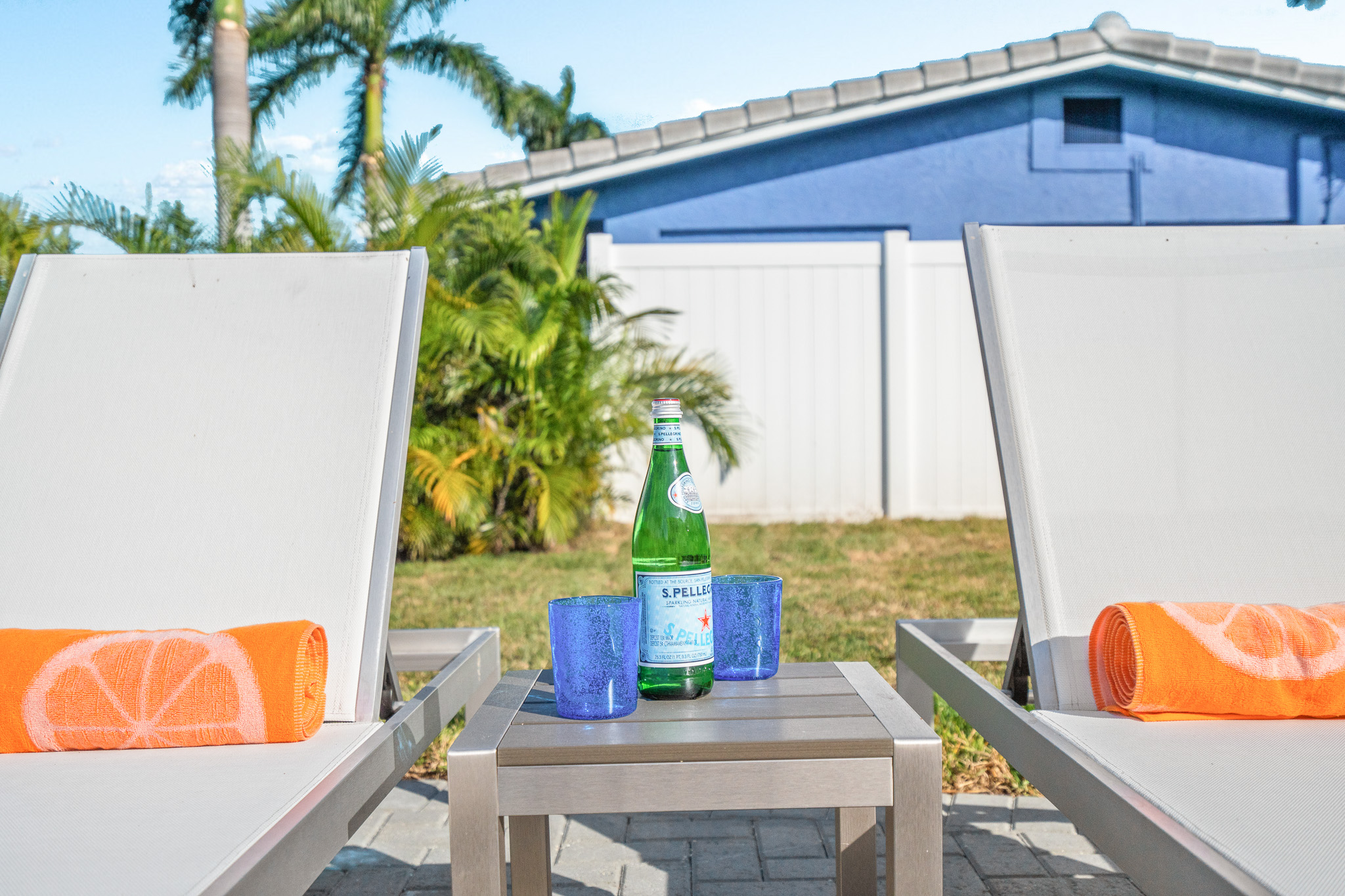 Enjoy a cold drink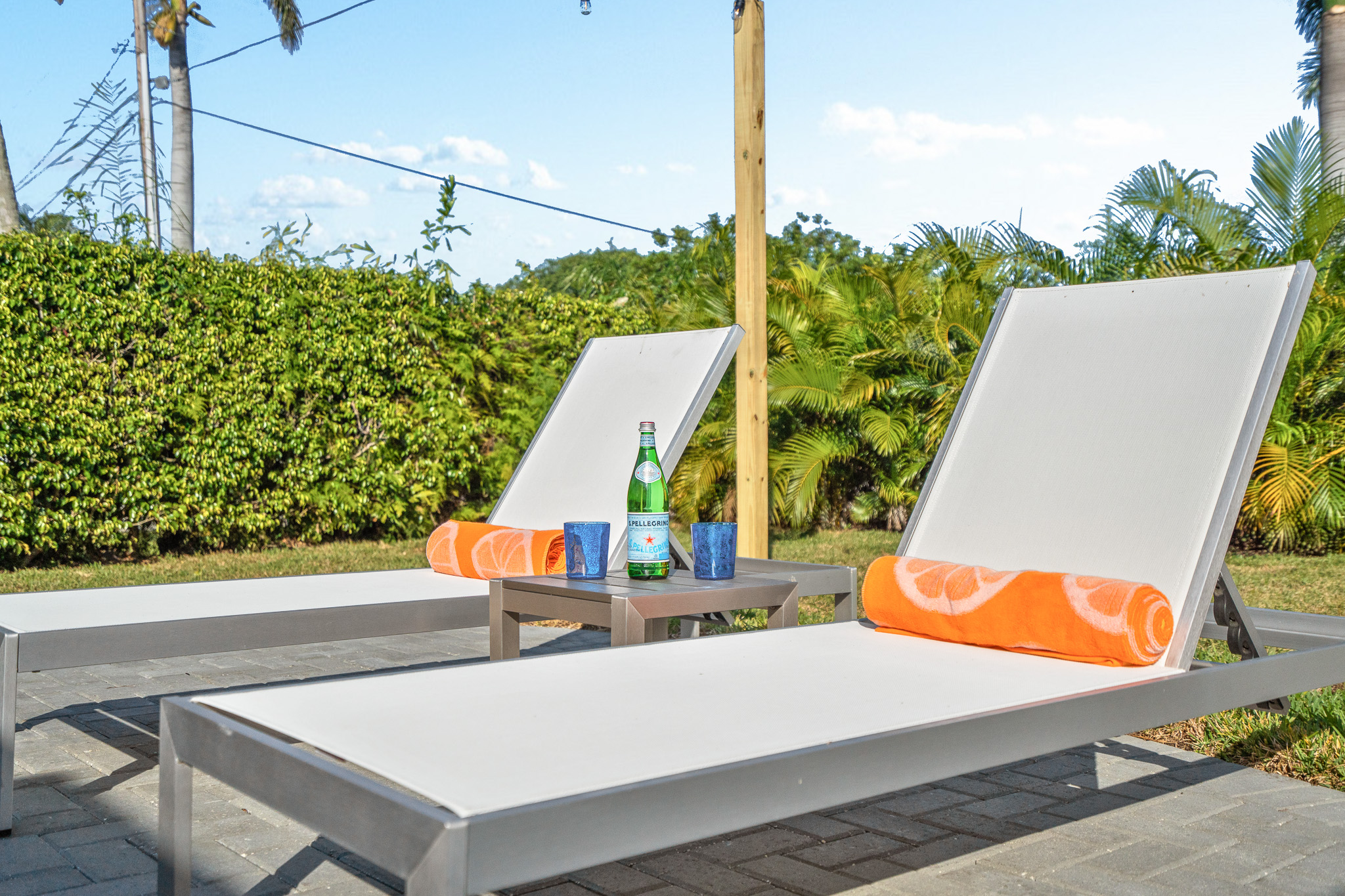 Nice and comfortable chaise lounges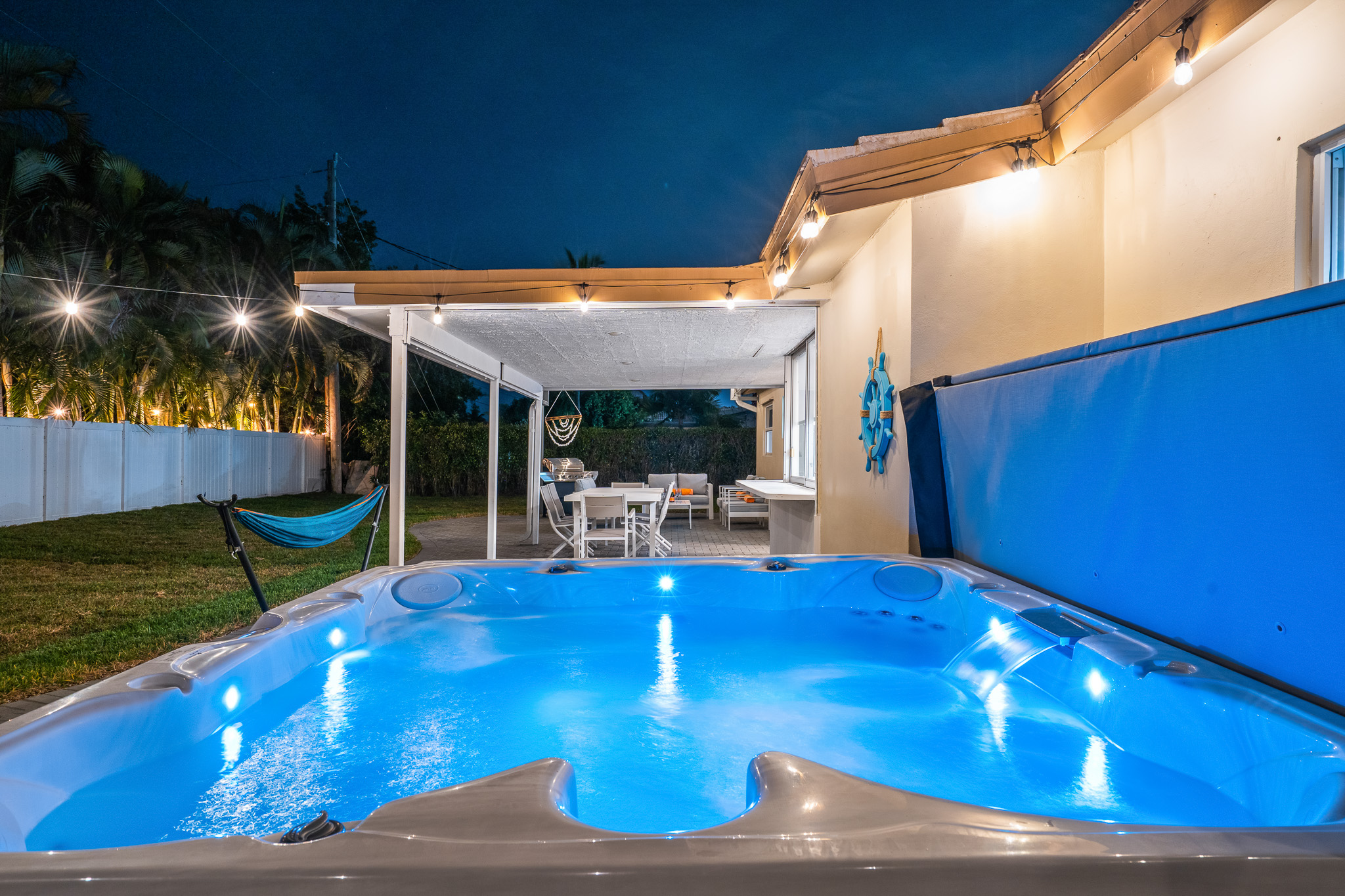 Enjoy the jacuzzi at night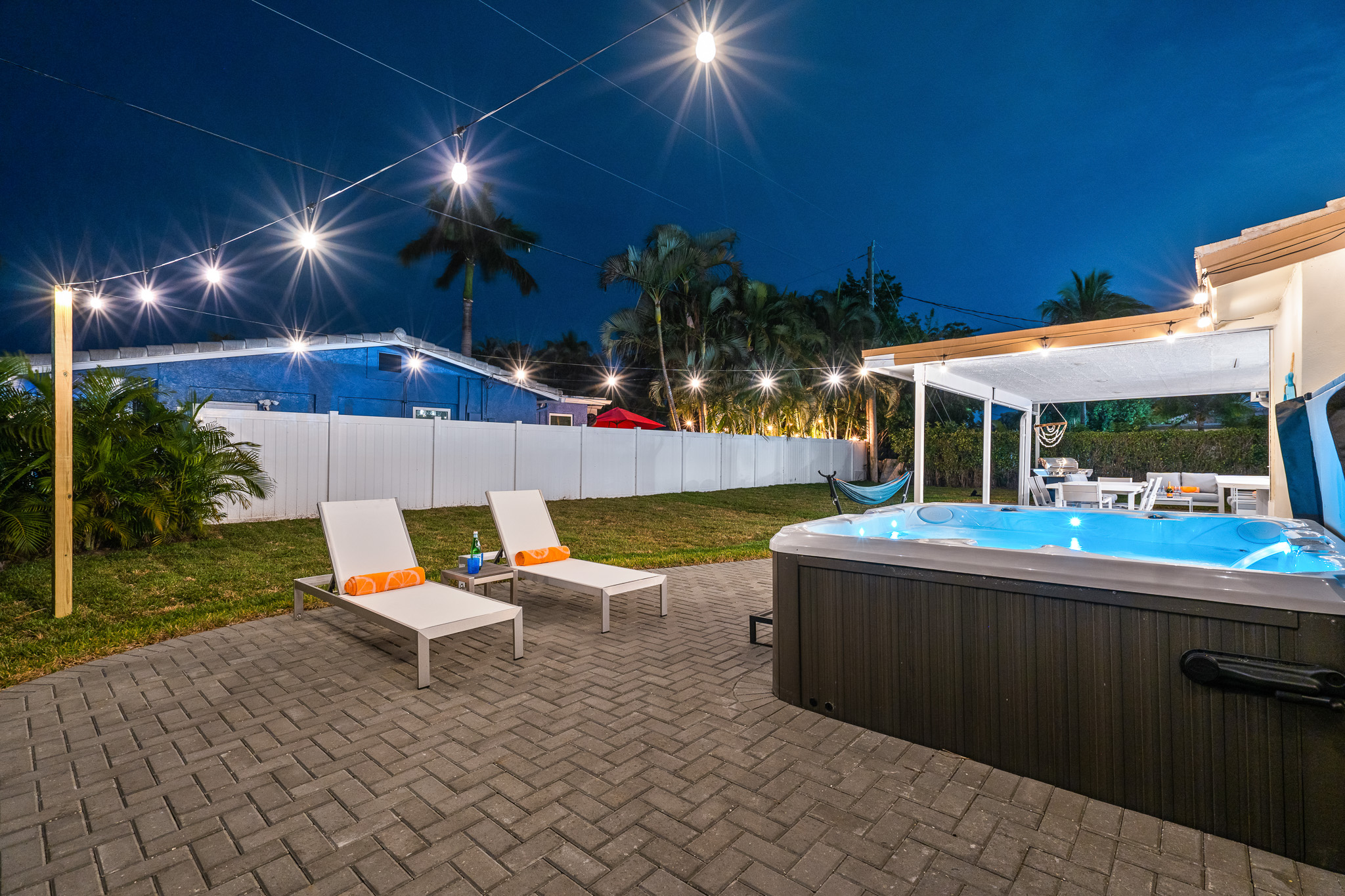 Enjoy the jacuzzi in the evening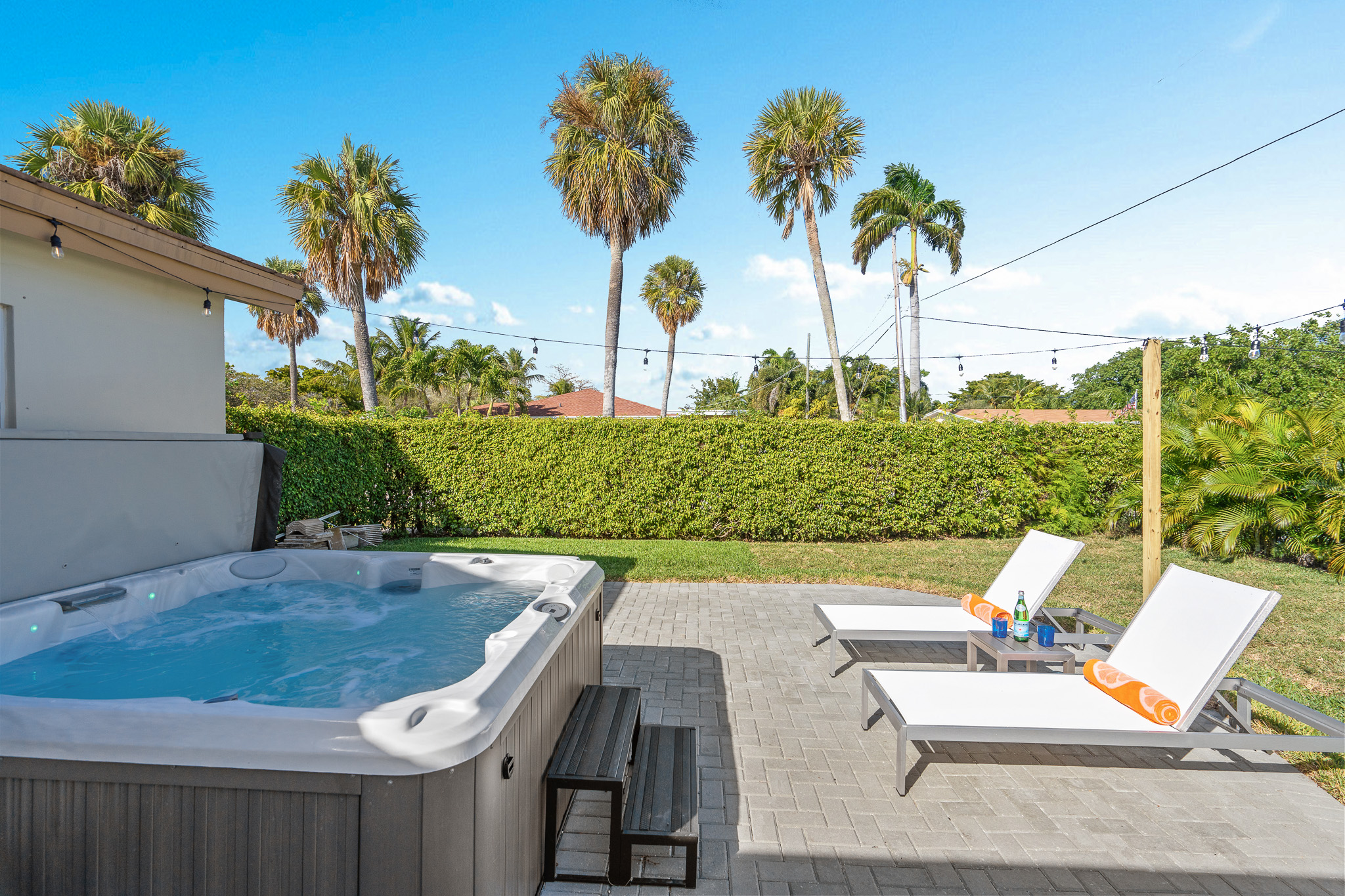 The back yard is 100% private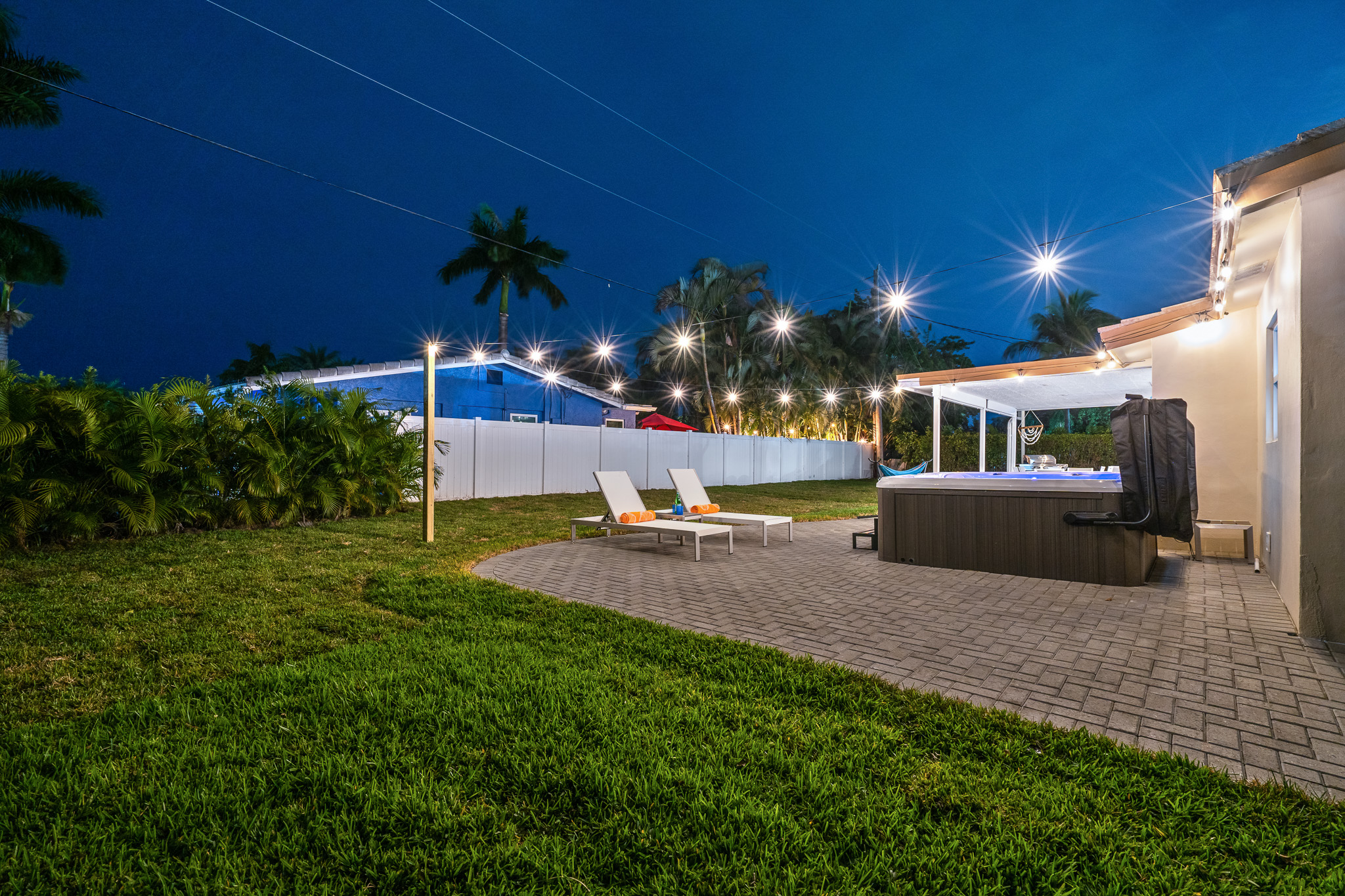 Outdoor lighting creates a nice atmosphere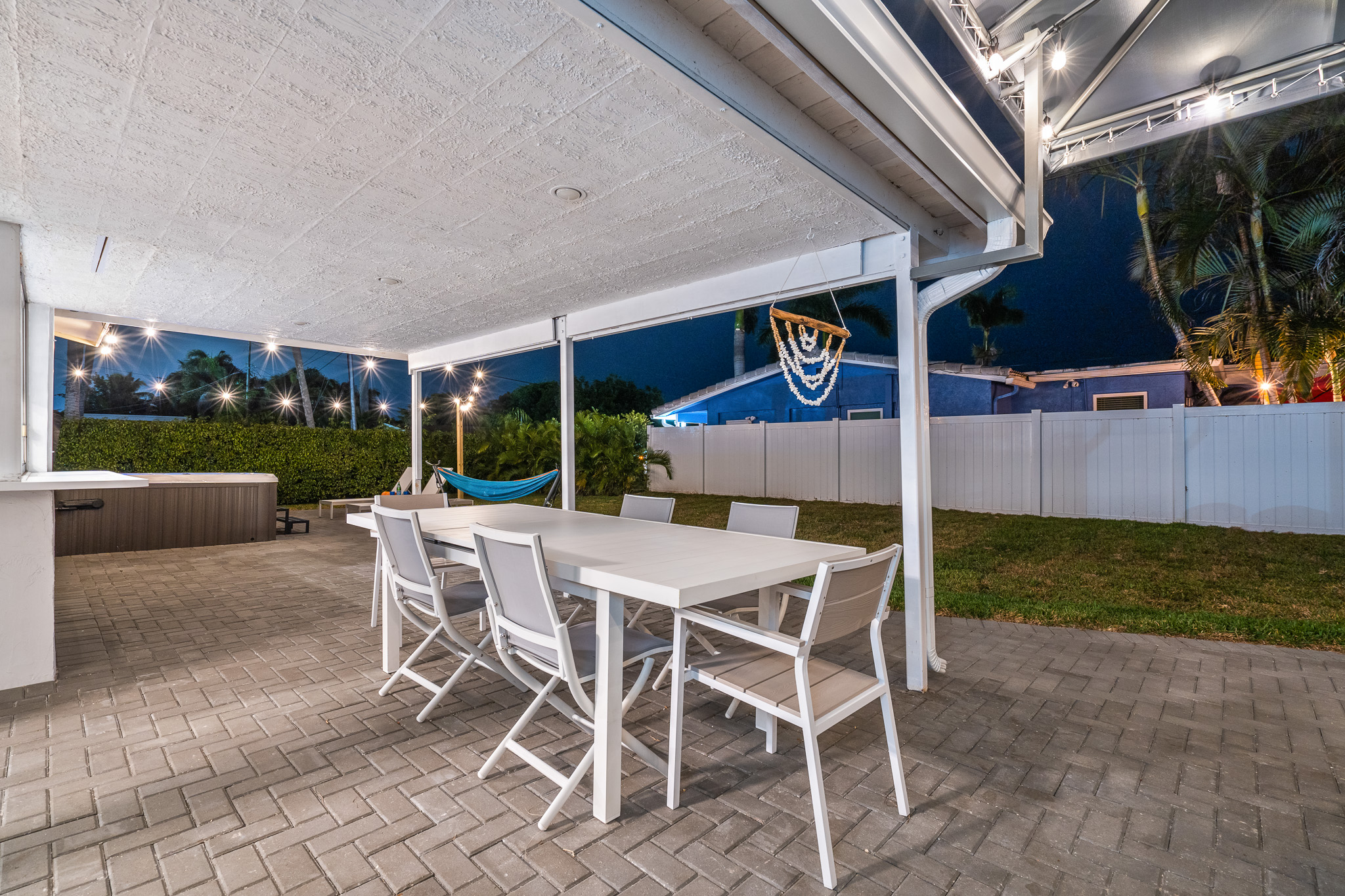 Play card or have a drink at the dining table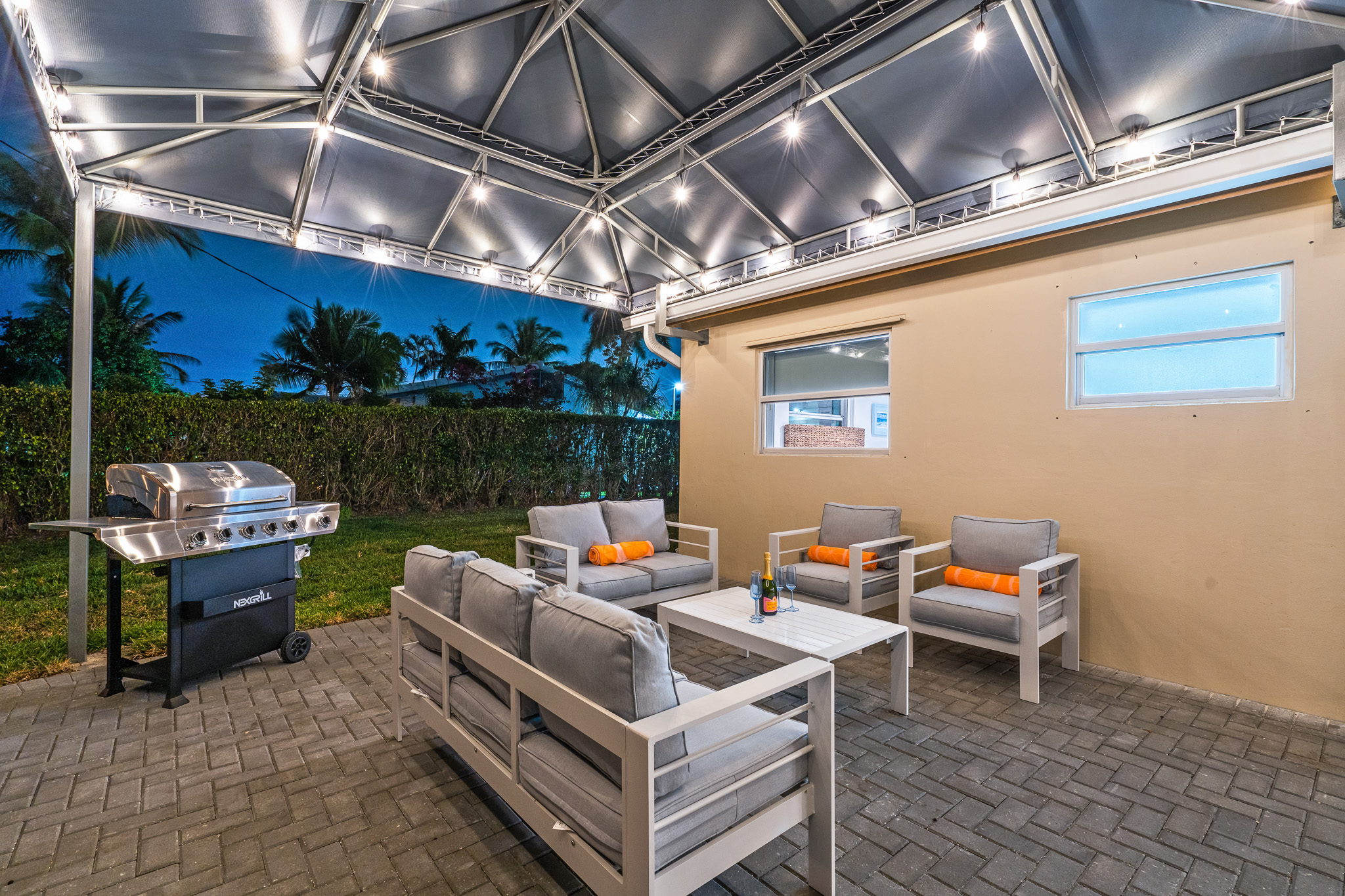 A great outdoor space for BBQ and lounging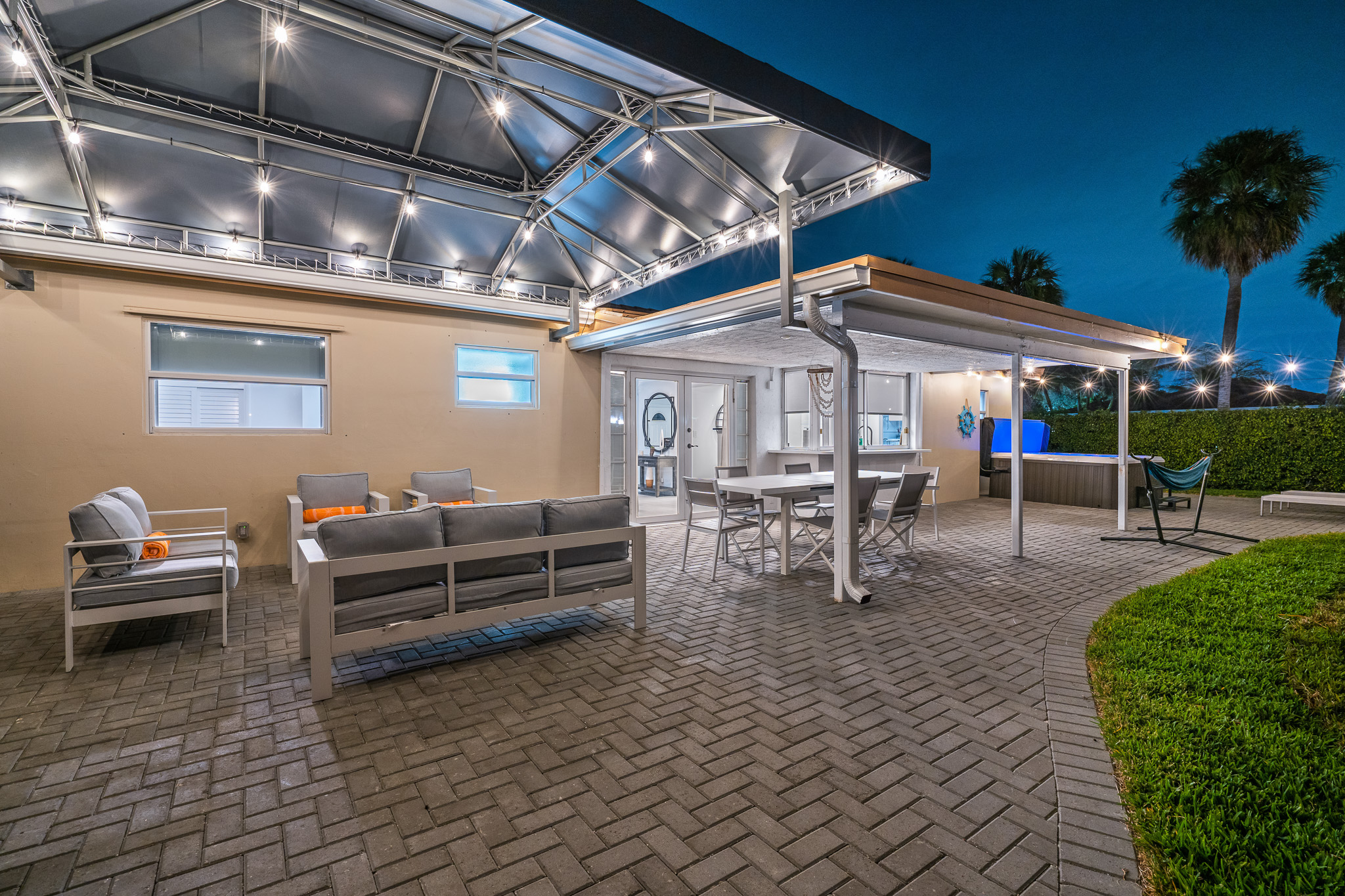 There is a lot of covered outdoor space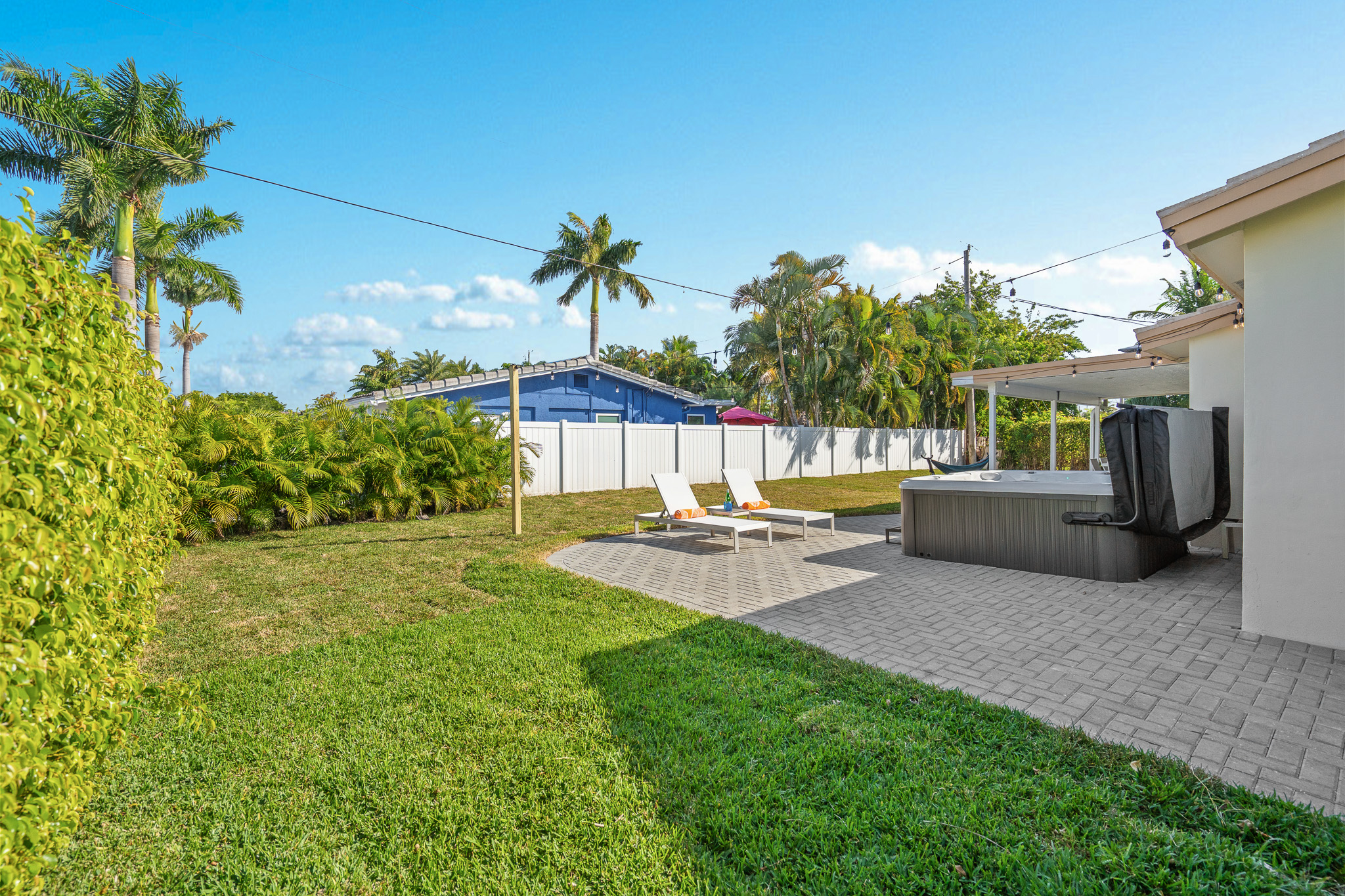 A big back yard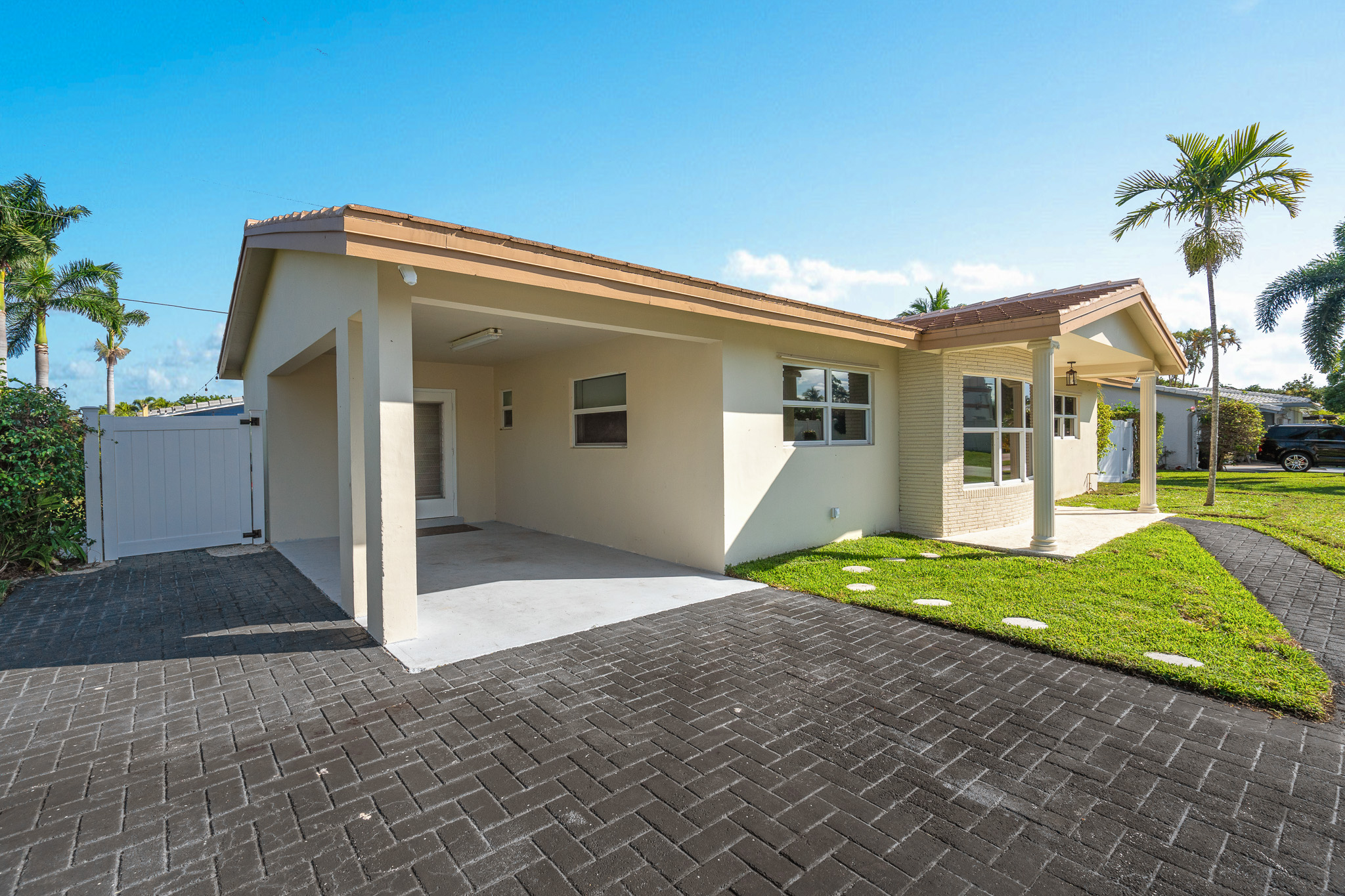 Big driveway with carport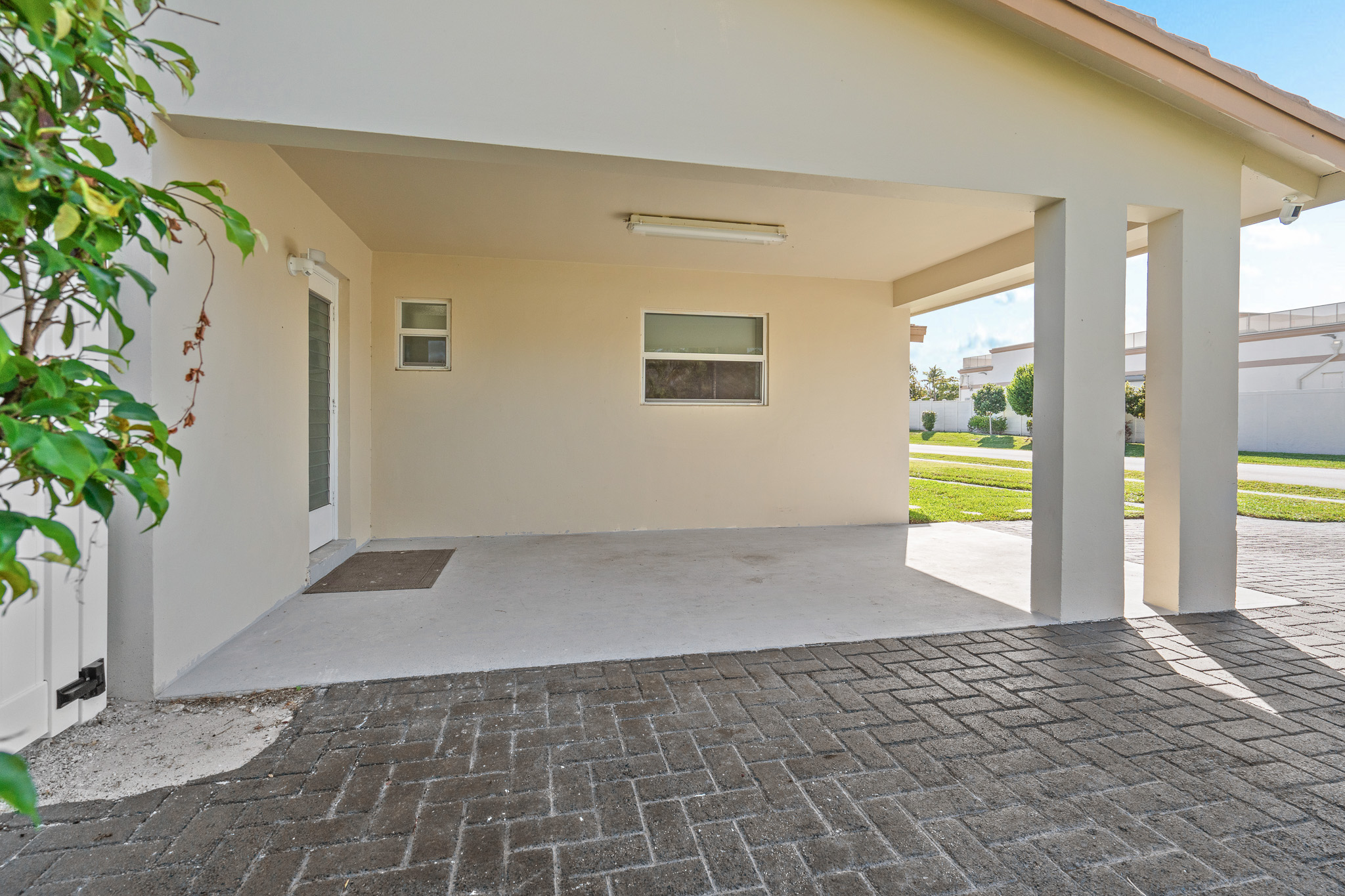 Keep your car under cover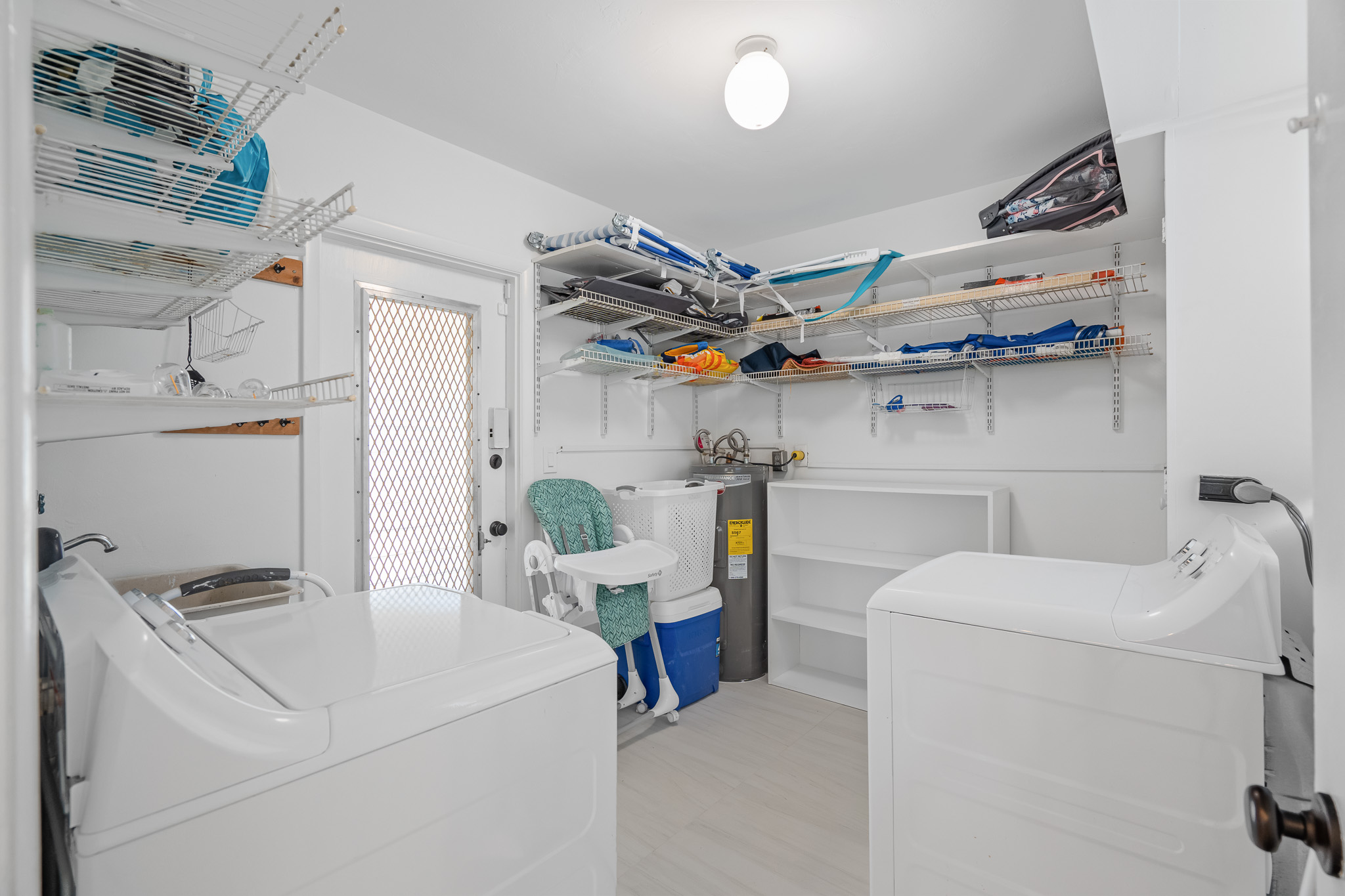 A separate laundry room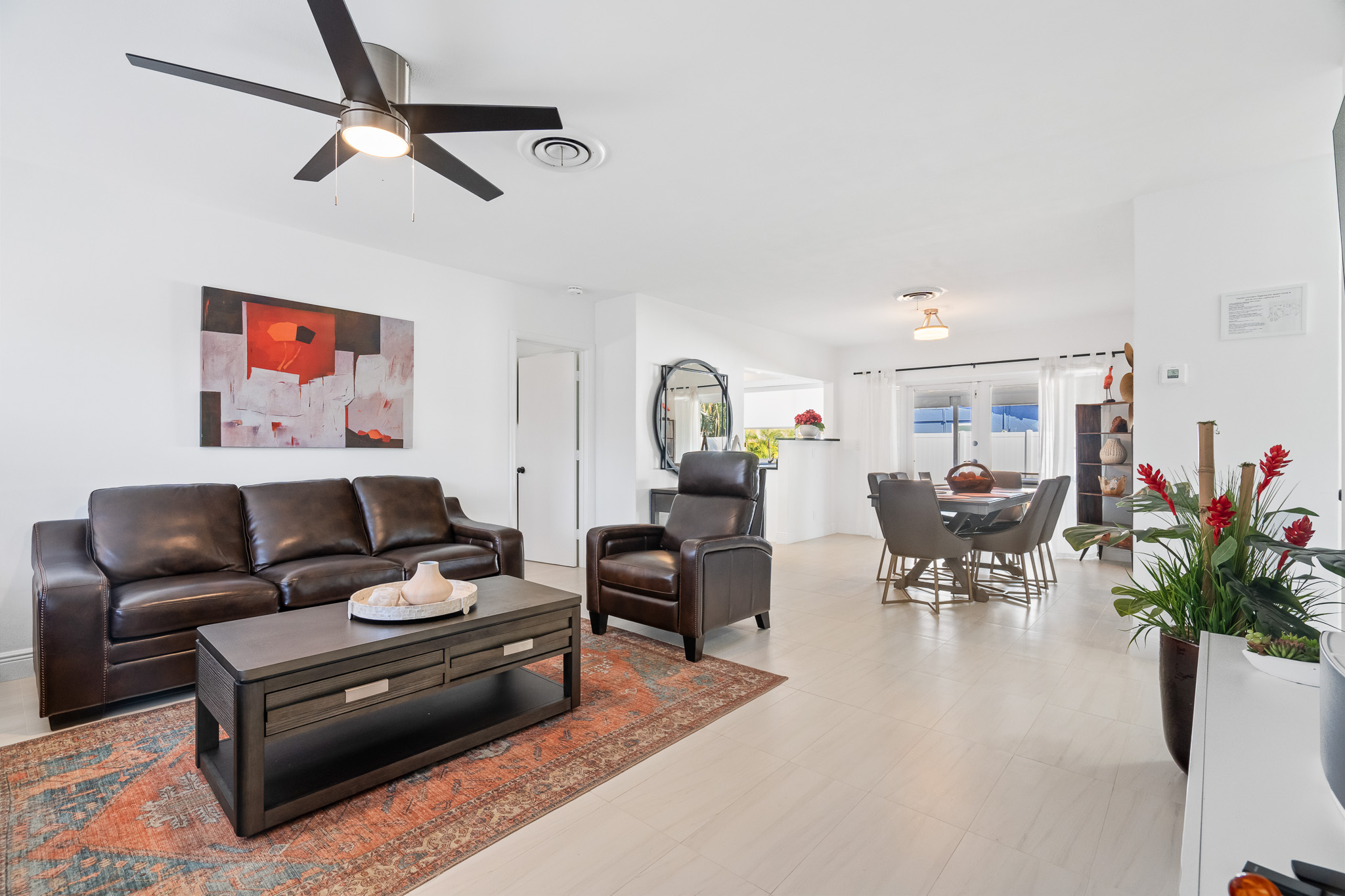 A great open living room with a separate dining room section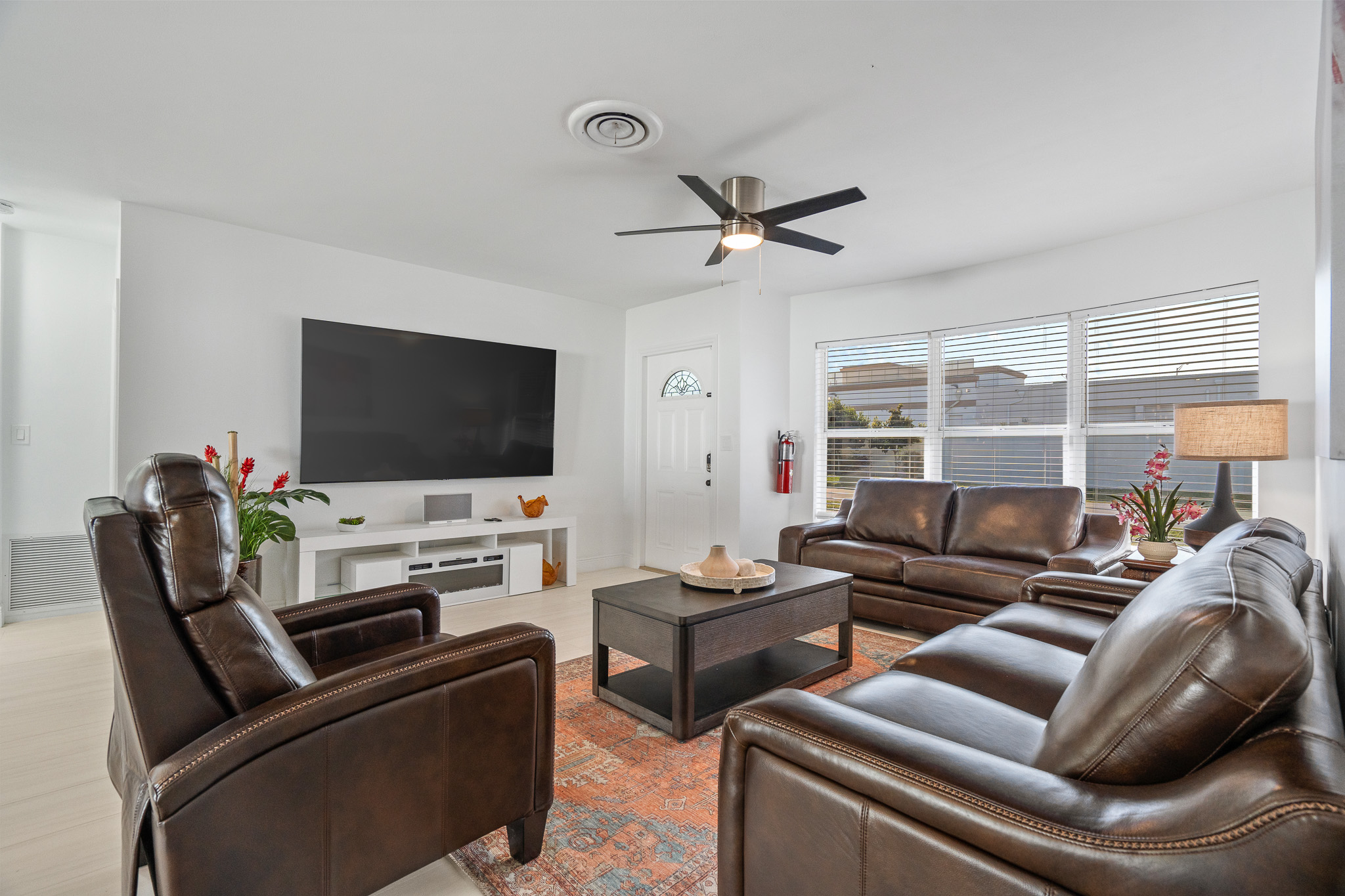 A living space for watching TV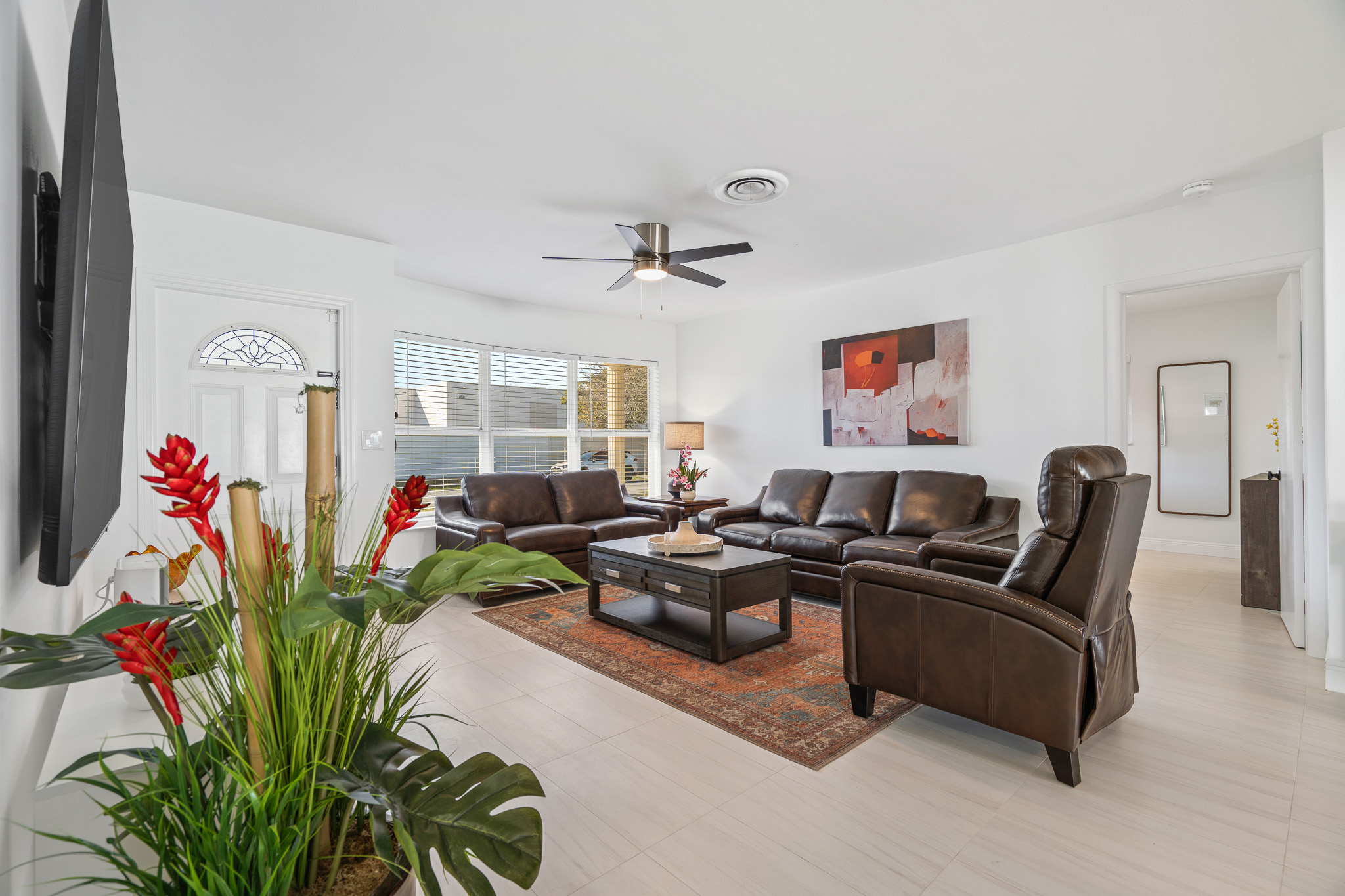 Living room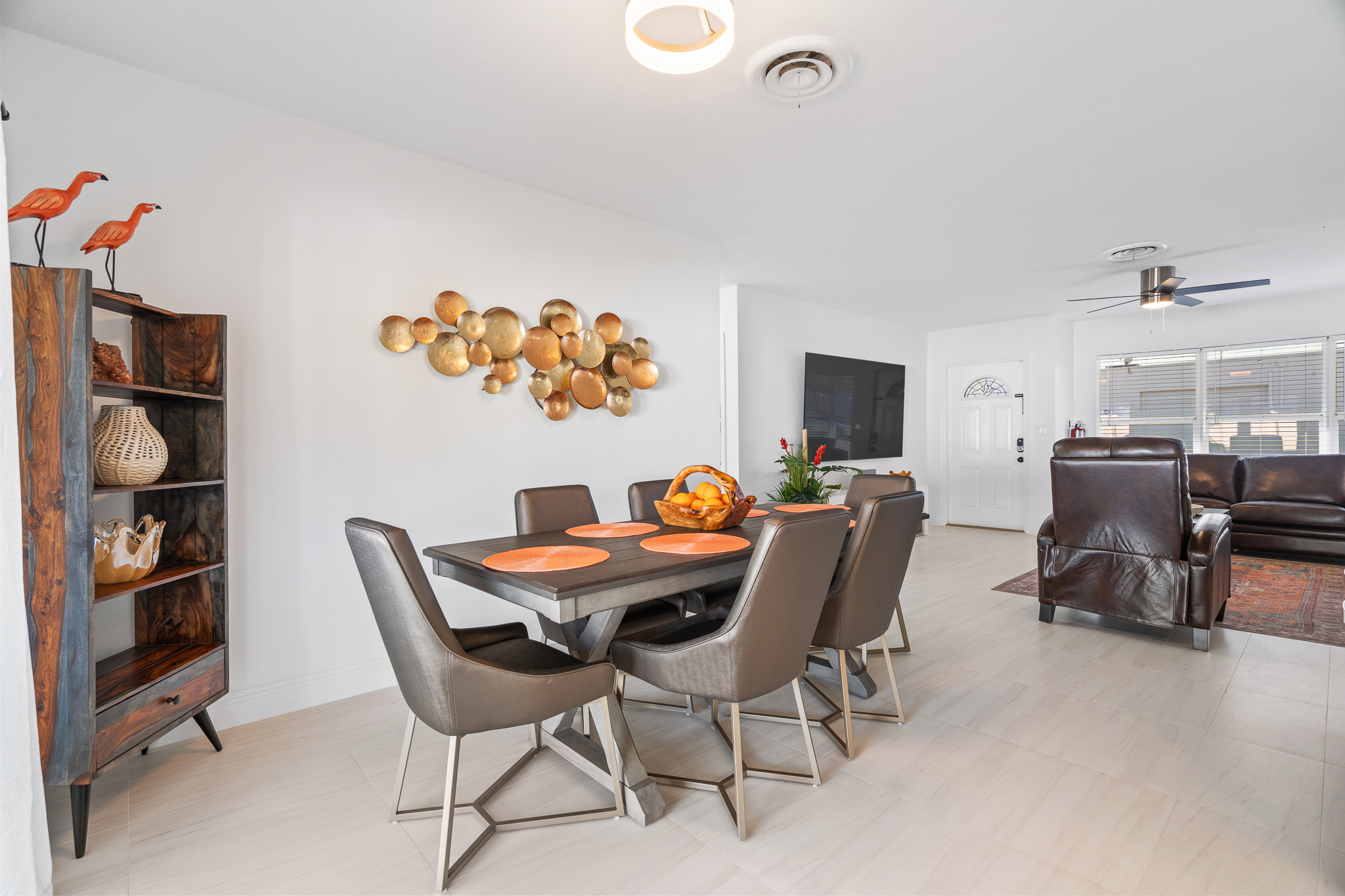 Indoor dining table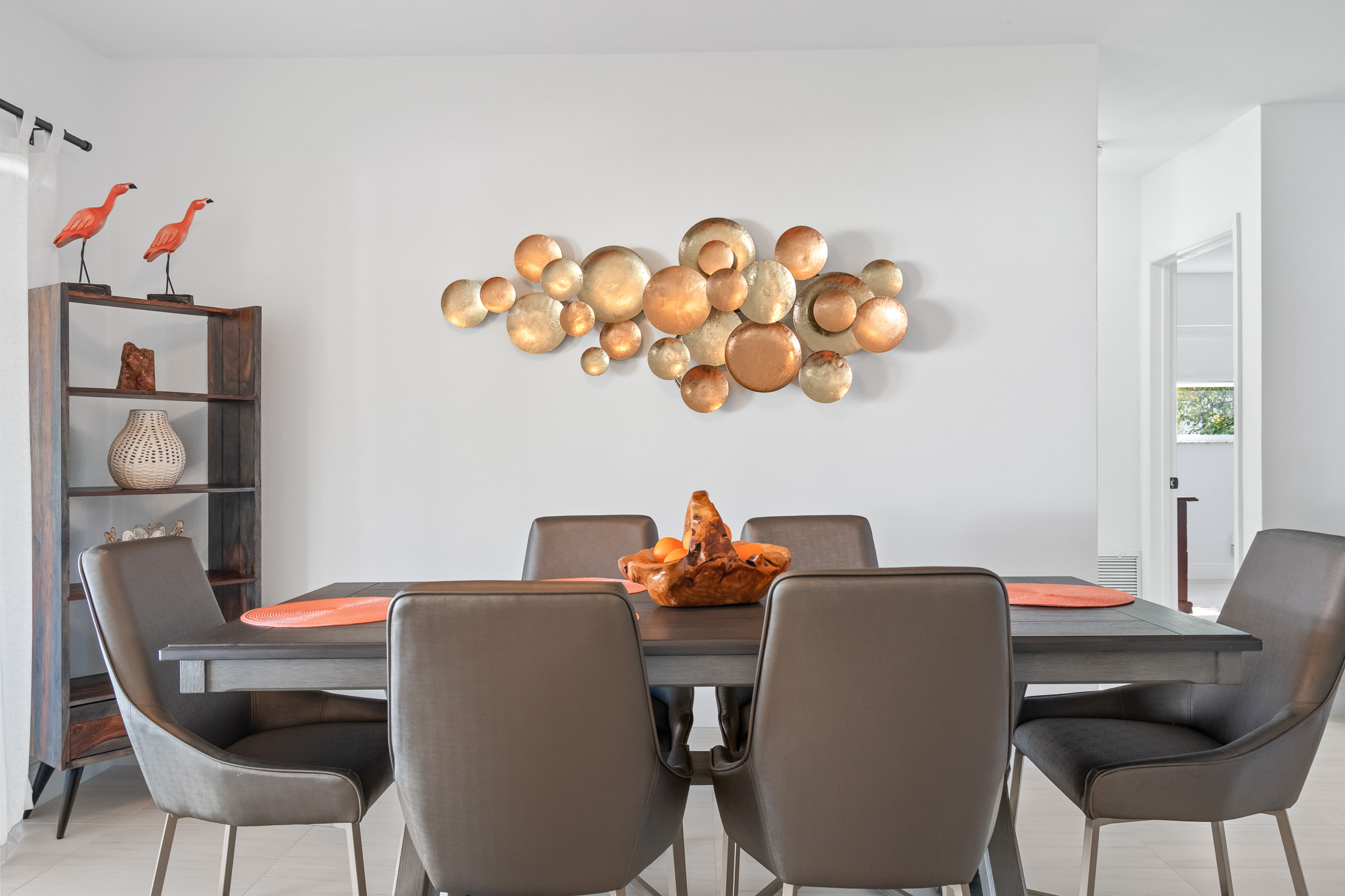 A tastefully decorated dining room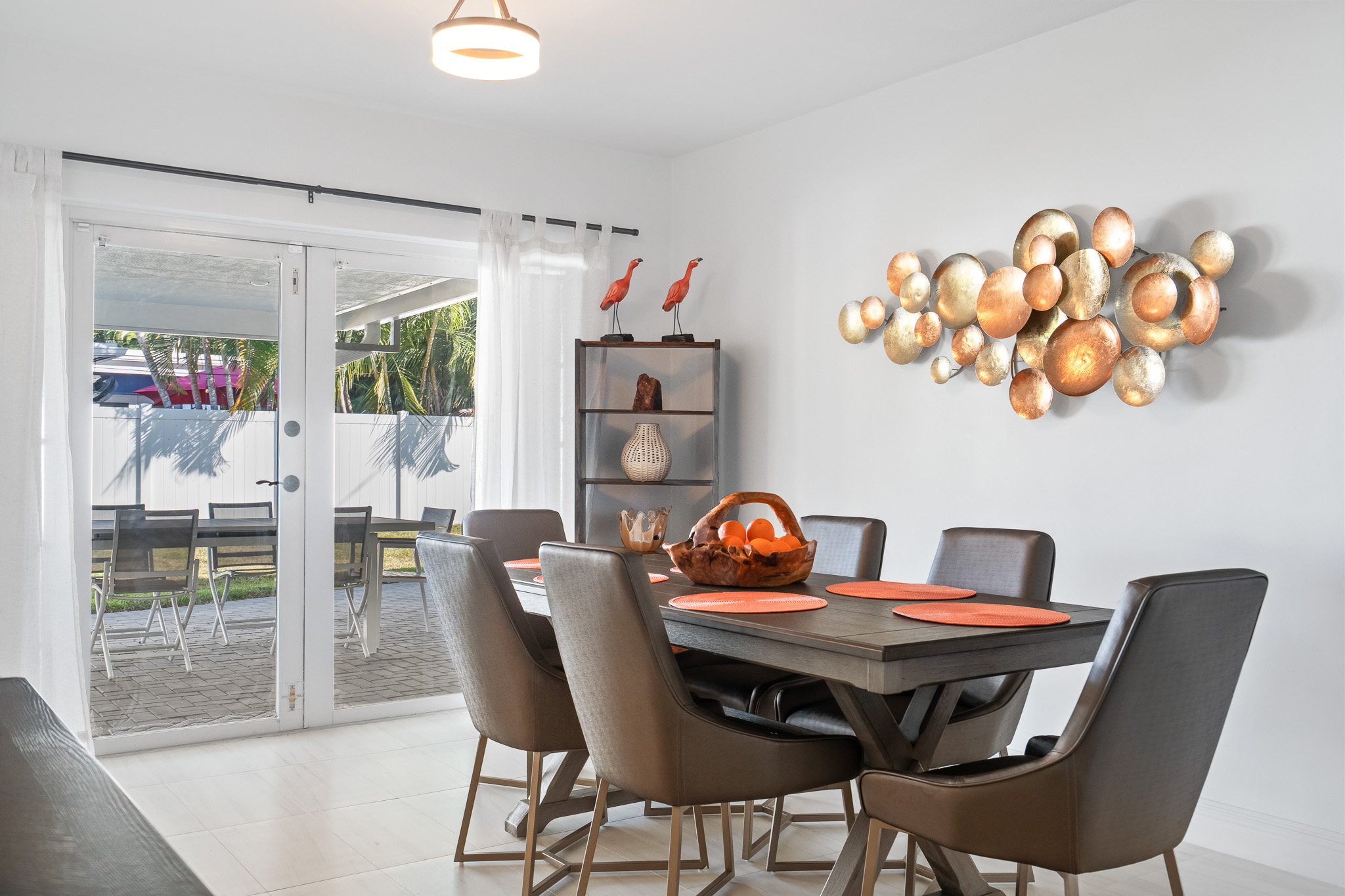 Dining room with view of the backyard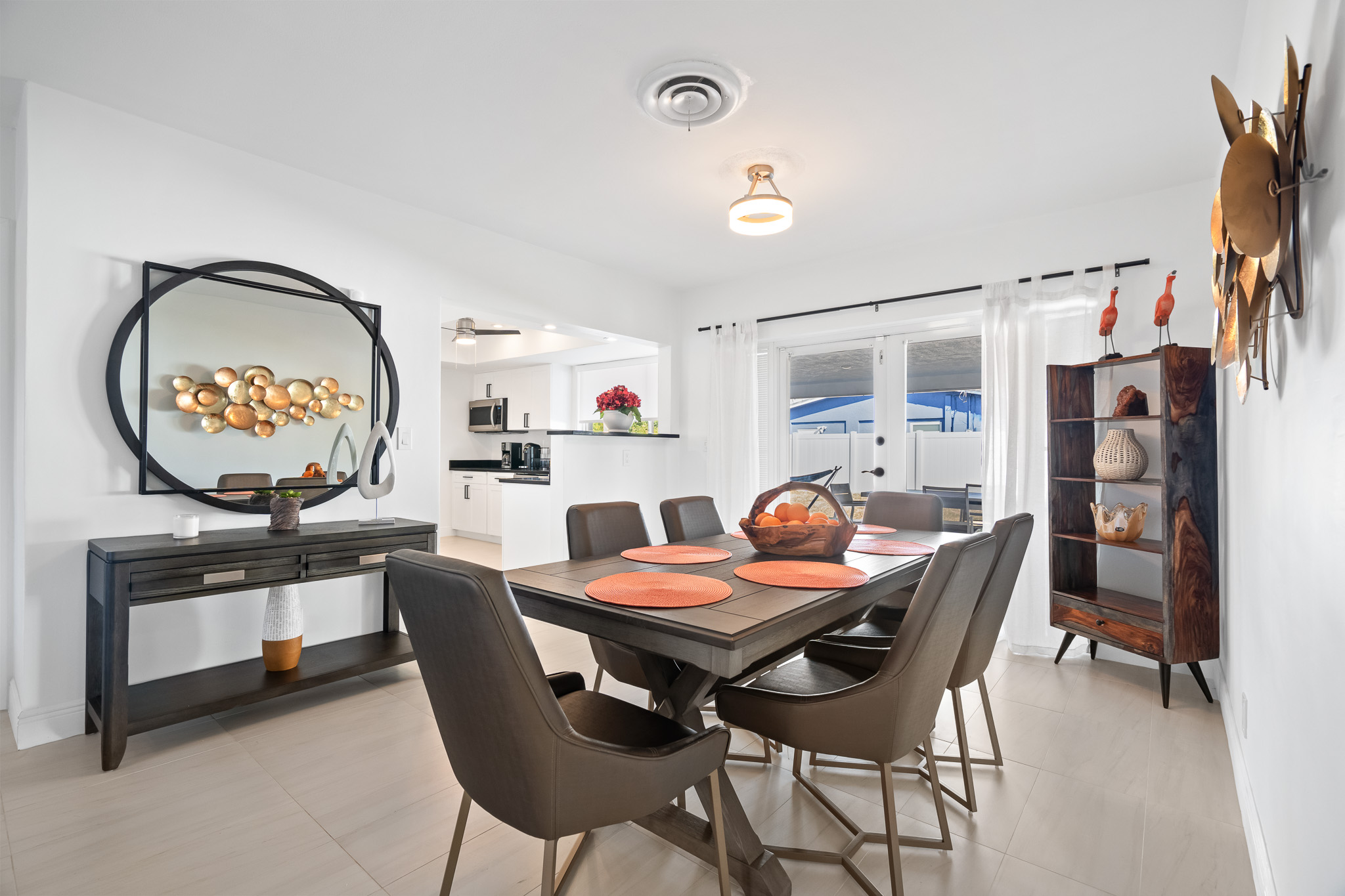 All modern furniture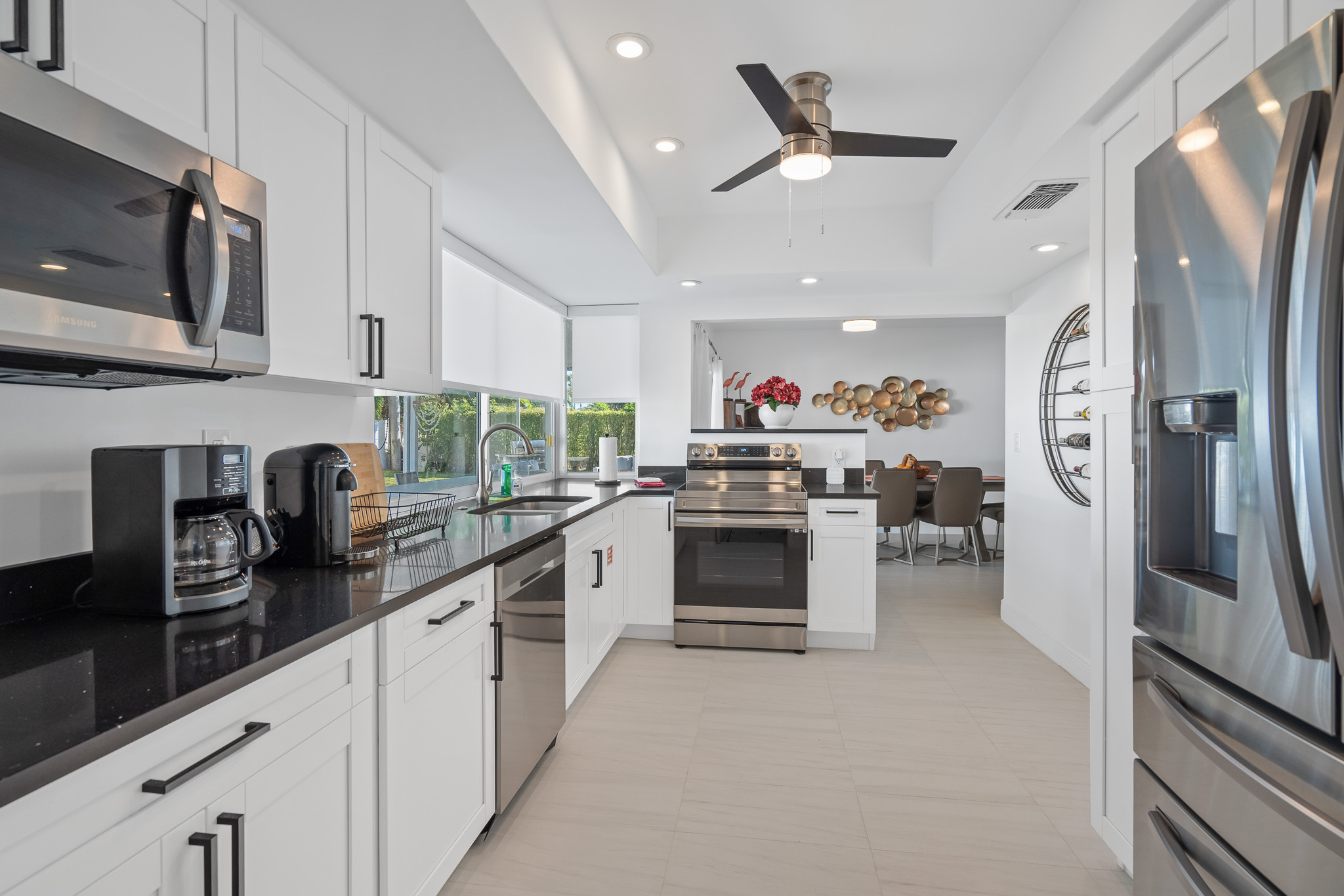 A well equipped kitchen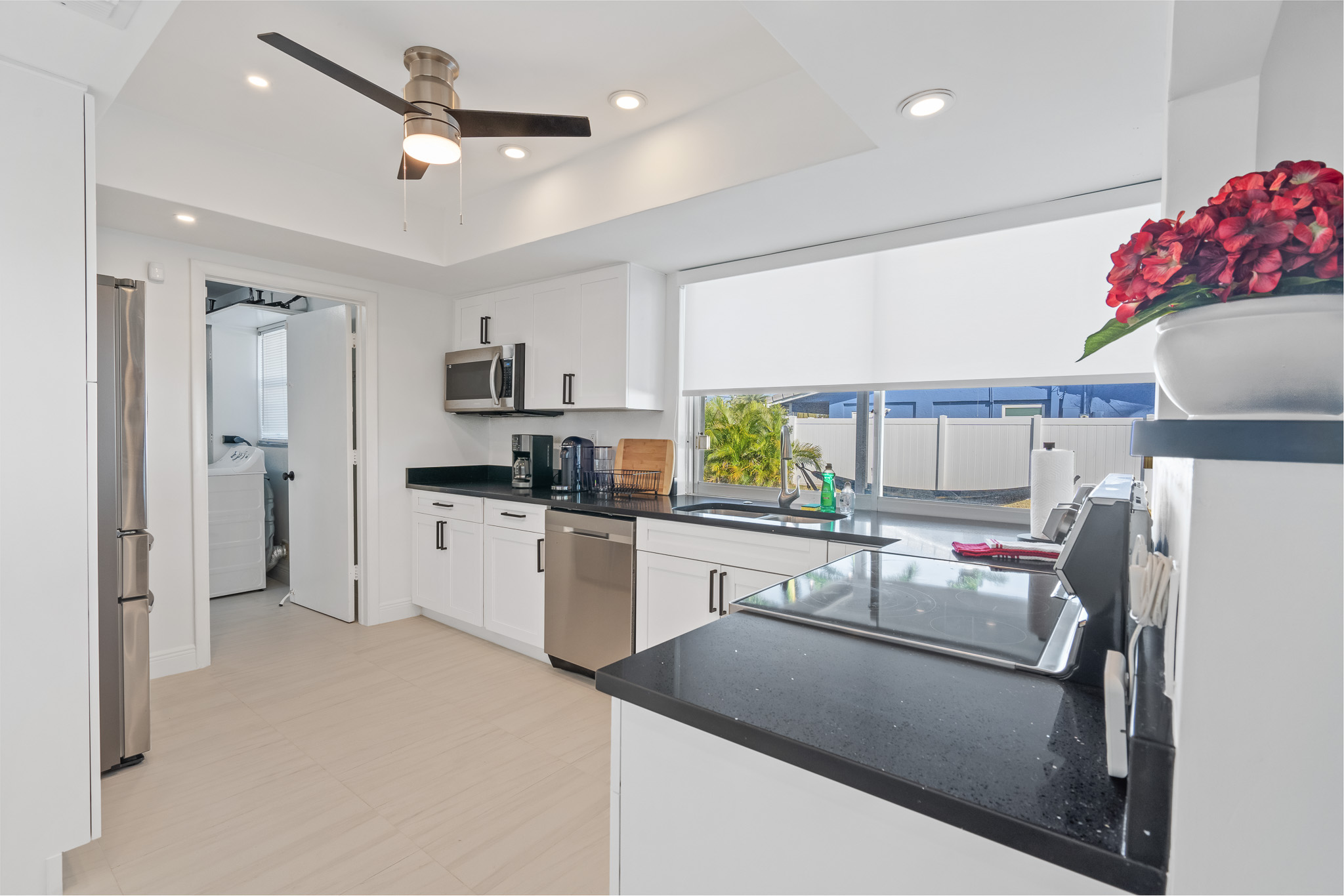 The kitchen has easy access to the backyard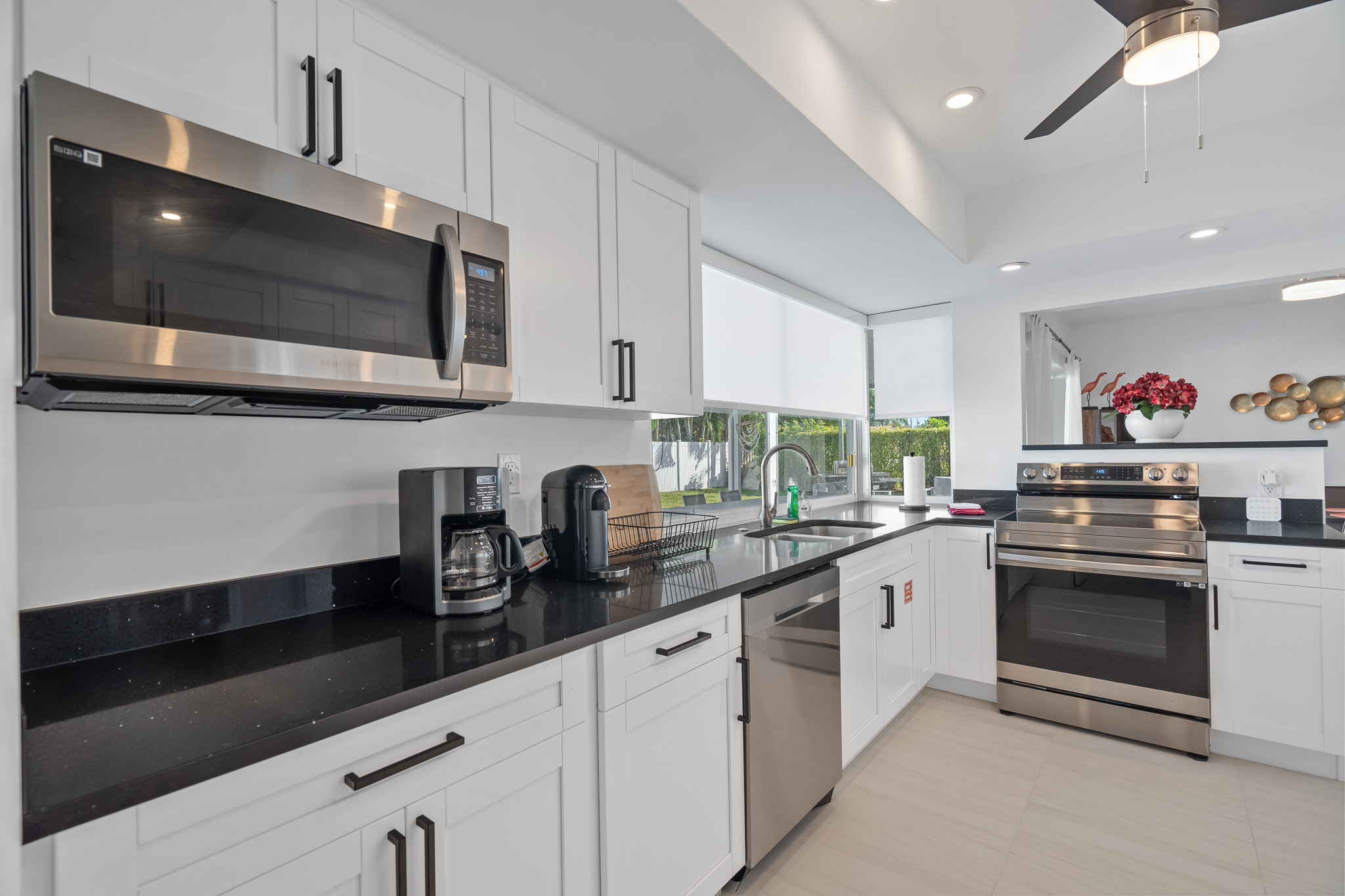 Lots of cabinets in the kitchen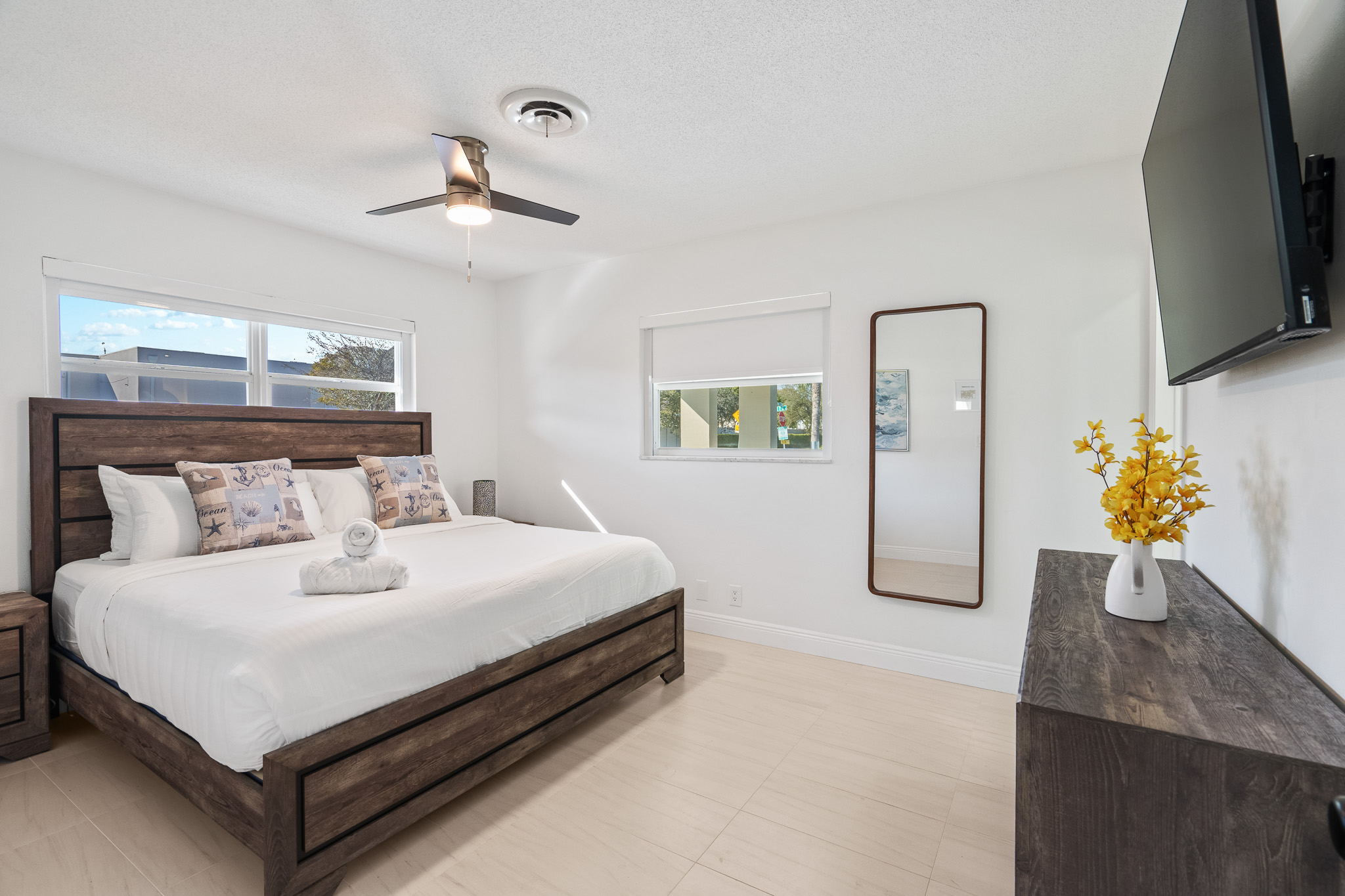 Master bedroom with king-size bed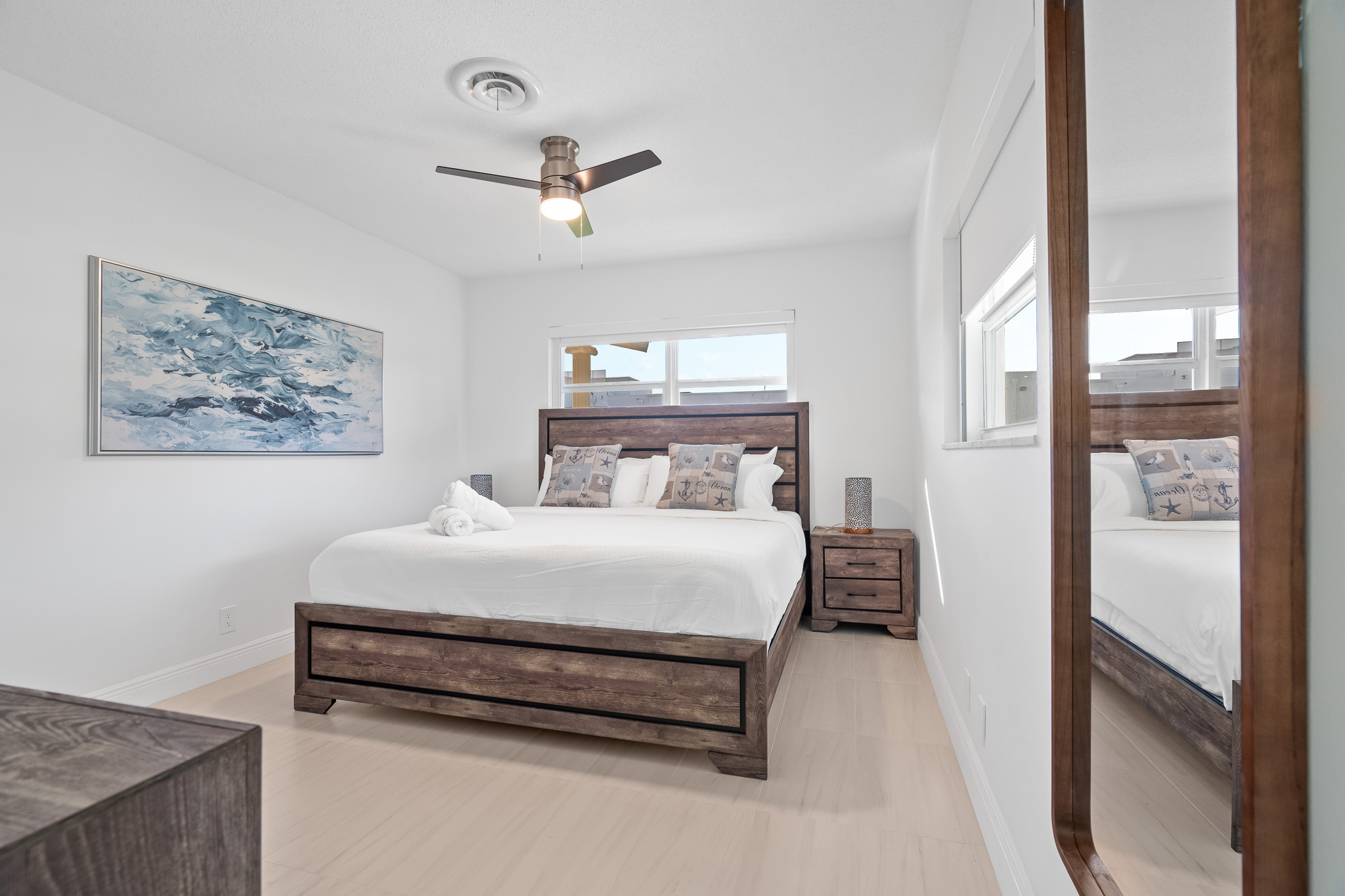 Master bedroom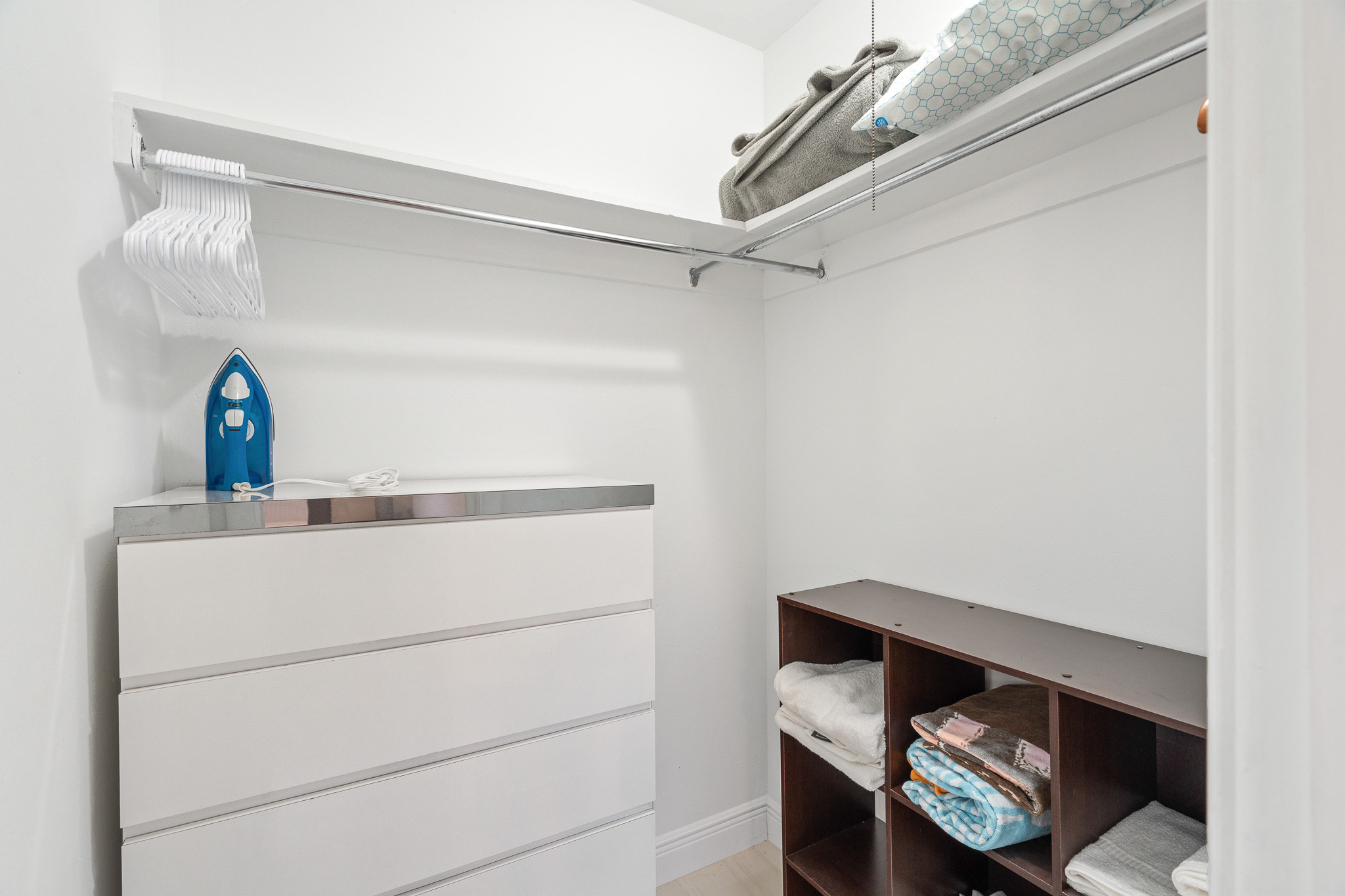 Walk-in closet in master bedroom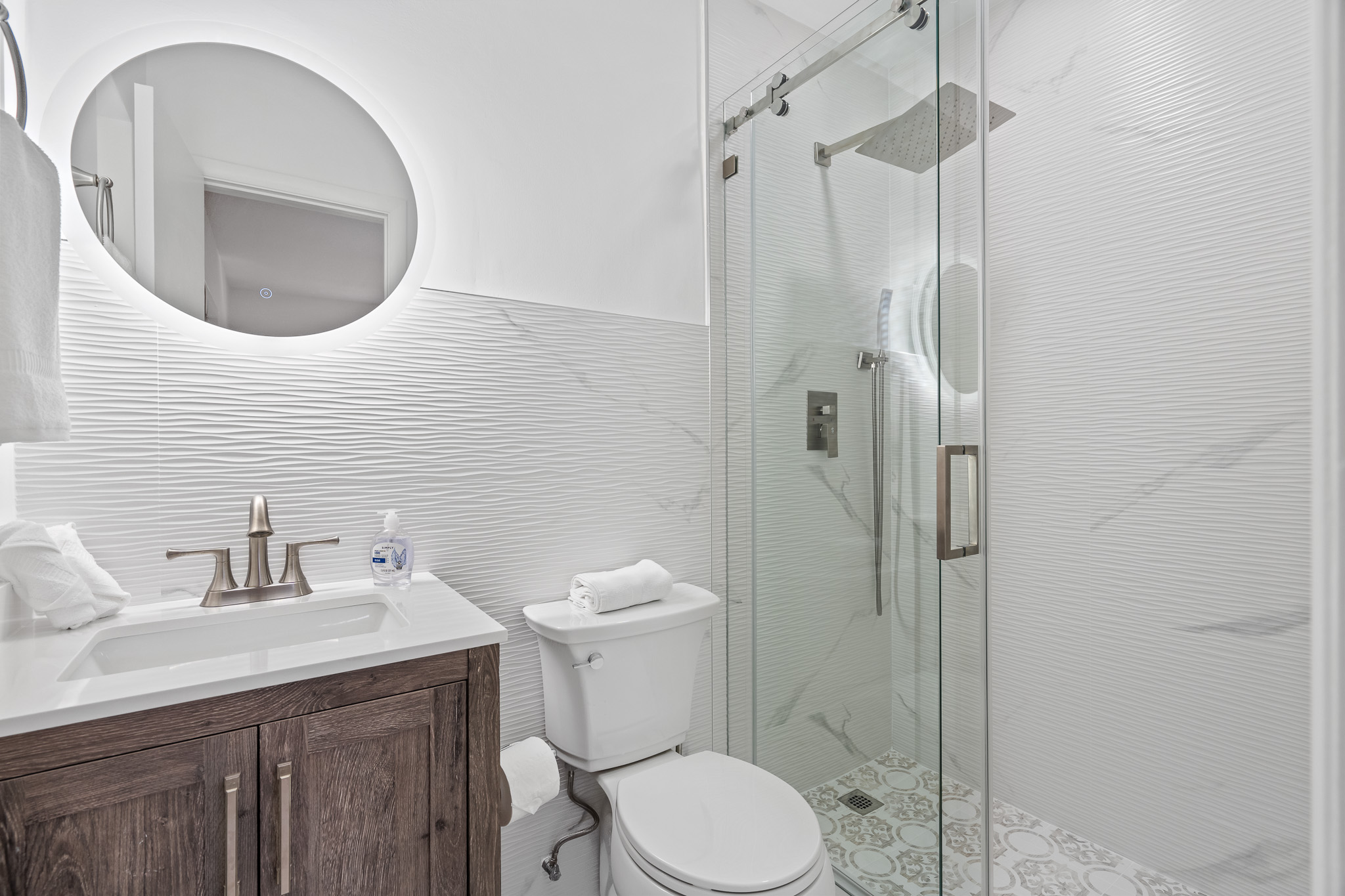 Master bathroom completely renovated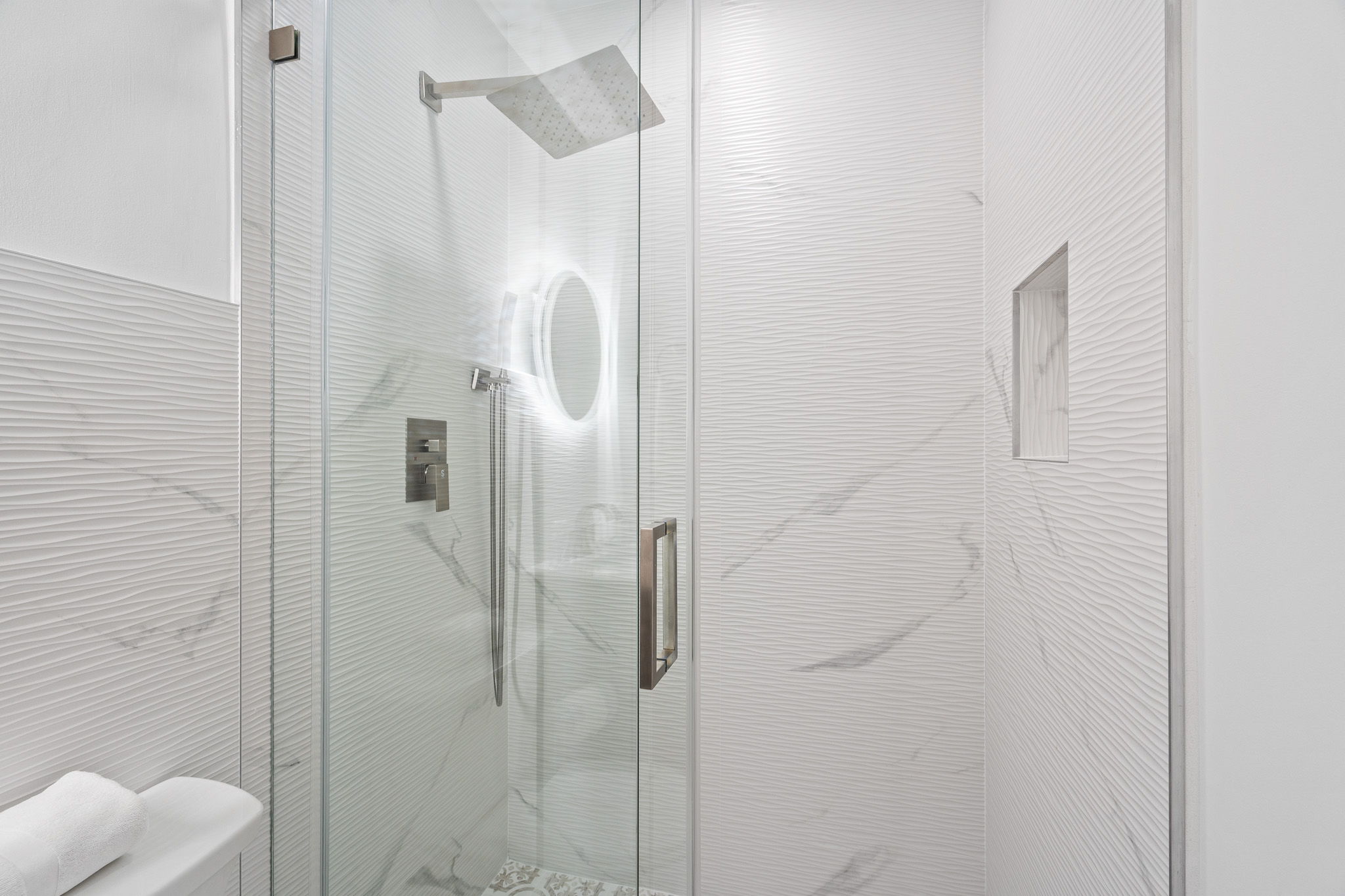 Frameless modern shower doors
Guest bedroom number 1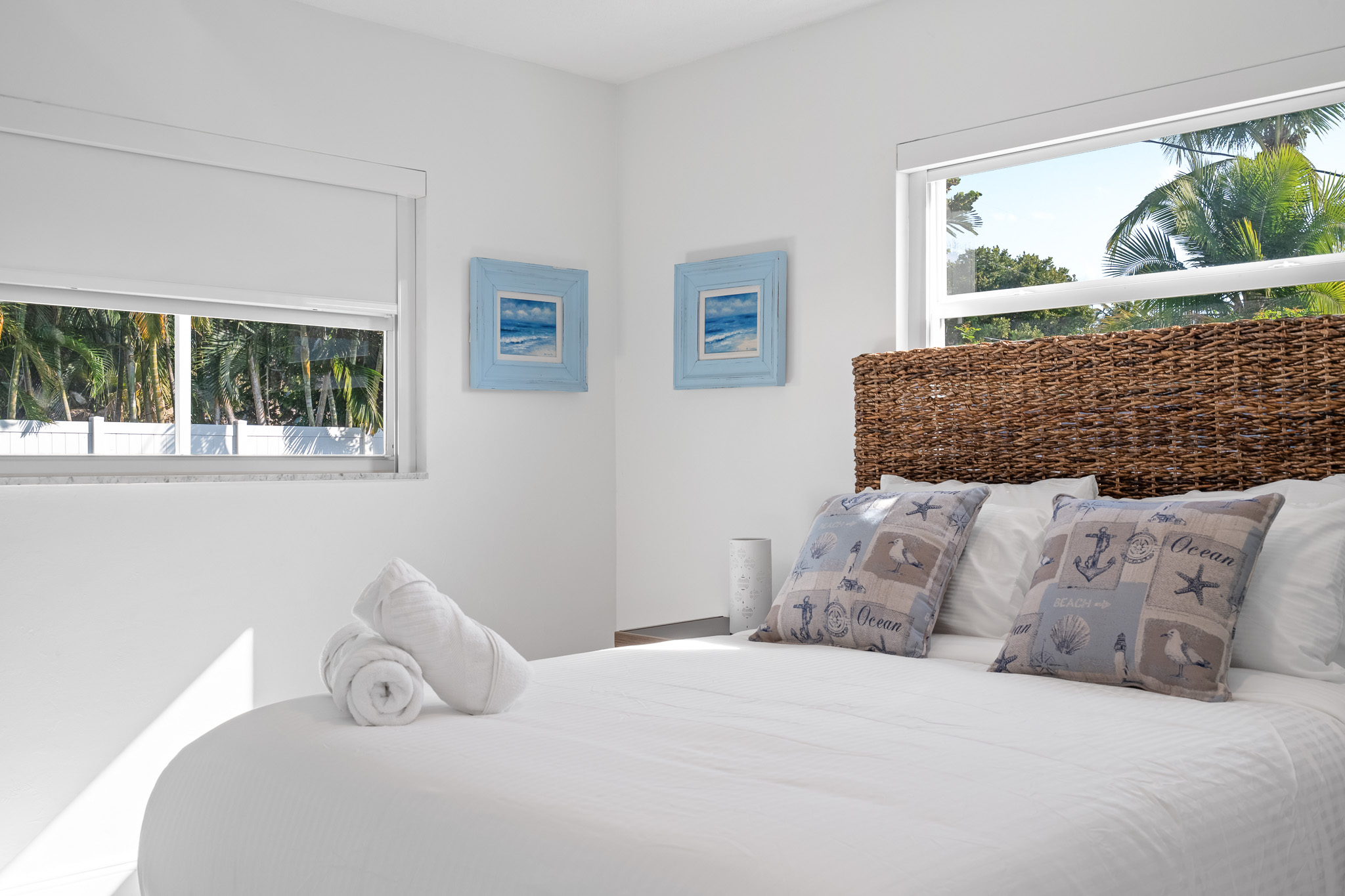 All with luxury linens and towels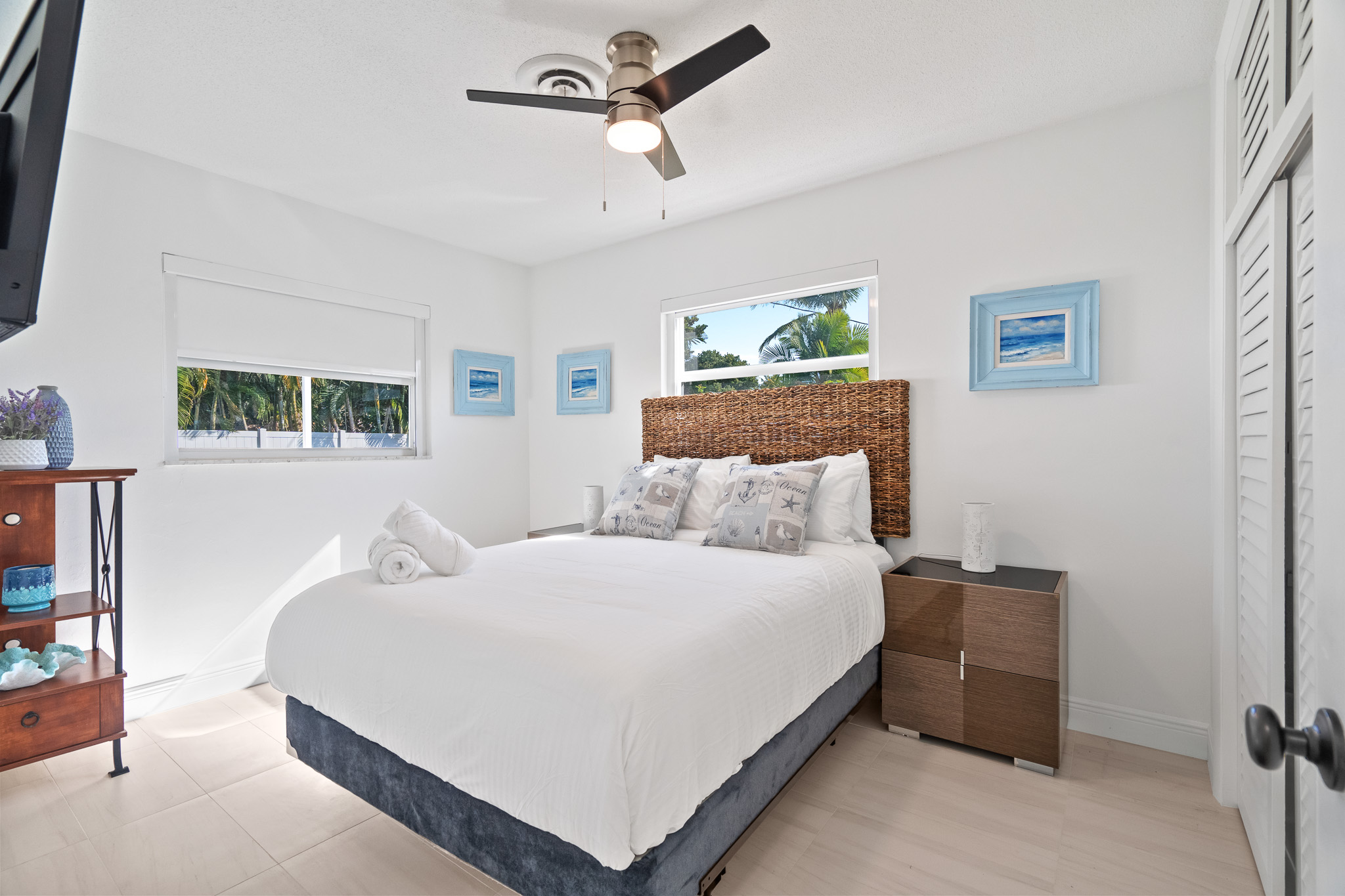 Guest bedroom number 2 is spacious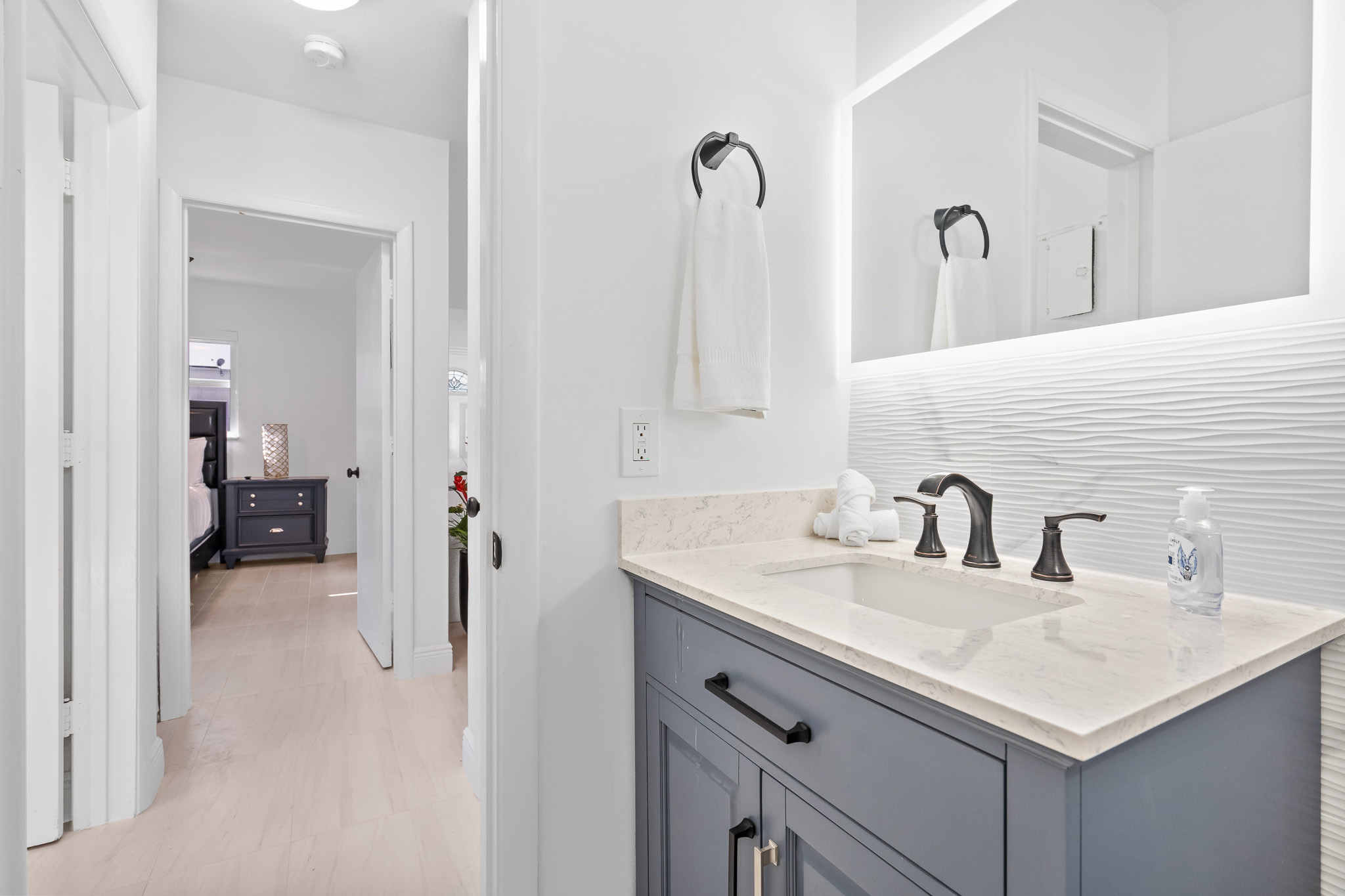 Guest bathroom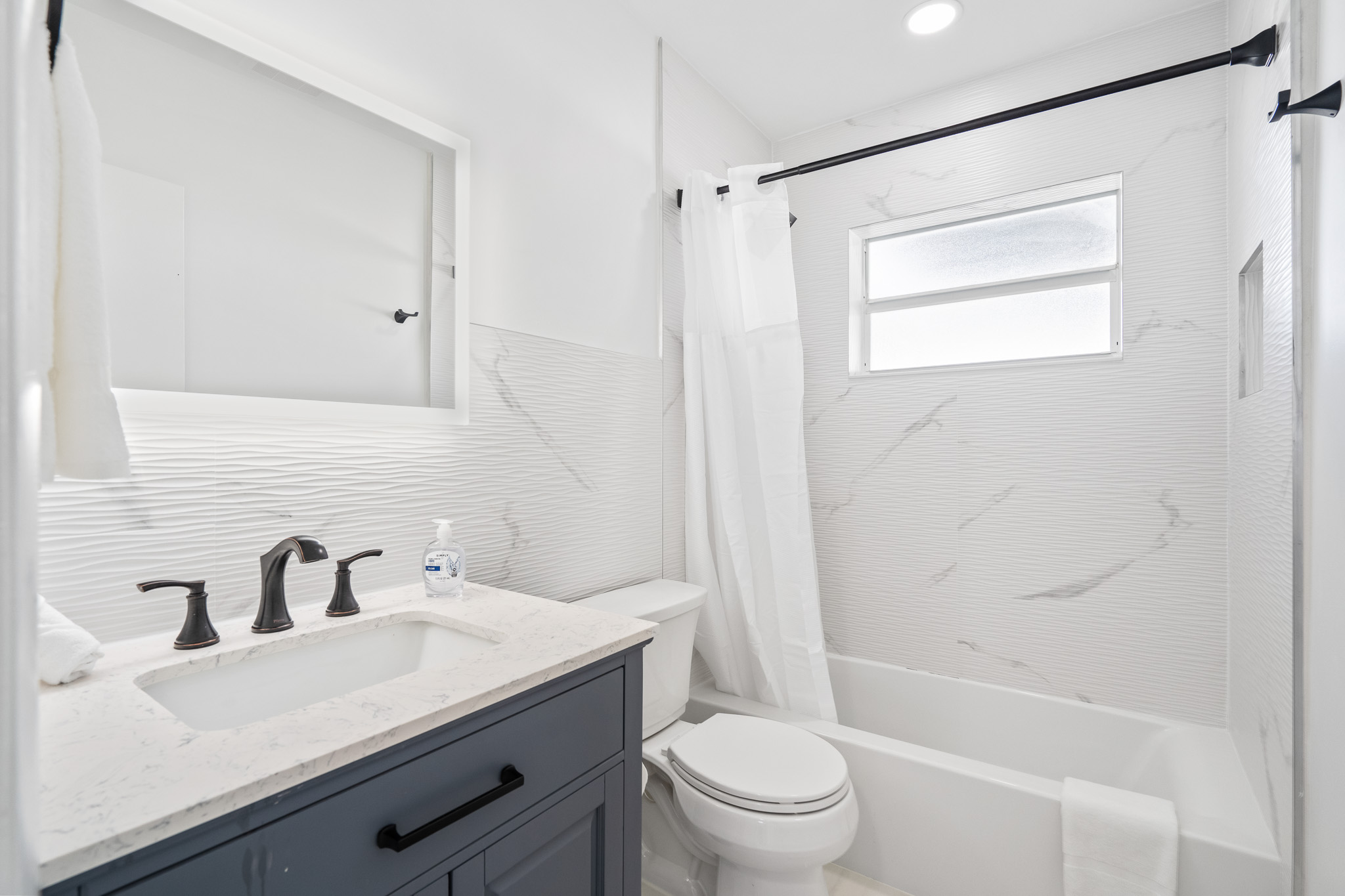 Guest bathroom has a bathtub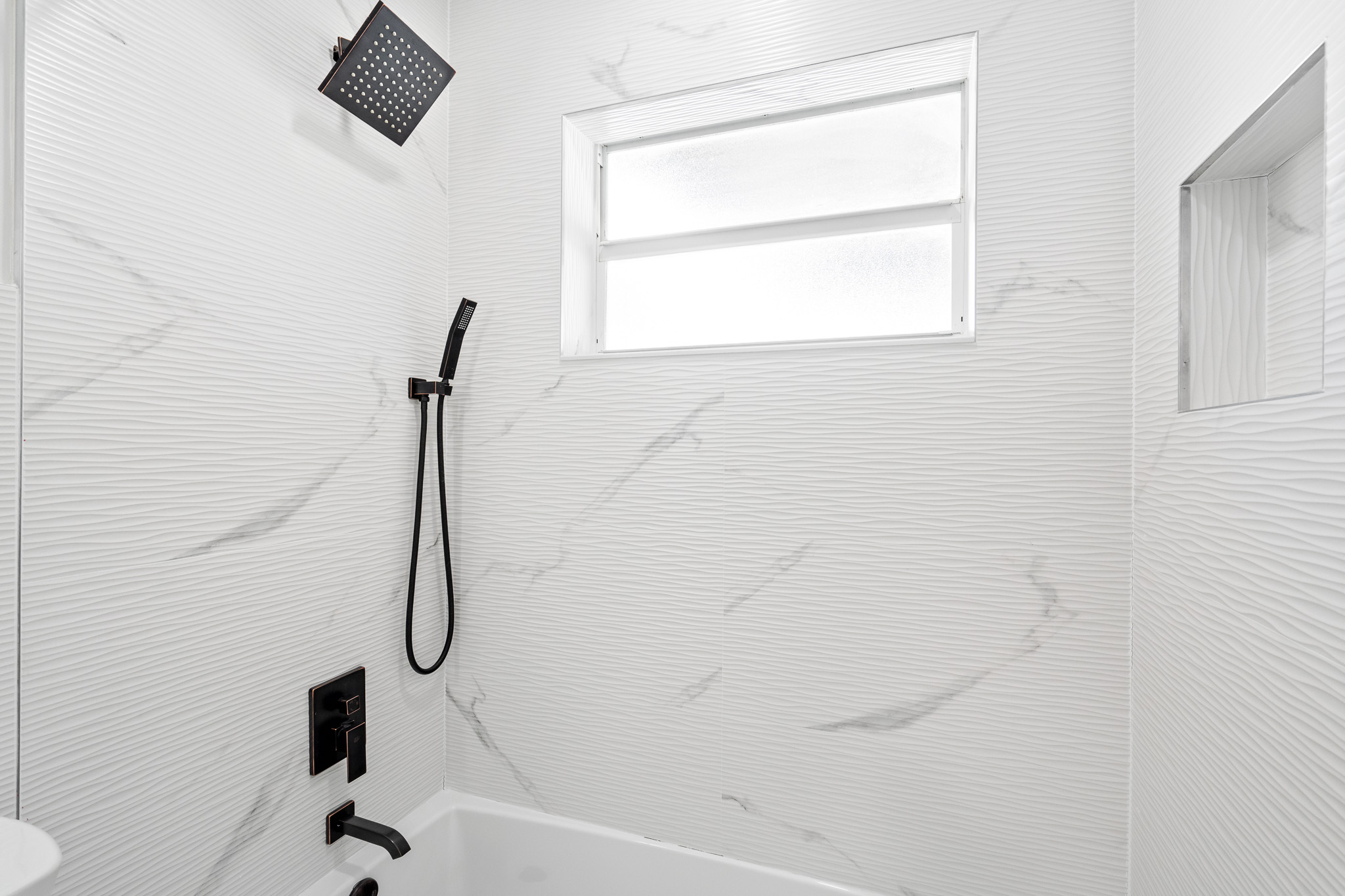 All bathroom are renovated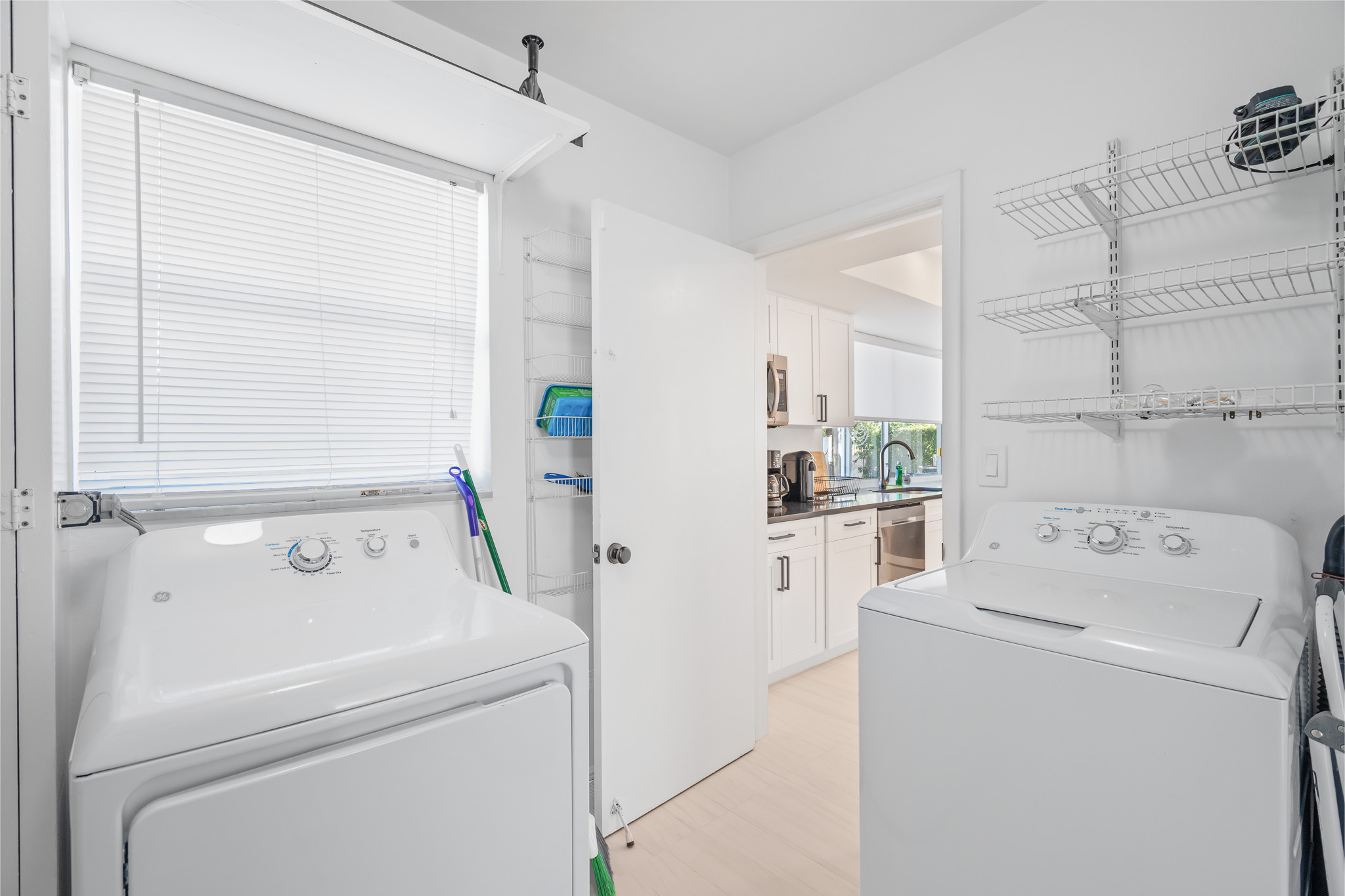 Washer & Dryer
This is a new house. Please be the first to review this home!
---