Experience the best of waterfront living at Pompano Hideaway. Situated directly on the water facing south, this home provides an amazing view for up to eight guests to enjoy at any time of day. Four bedrooms, three bathrooms and lots of windows create a wonderfully light and Florida room seating 8 people. Newly renovated interior makes for a cozy southern atmosphere with a light, modern touch - a unique experience for all guests.

The open-concept layout of this home ensures enough room for gatherings both inside and outside of the house. Relax in the living room, cook in the kitchen, or head out to the large Florida room for views of the pool and 200' wide canal waterway. The kitchen features beautiful granite countertops and dark espresso cabinets with a center island with bar seats, adjacent to the living room. There is an office area to use in the main area as well, for those who need to get some work done or organize their trip itinerary.

Guests will truly appreciate the breathtaking views from the beautifully designed master bedroom. The king-sized bed faces an entire wall of full-length windows and a sliding glass door. Enjoy the view from your room or head outside to the deck which overlooks the tranquil waterways. Sunrises and sunsets are truly a sight to see from this room. Unique barn-style sliding doors lead to the master bathroom for additional charm that makes for a unique and memorable stay.

The exciting game room offers fun for children and the whole family! Game selection includes; air hockey, foosball, Super Mario Console, and Mrs. Pacman!!!

The second master bedroom has a king-sized bed and master bathroom. The two guest bedrooms have queen size beds and flat screen televisions equipped in each room. Every bed in the home is outfitted with professionally pressed, hotel-grade linens for your convenience.

The backyard will leave you in awe of the beauty of the waterway. The perimeter of the extremely large Florida room is made of full-length windows and sliding glass doors to give the feeling of sitting outside while enjoying the cool air conditioning. The room is decorated with both a table that seats eight as well as a lounge area for guests.

Step outside to the large patio deck next to the pool, perfect for a barbecue. The patio deck features a grill, a large dining table that seats eight, and a lounge area. Guests can take a dive in the large, heated pool or spend some time in the spa (no Jacuzzi) while enjoying the privacy and views from the wide waterway. Just a few short steps from the pool will bring you to a private dock area right on the canal with some lounge chairs so you can enjoy some sunbathing while watching the boats go by. This private and spacious backyard creates a serene and one-of-a-kind experience of South Florida living.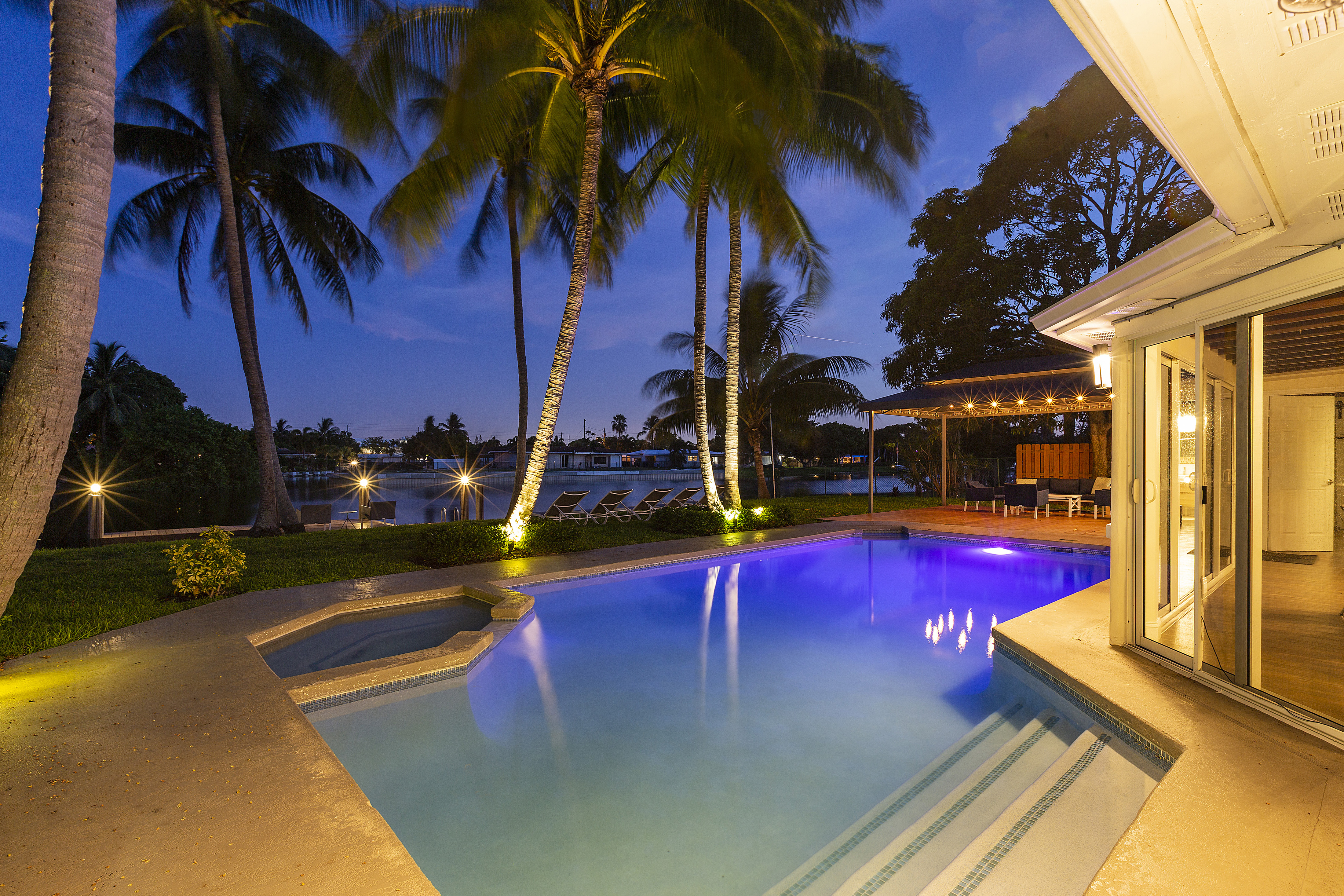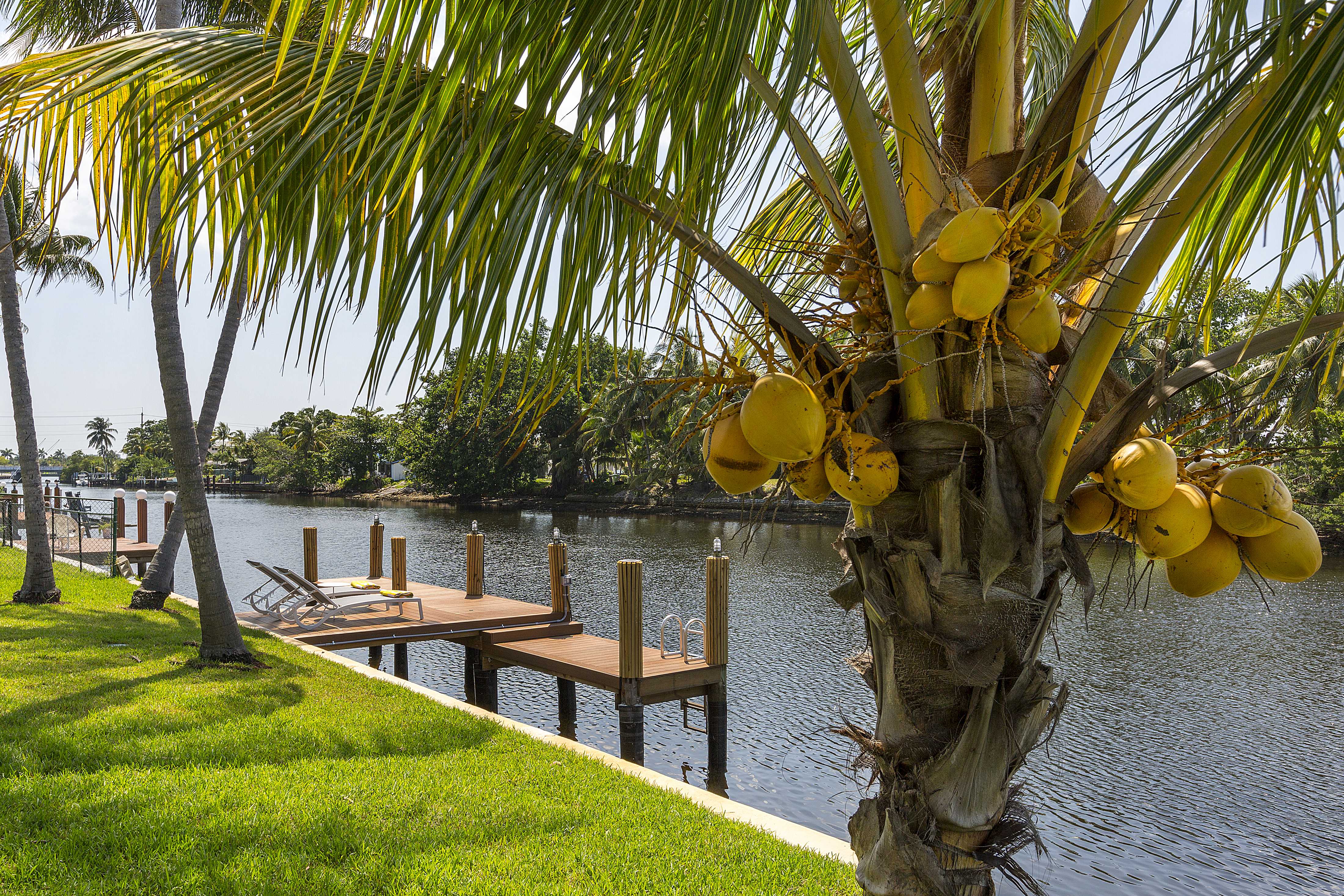 Large and wide waterway. Total privacy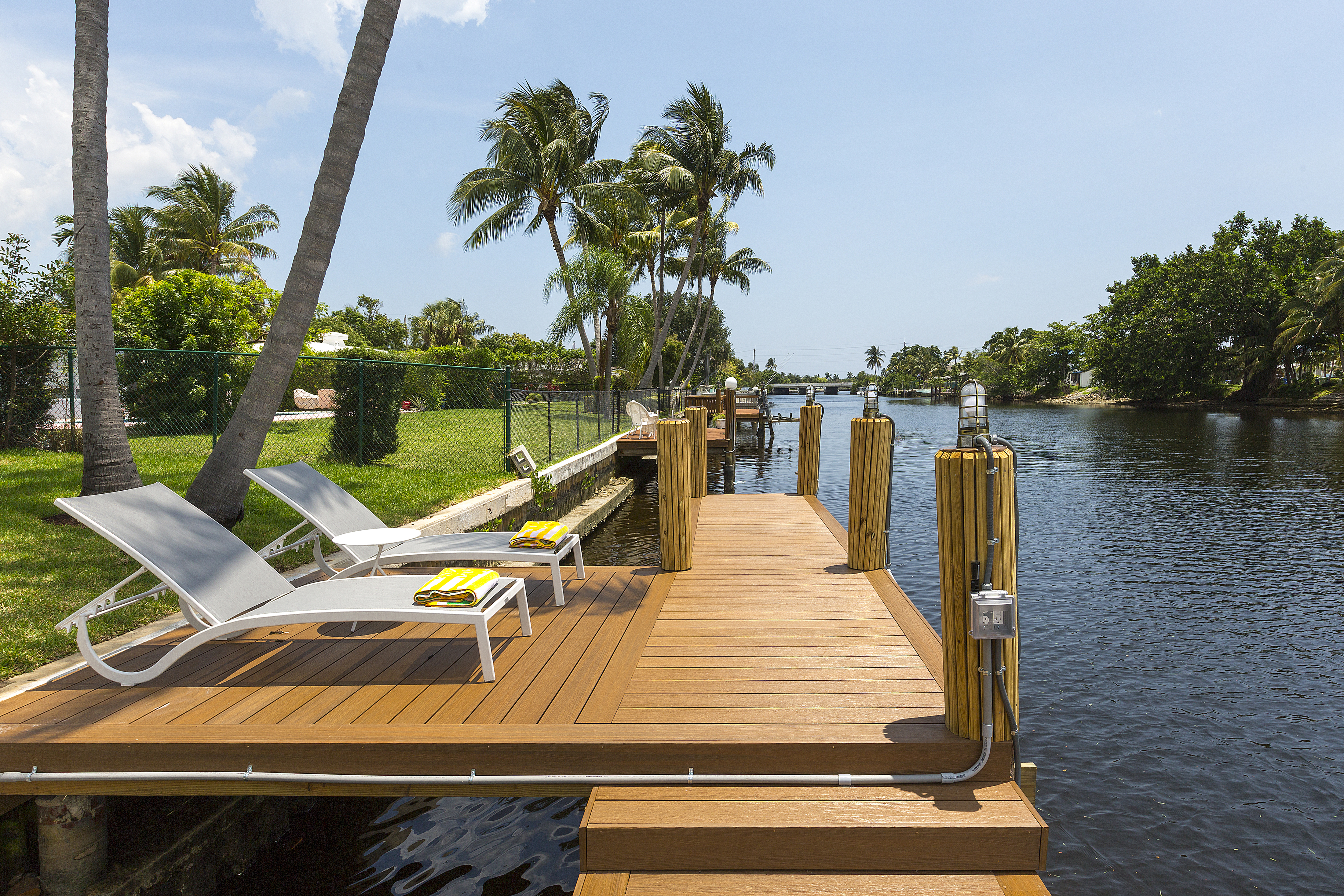 The backyard has sun all day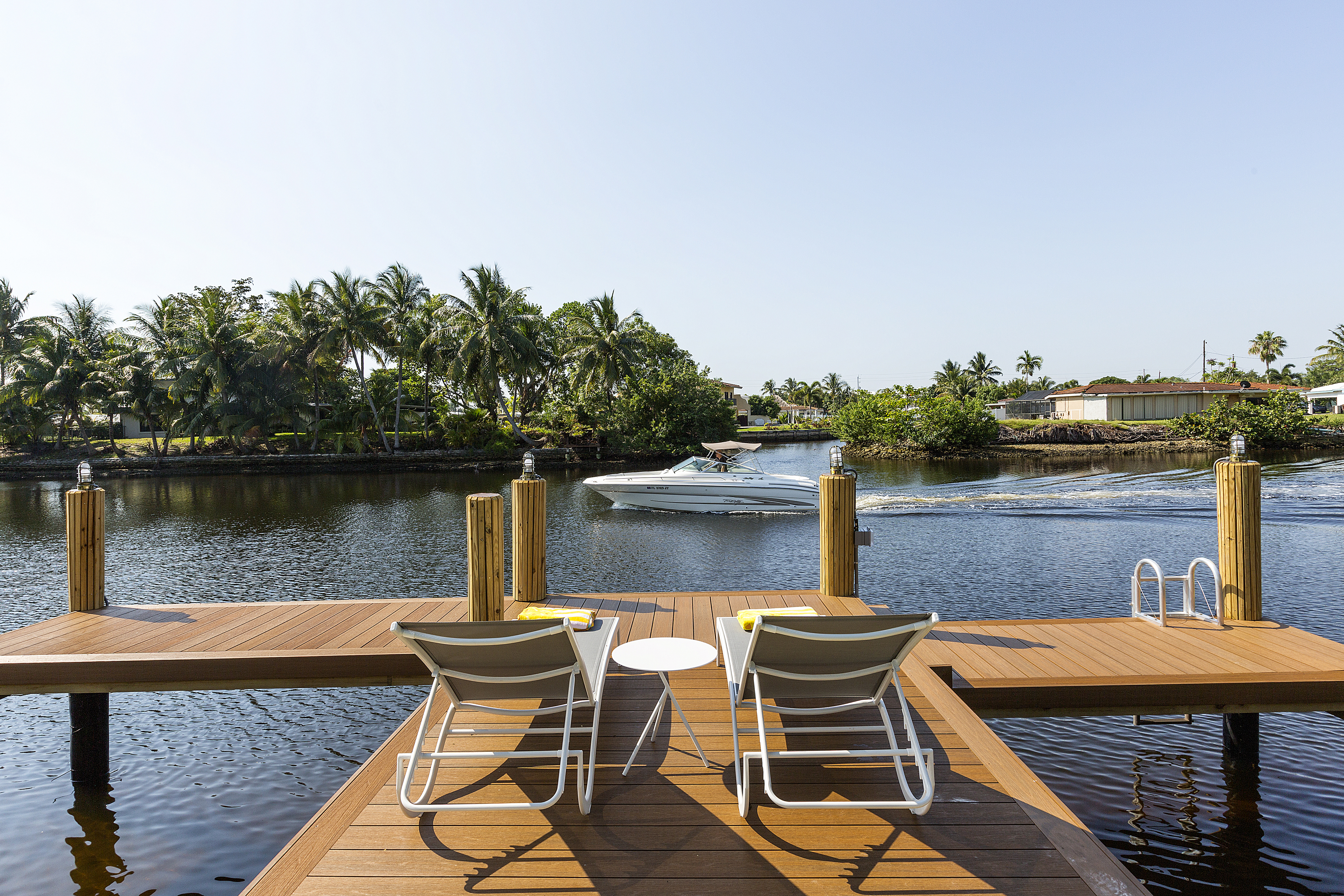 watch the boats go by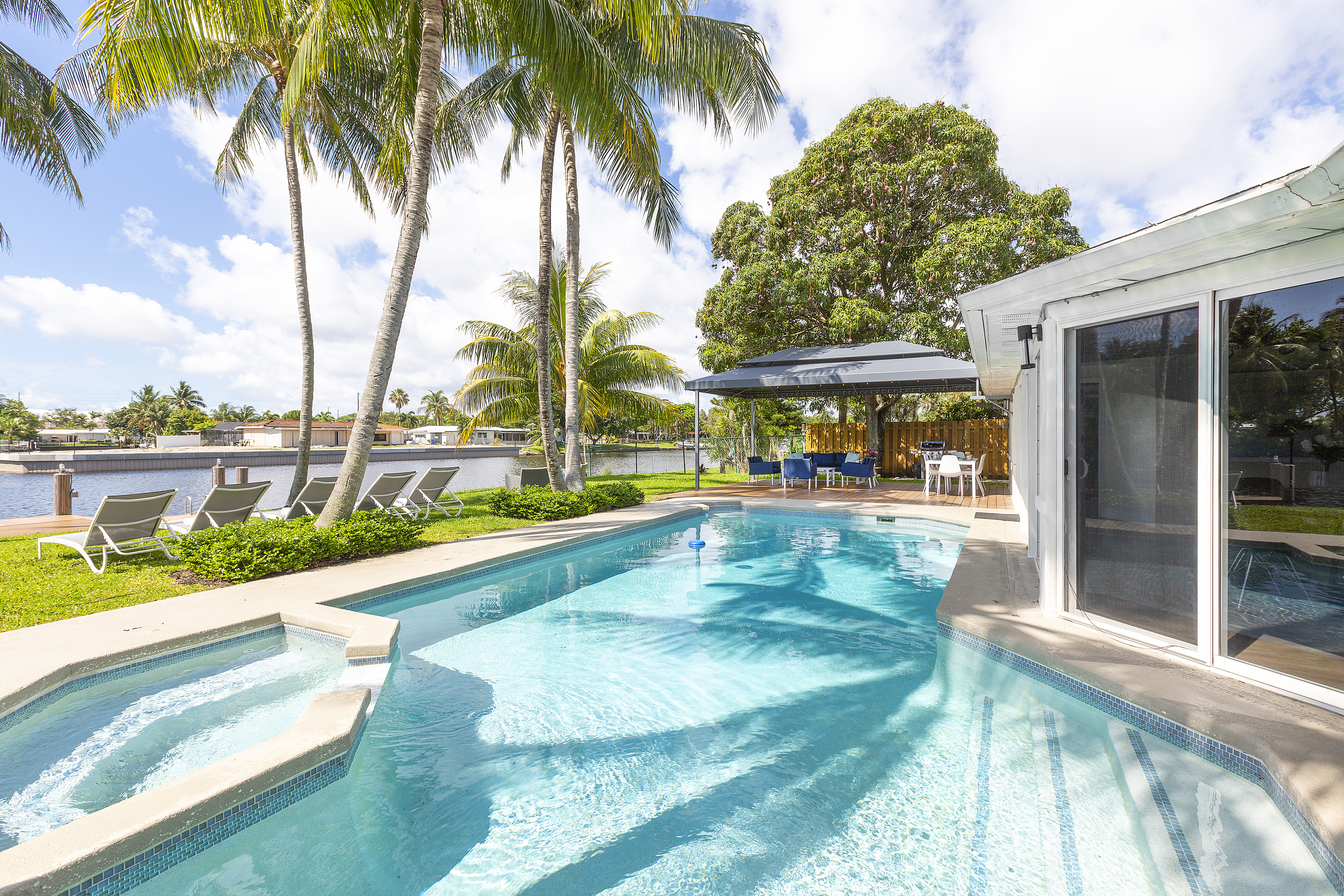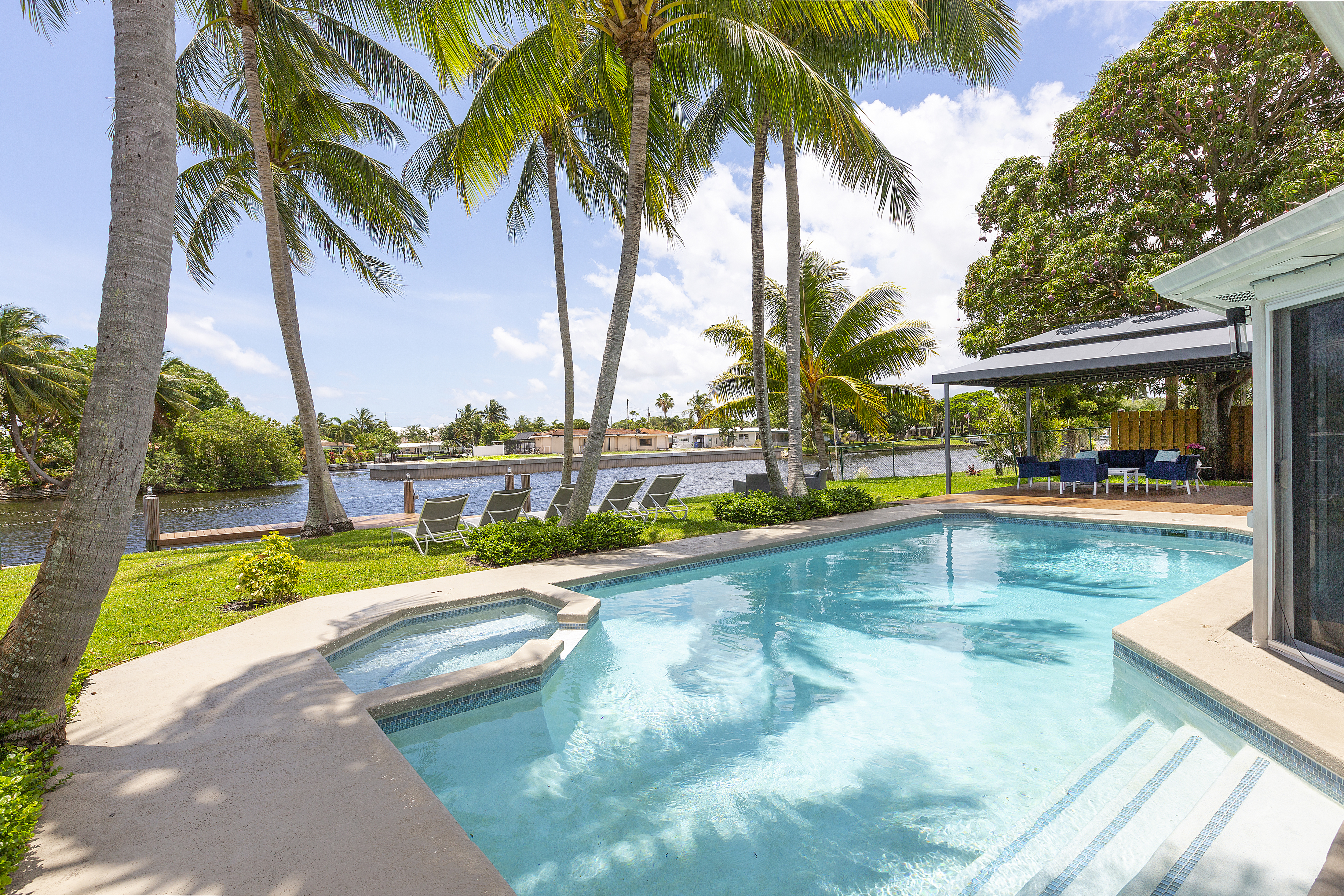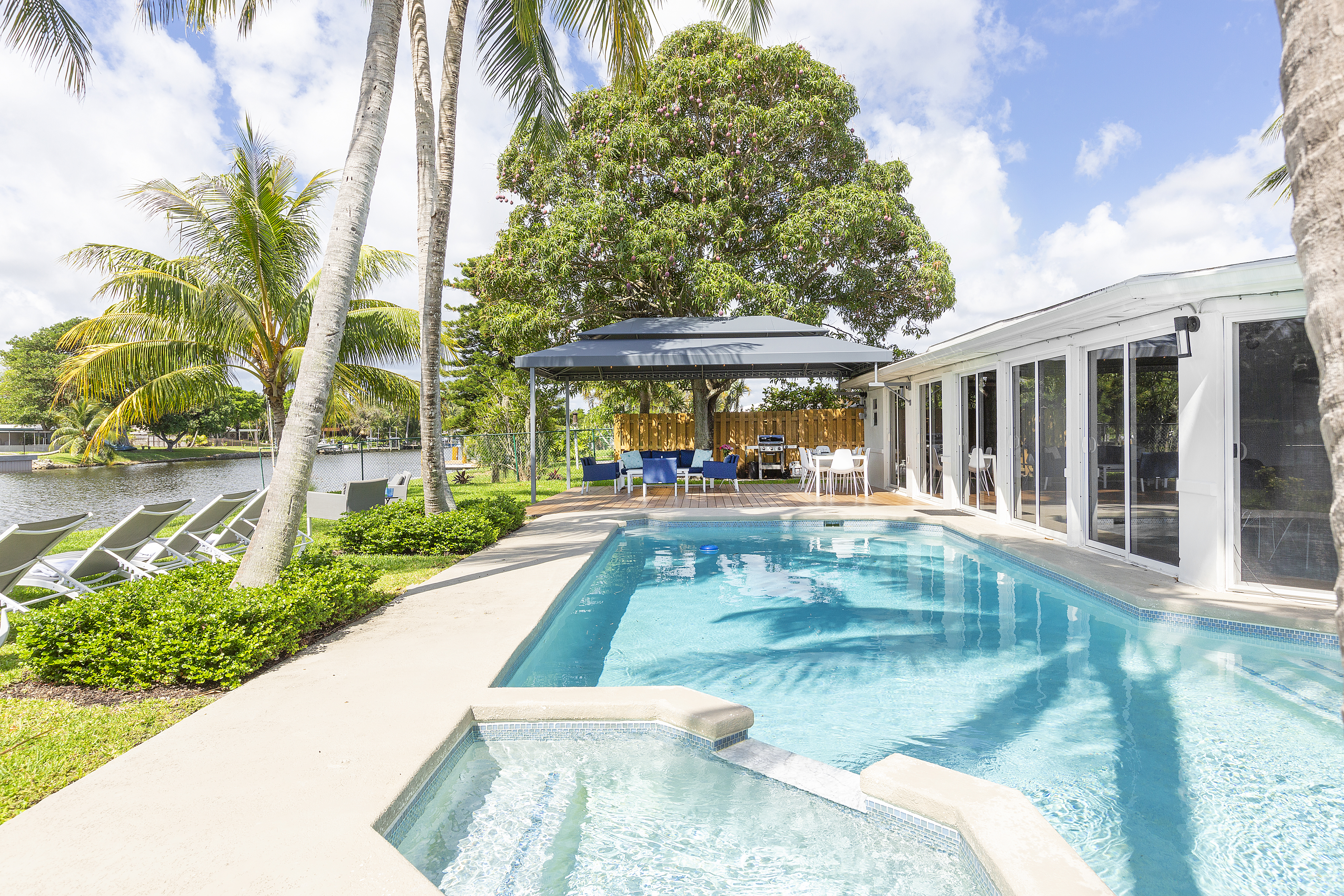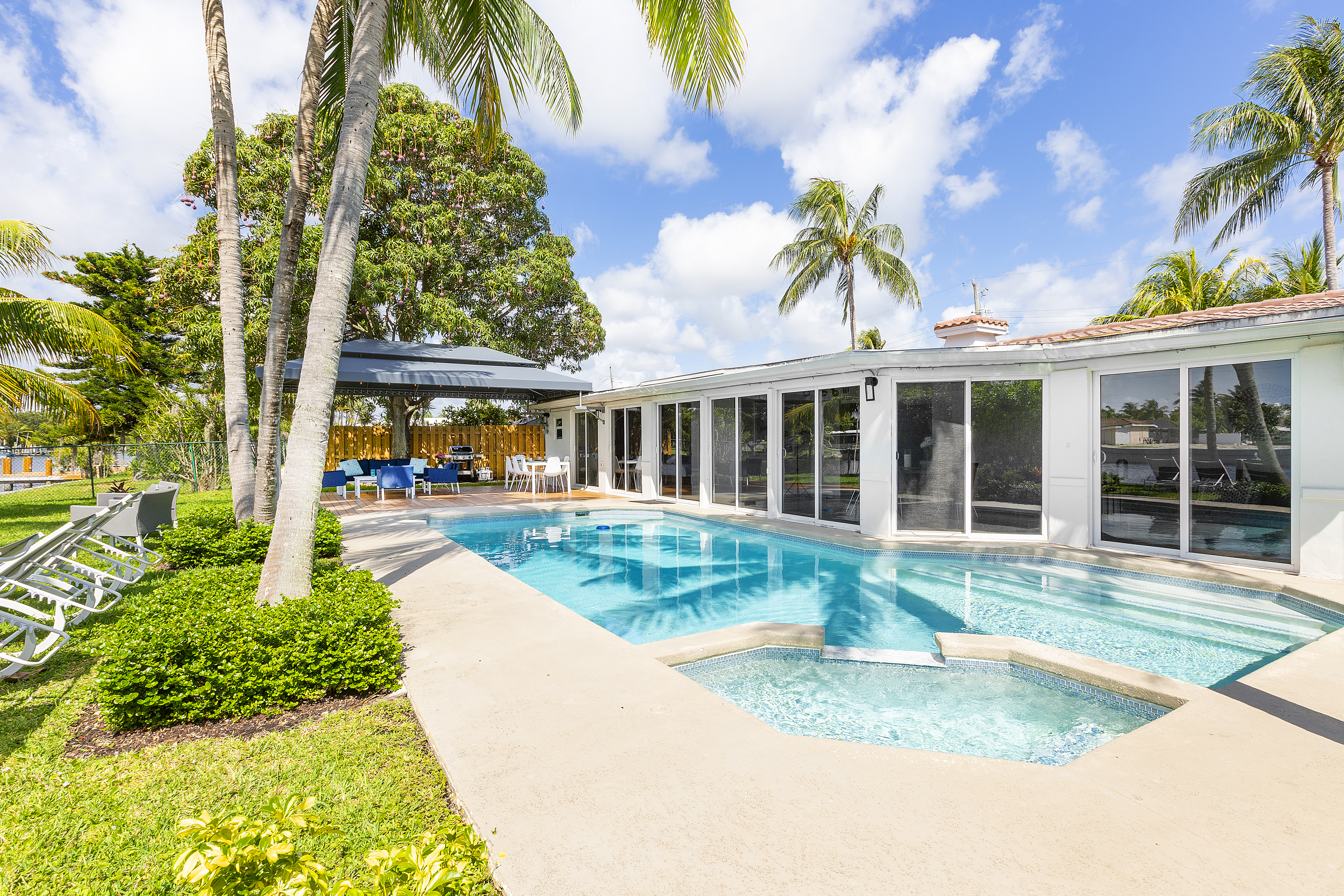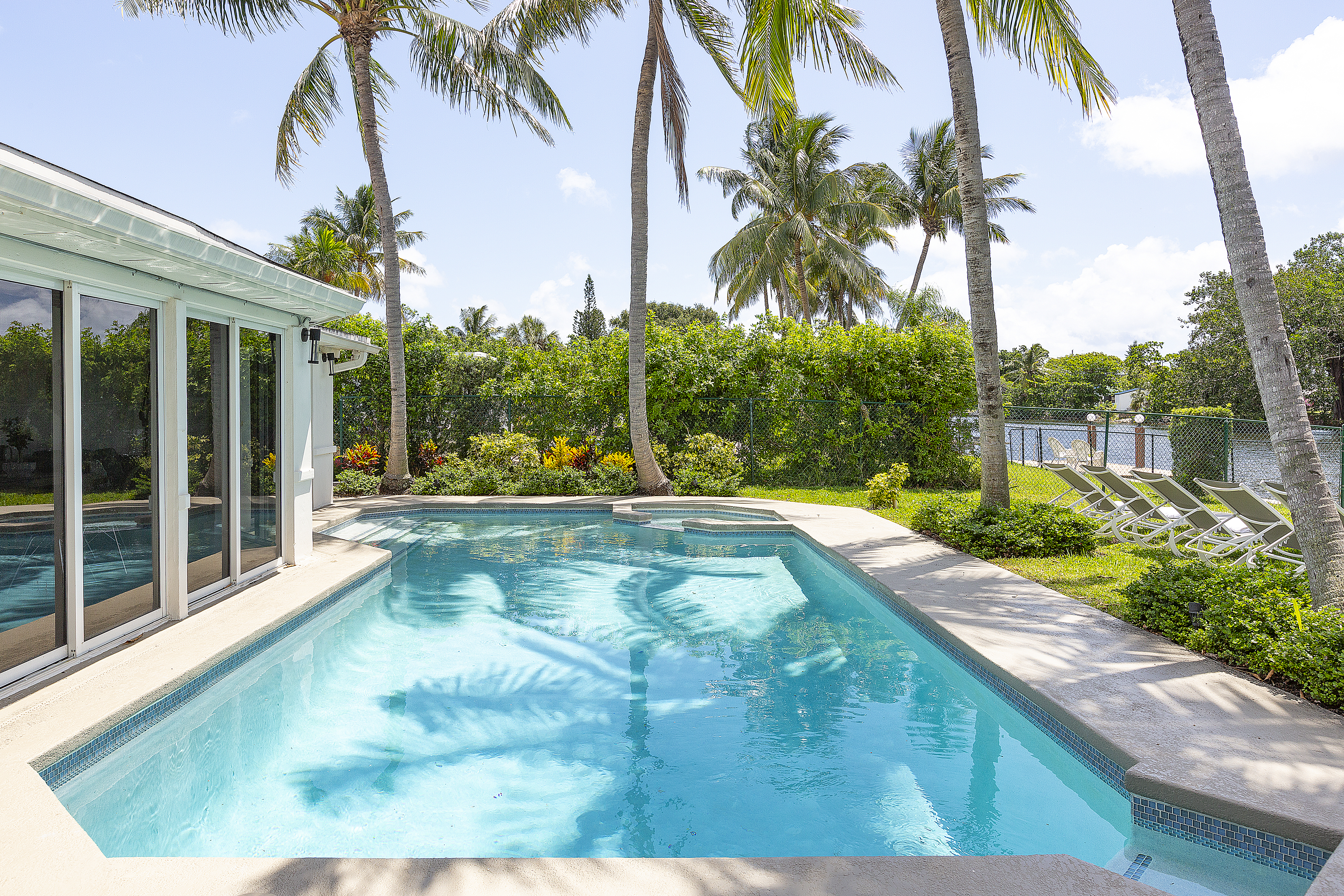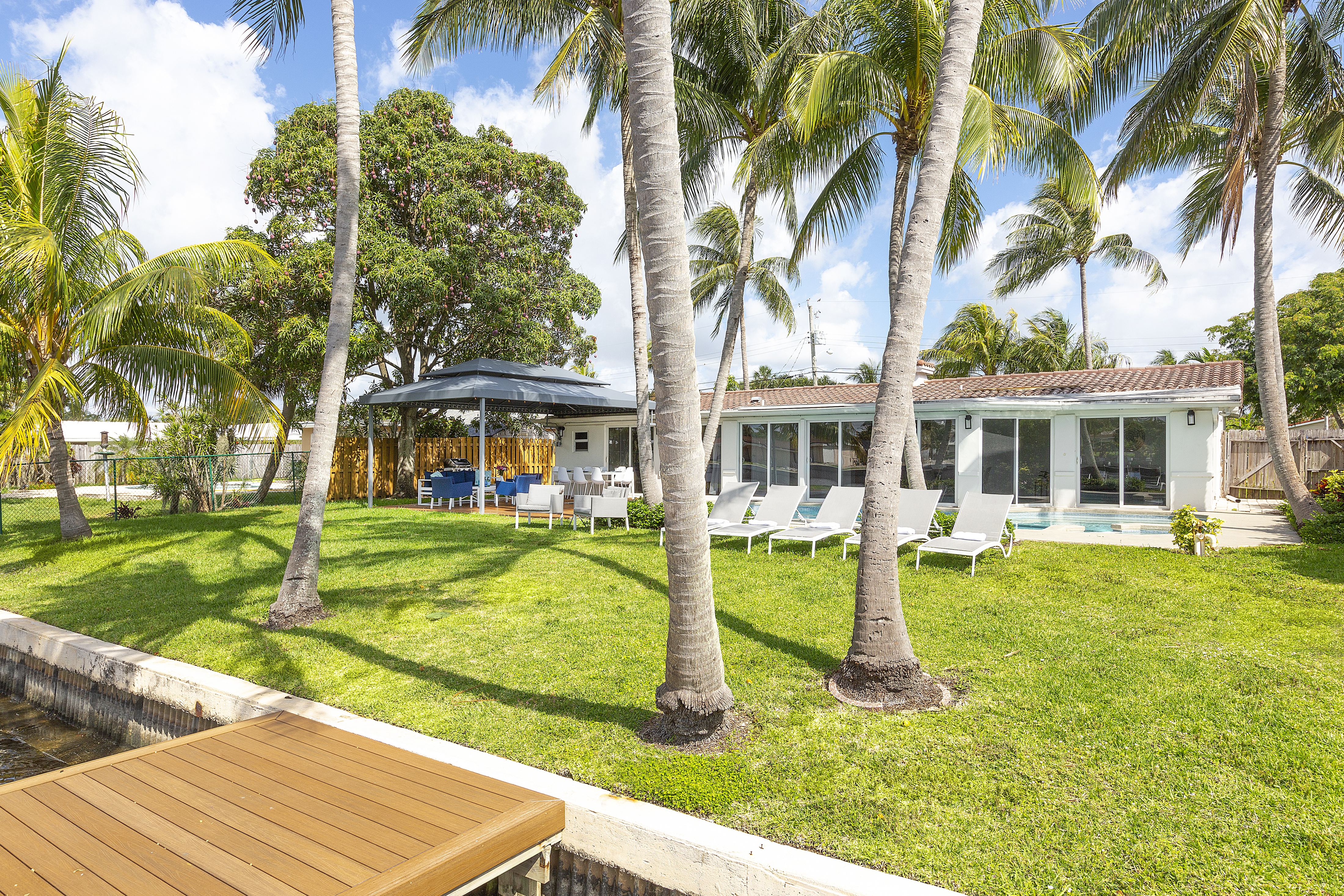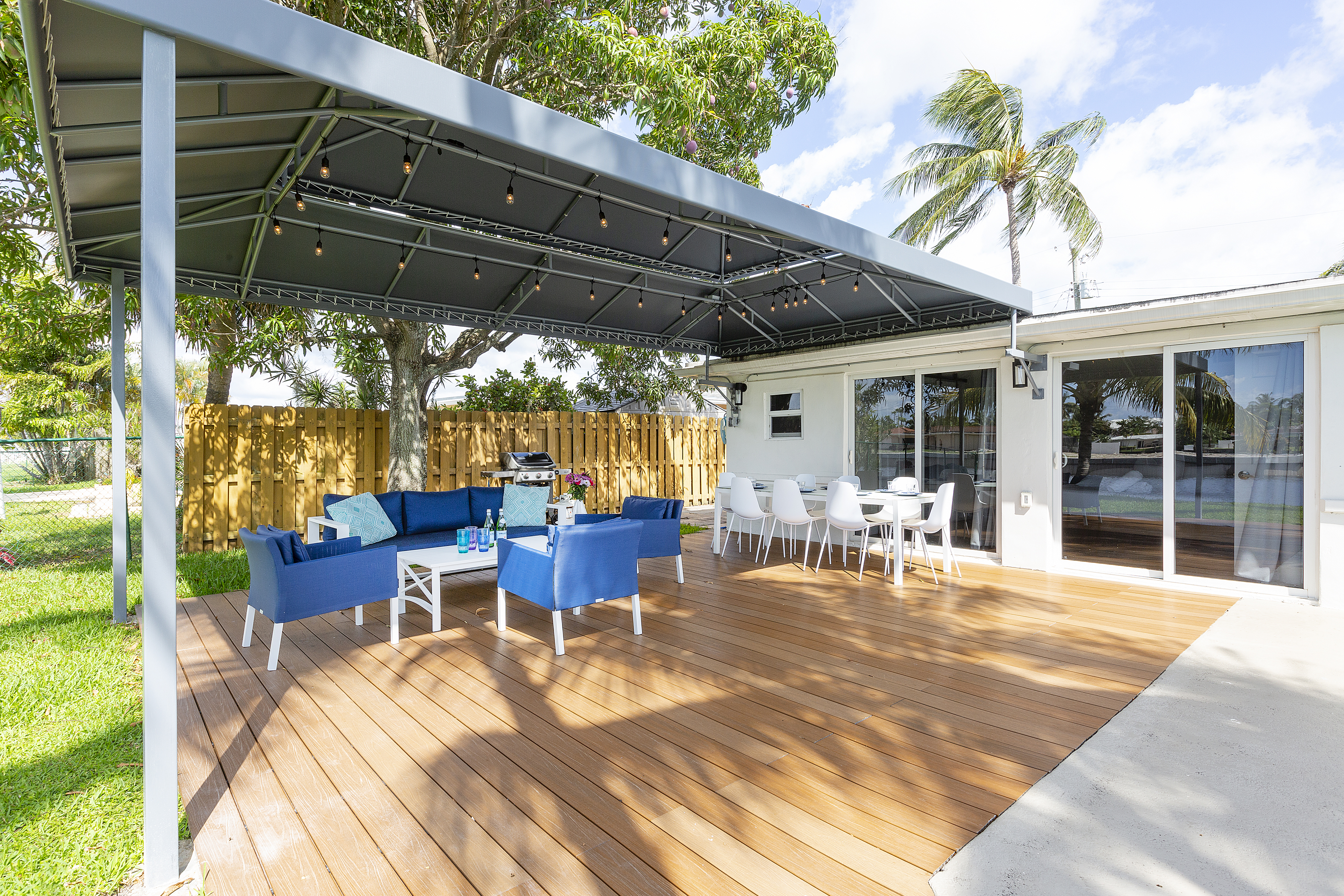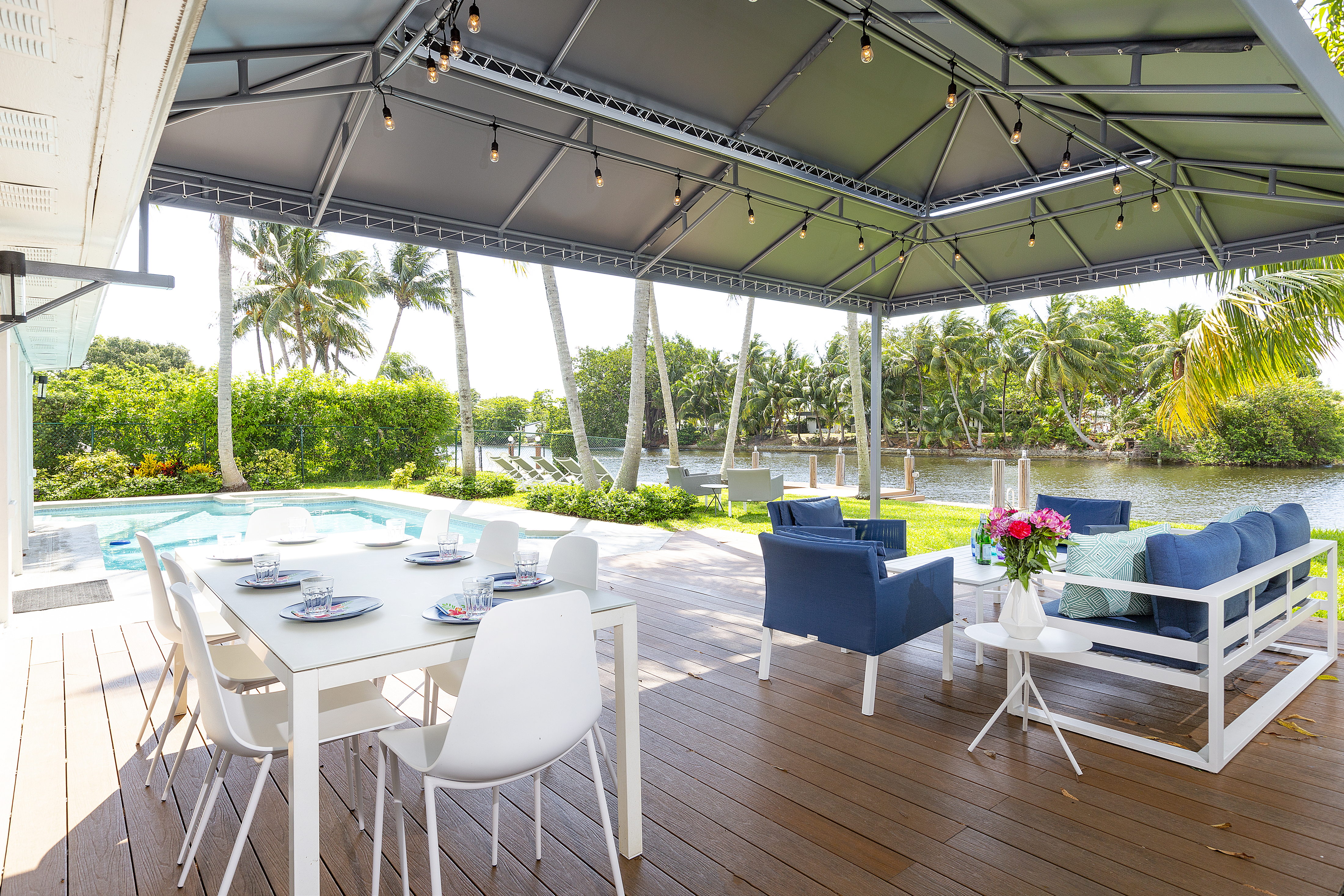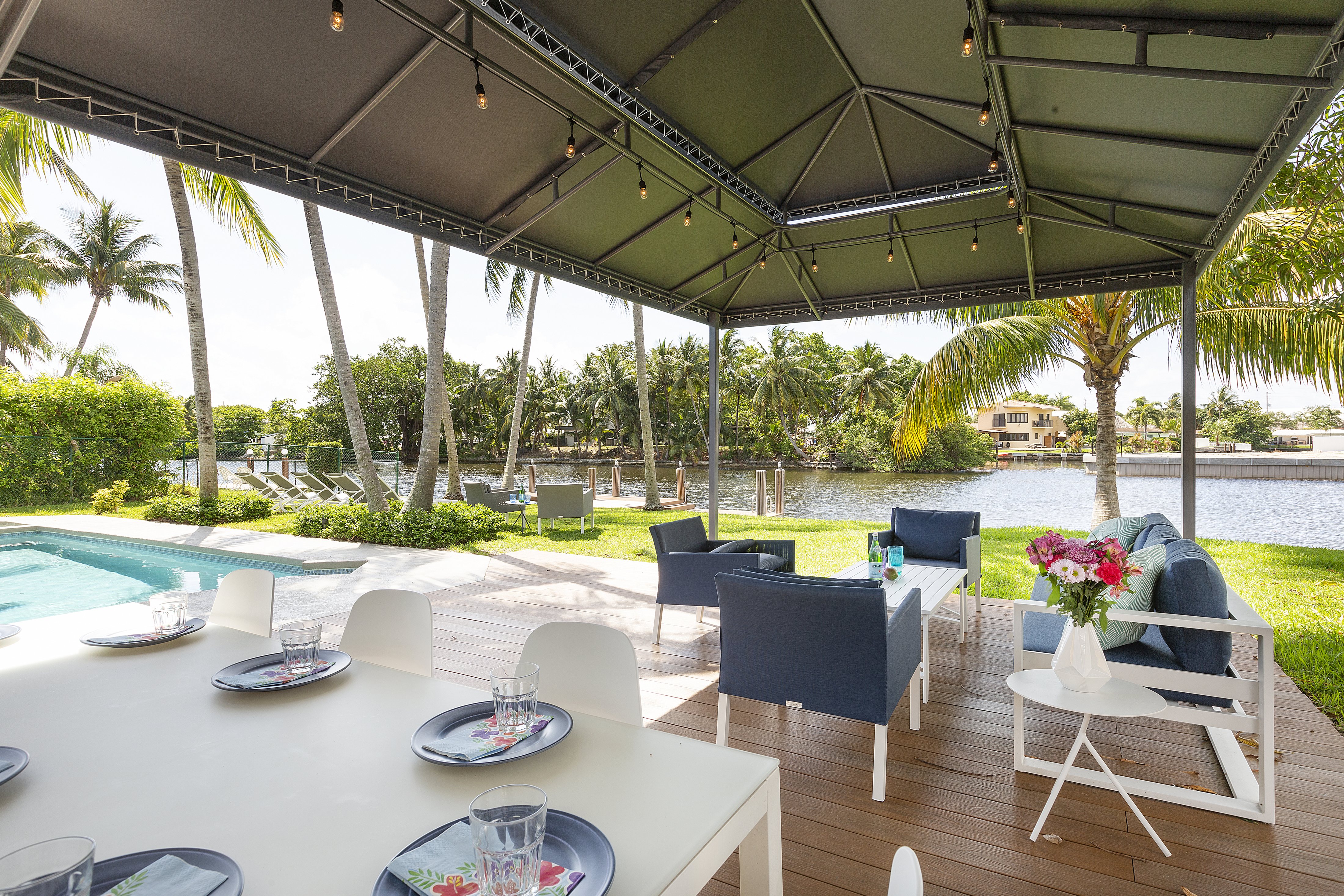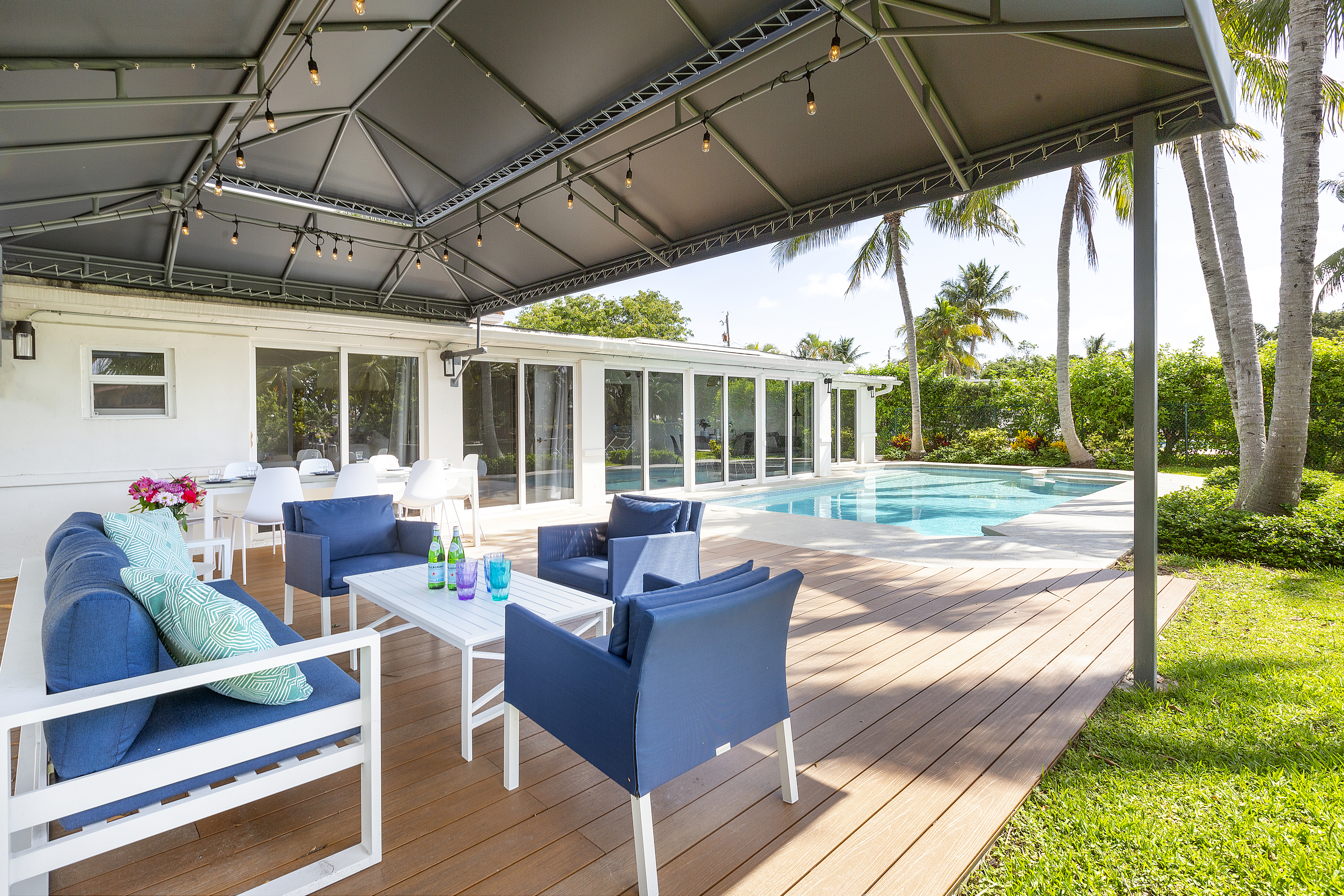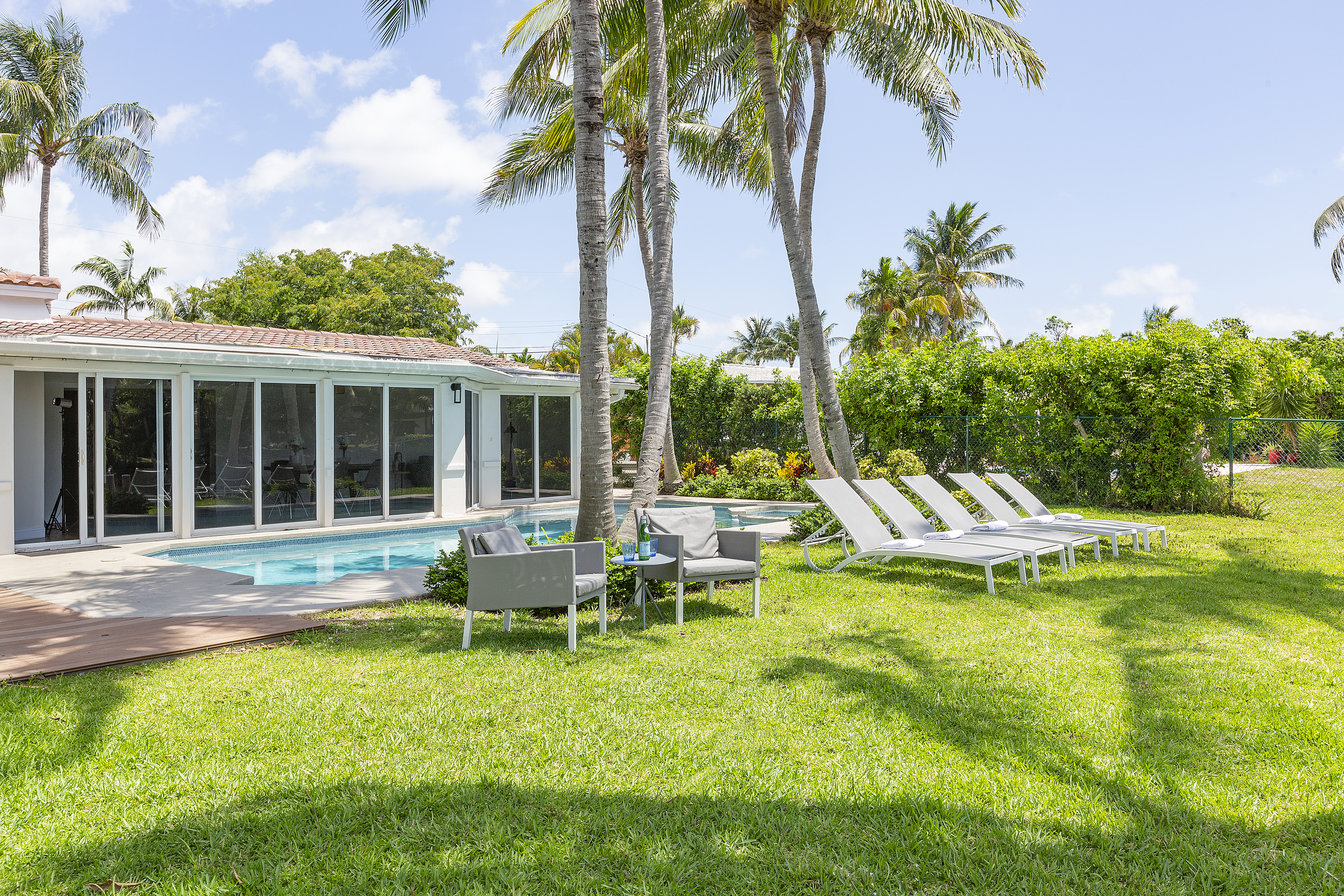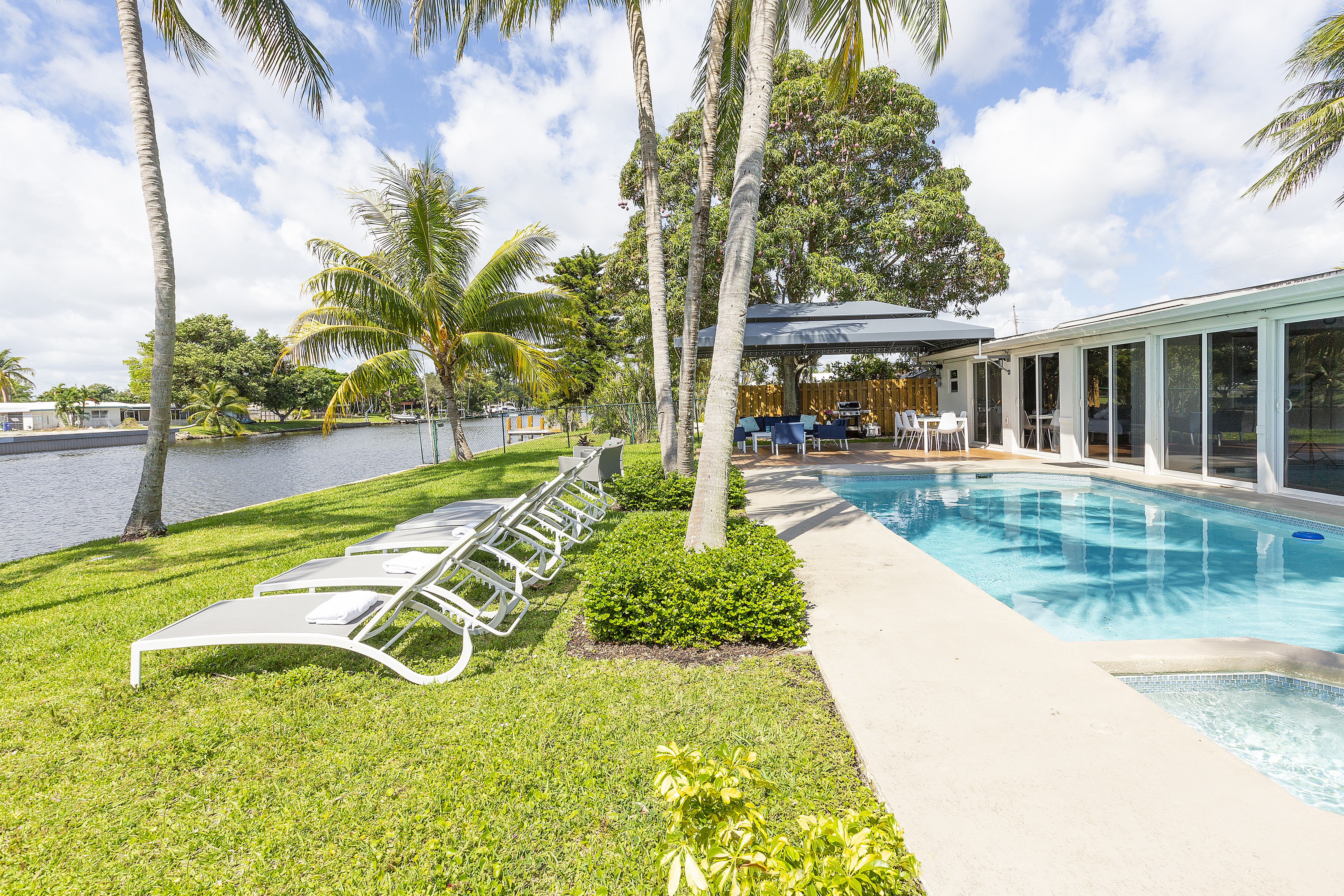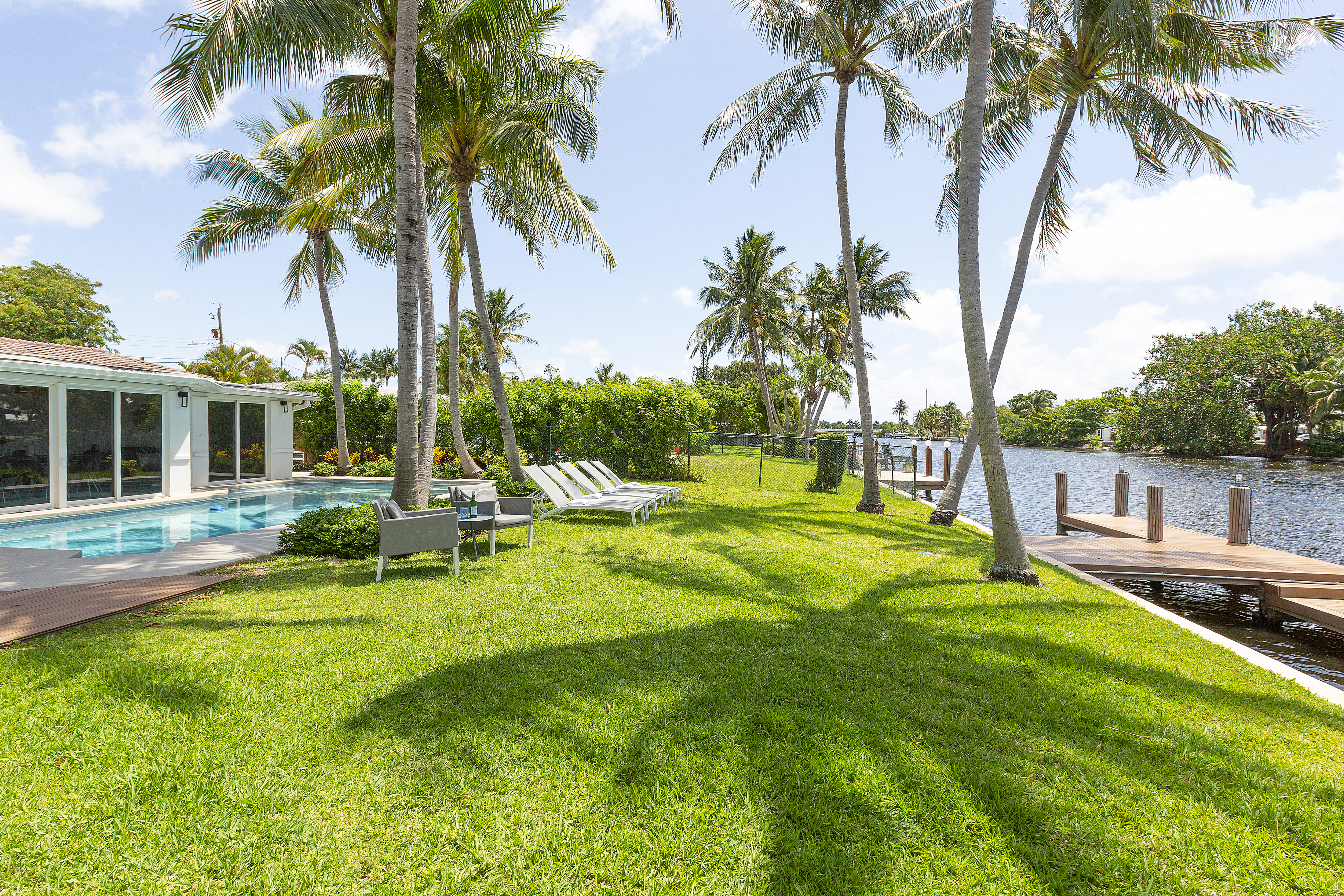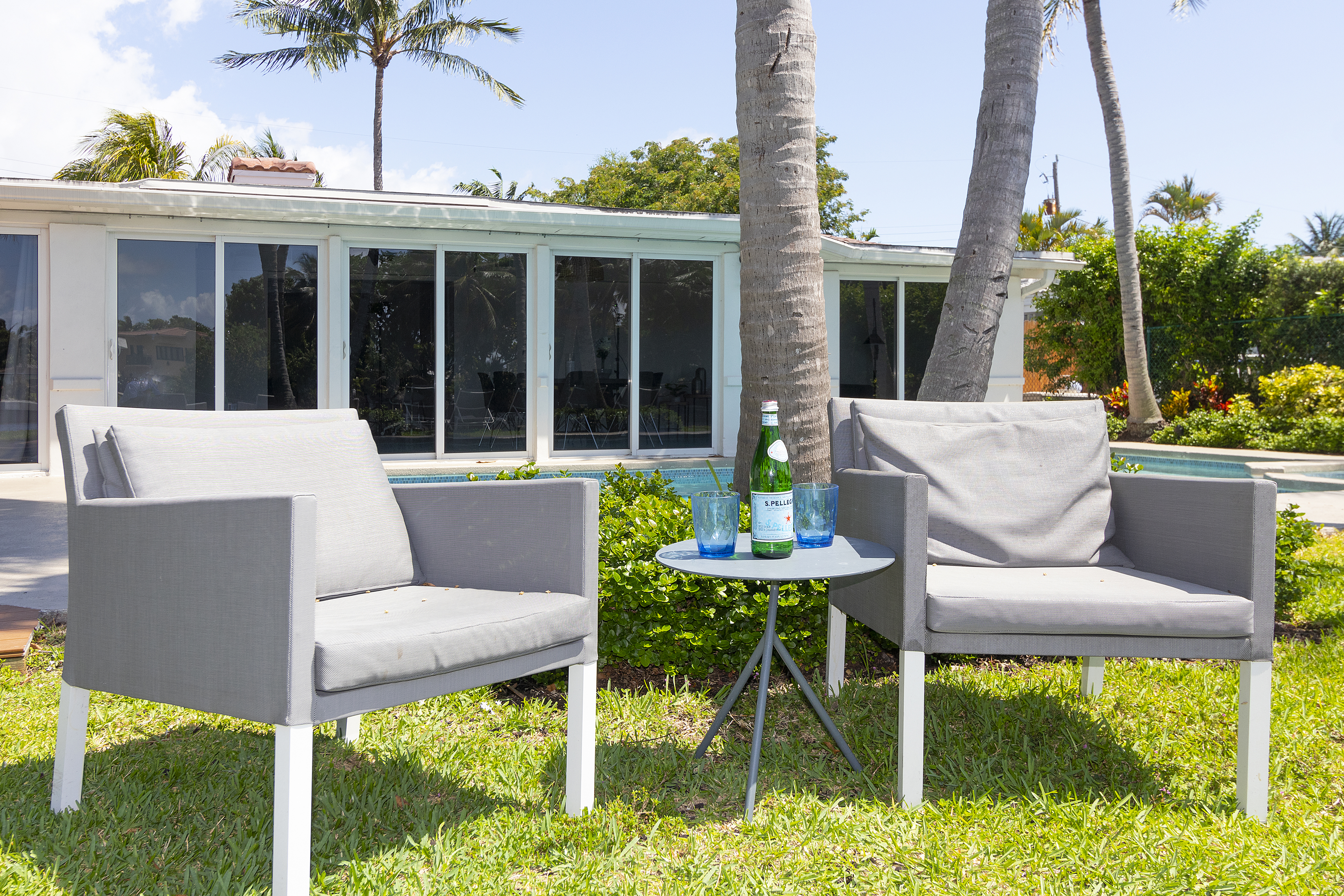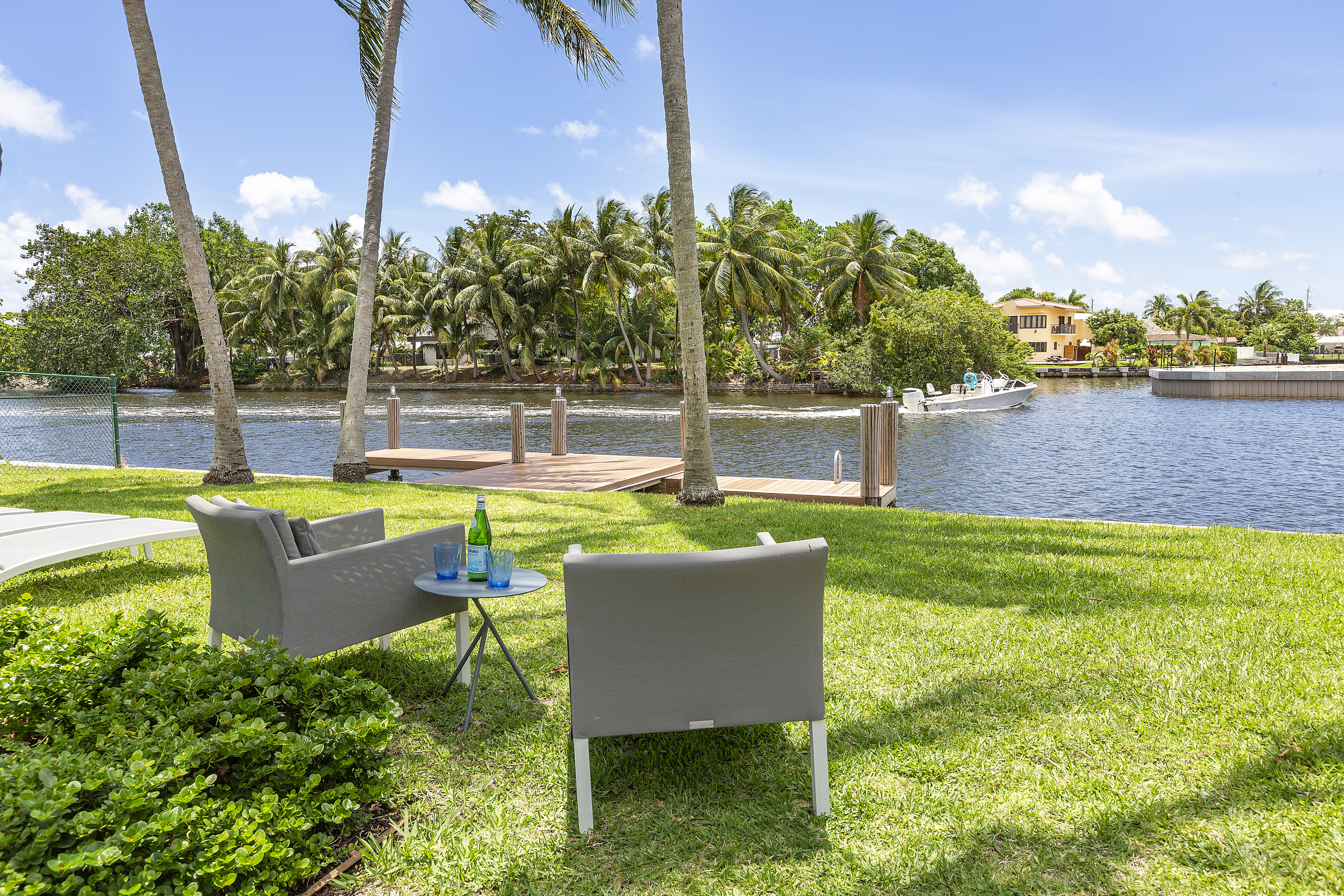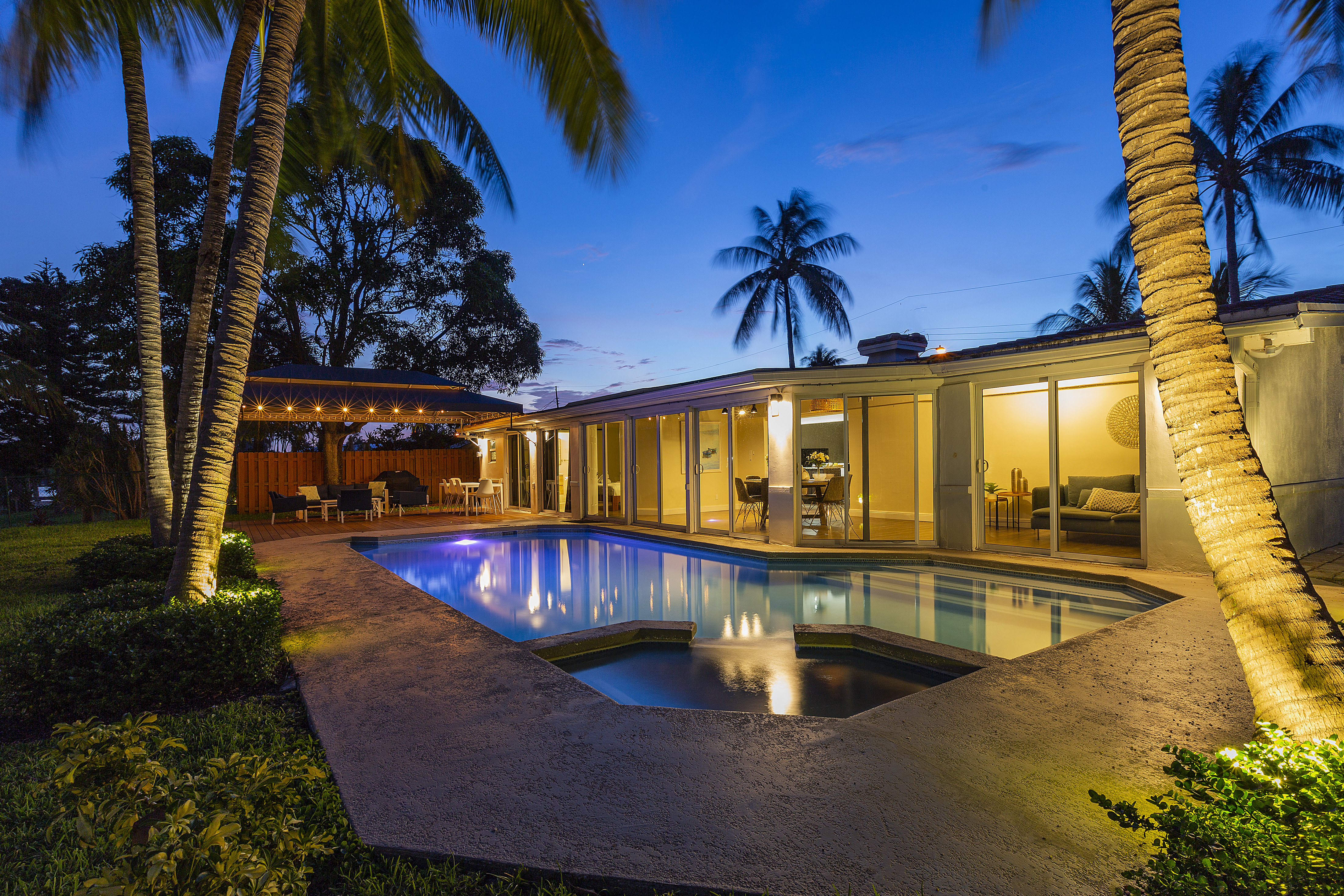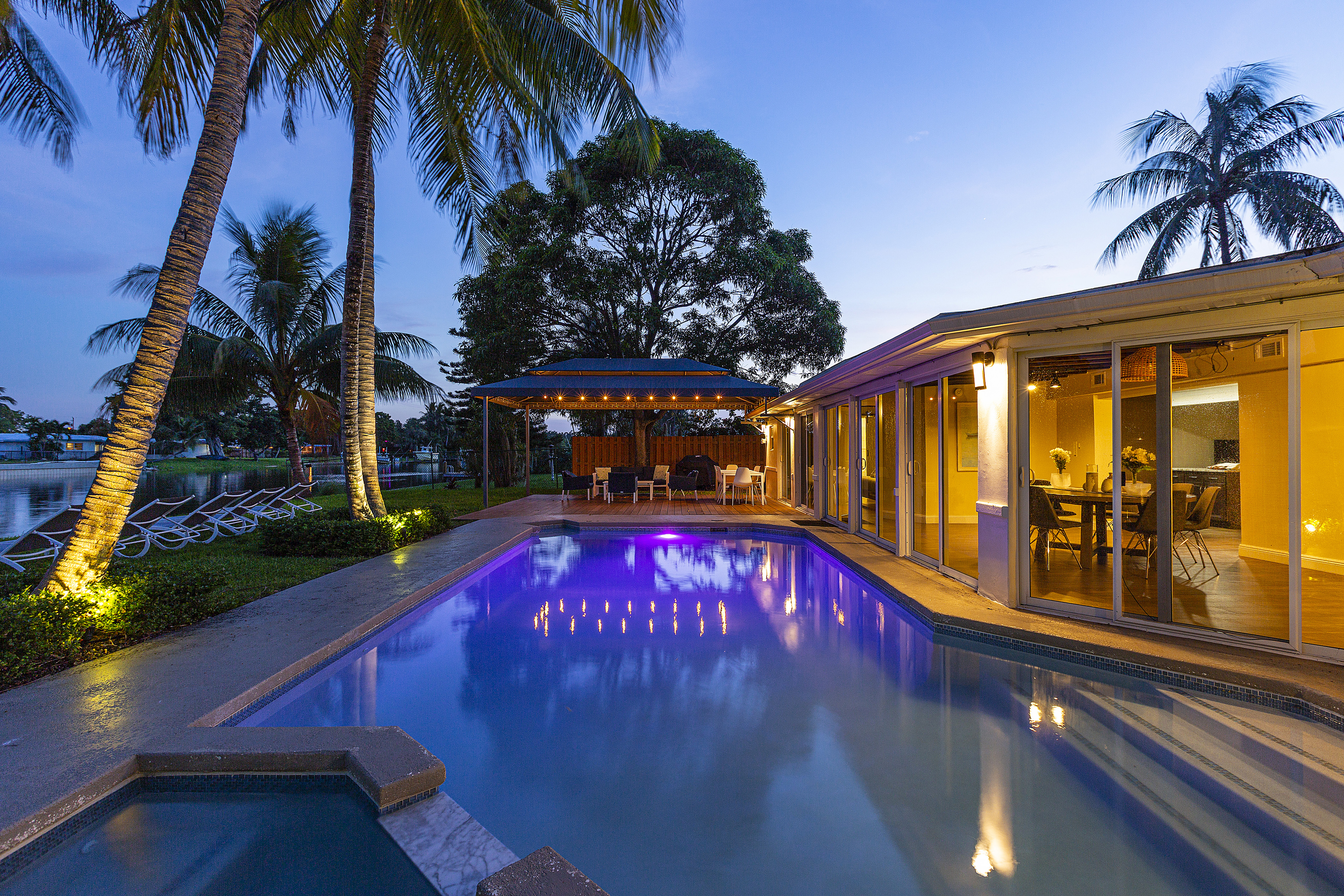 Awsome pool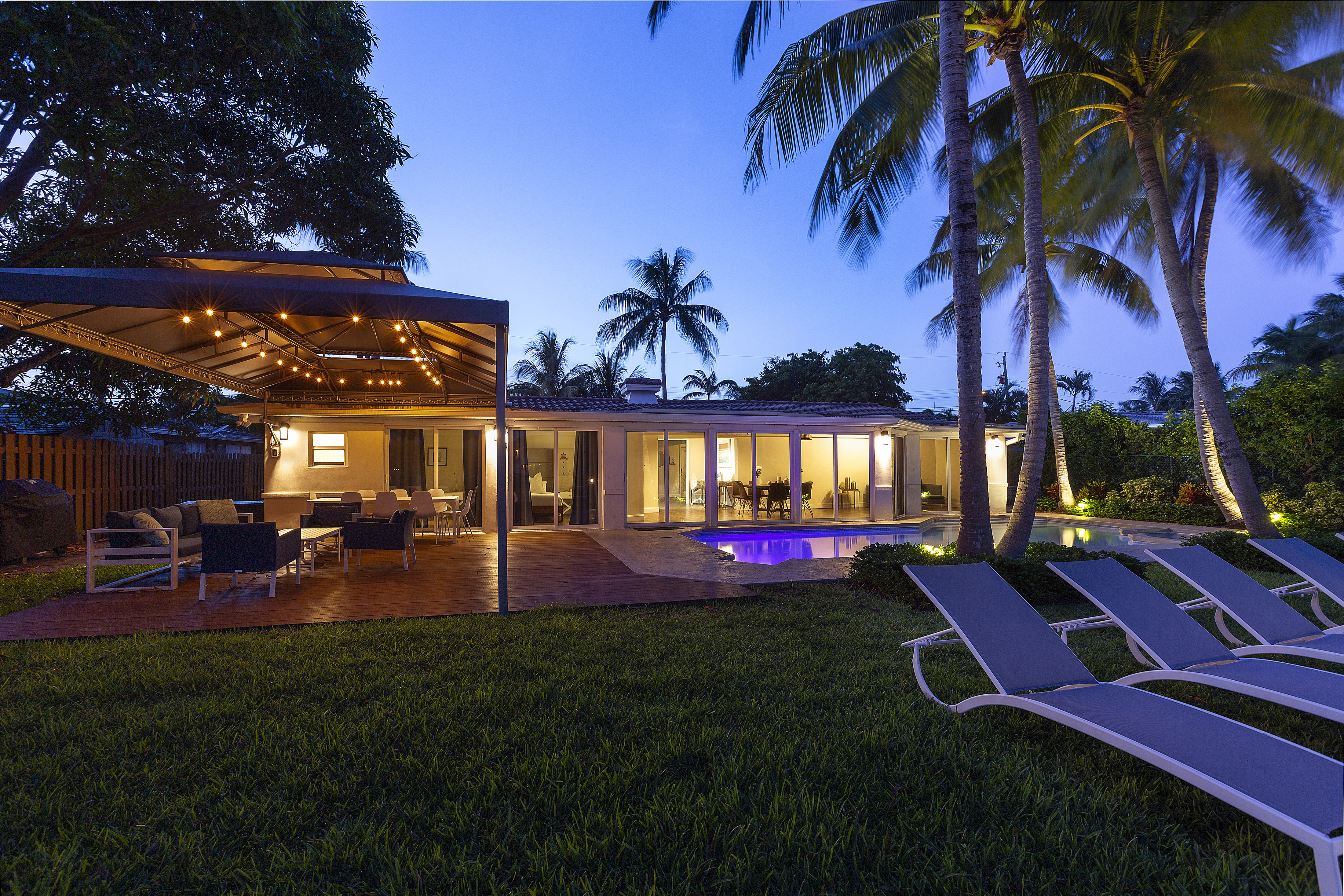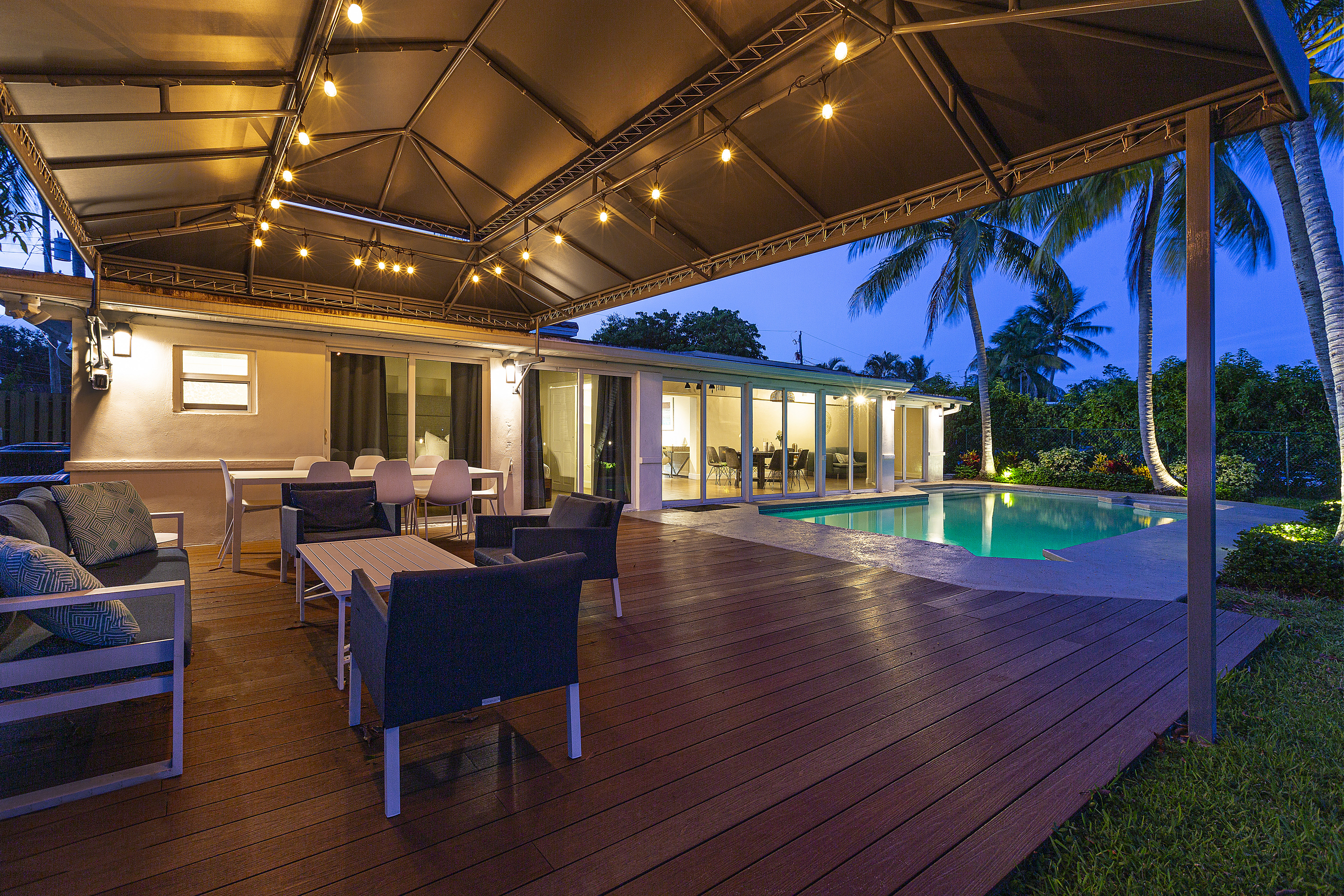 Great outdoor lighting creates a nice atmosphere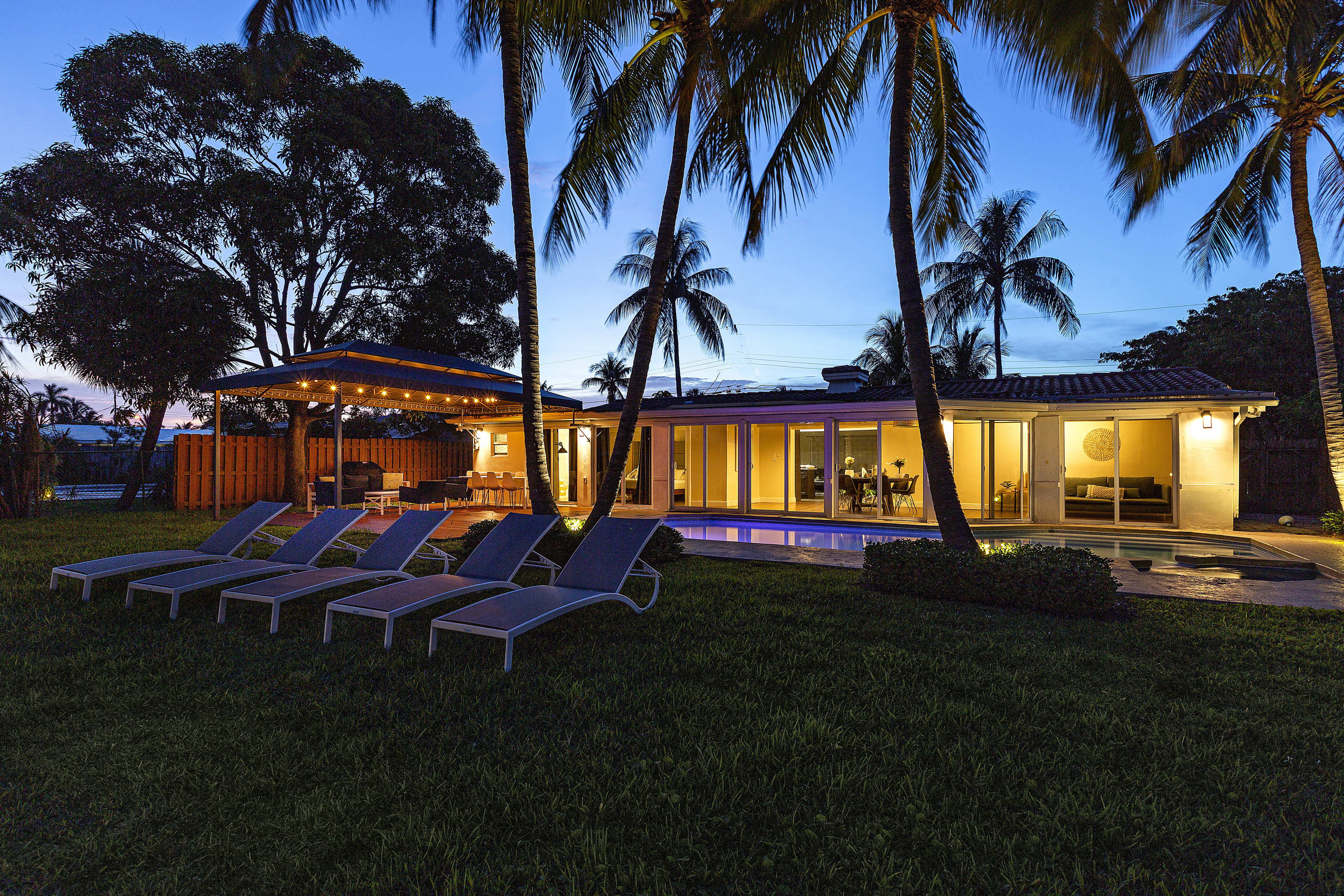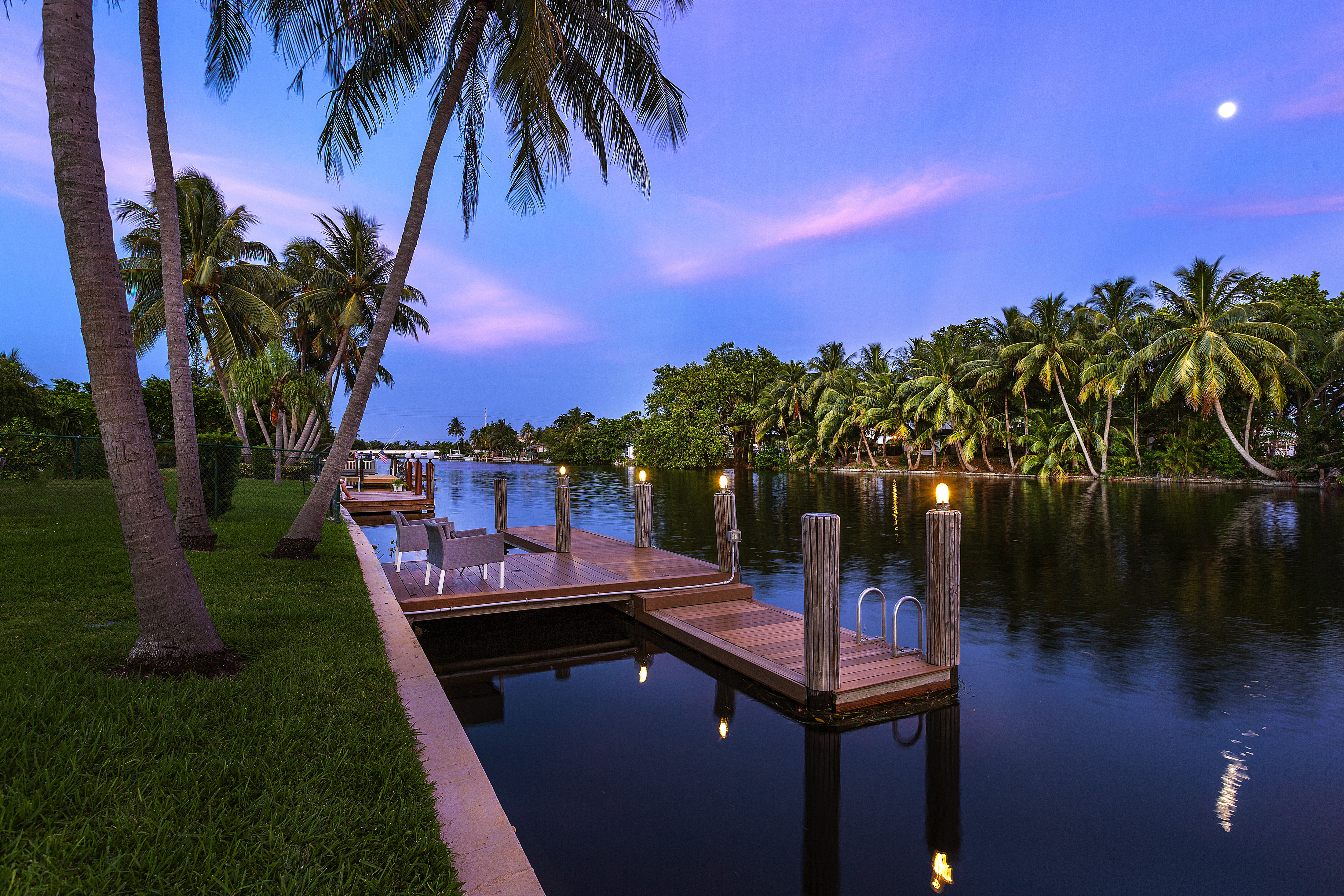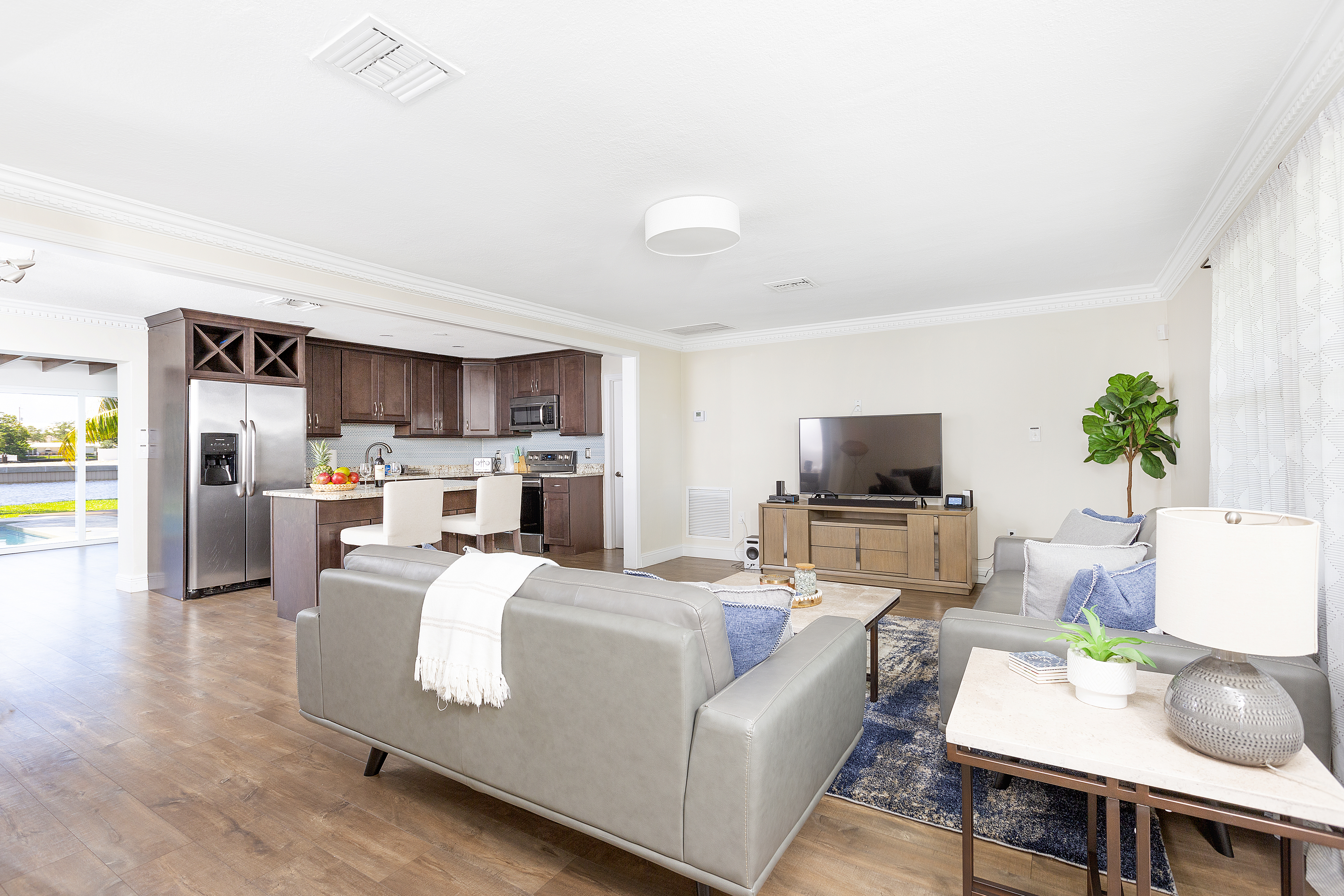 Living Room with View to Kitchen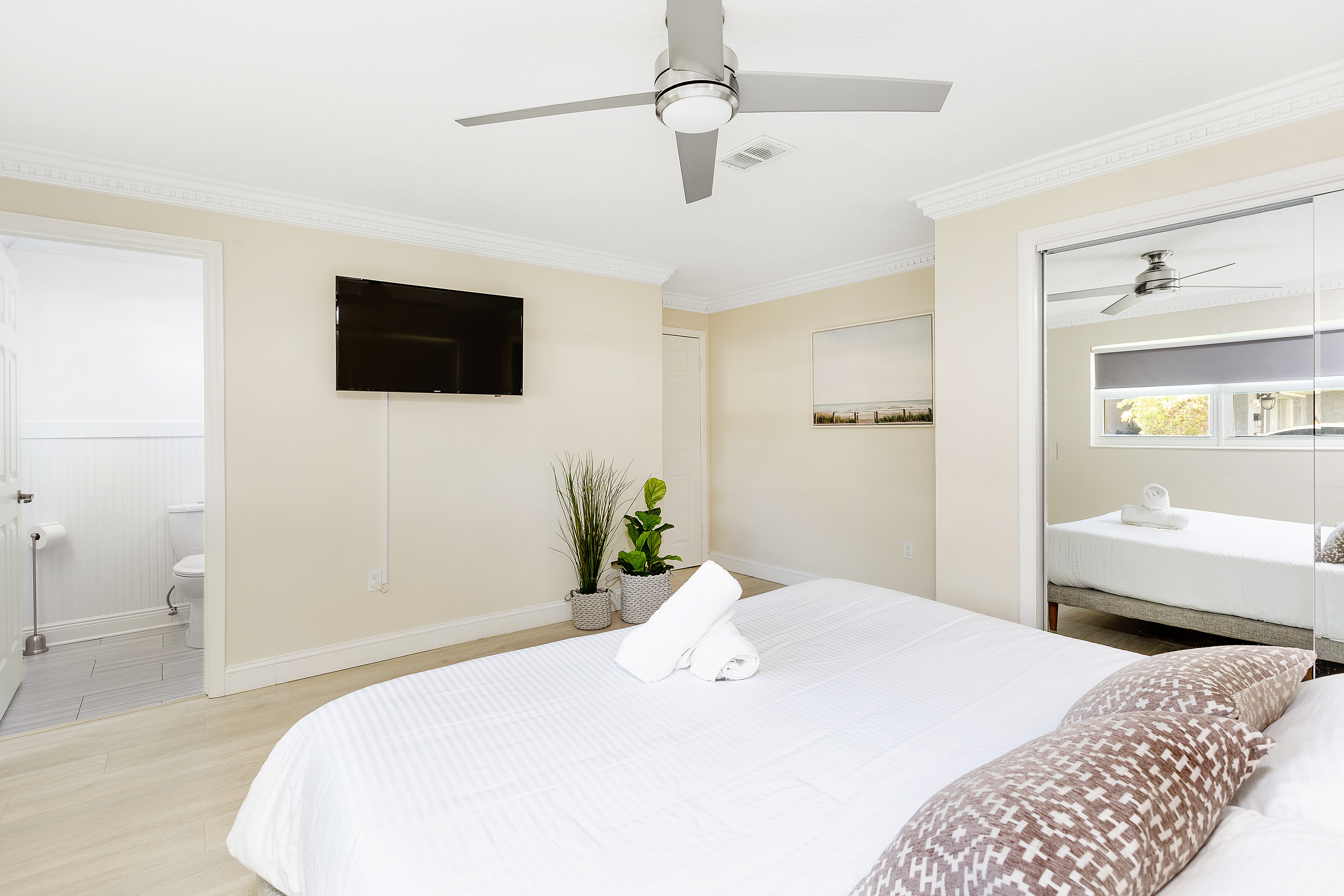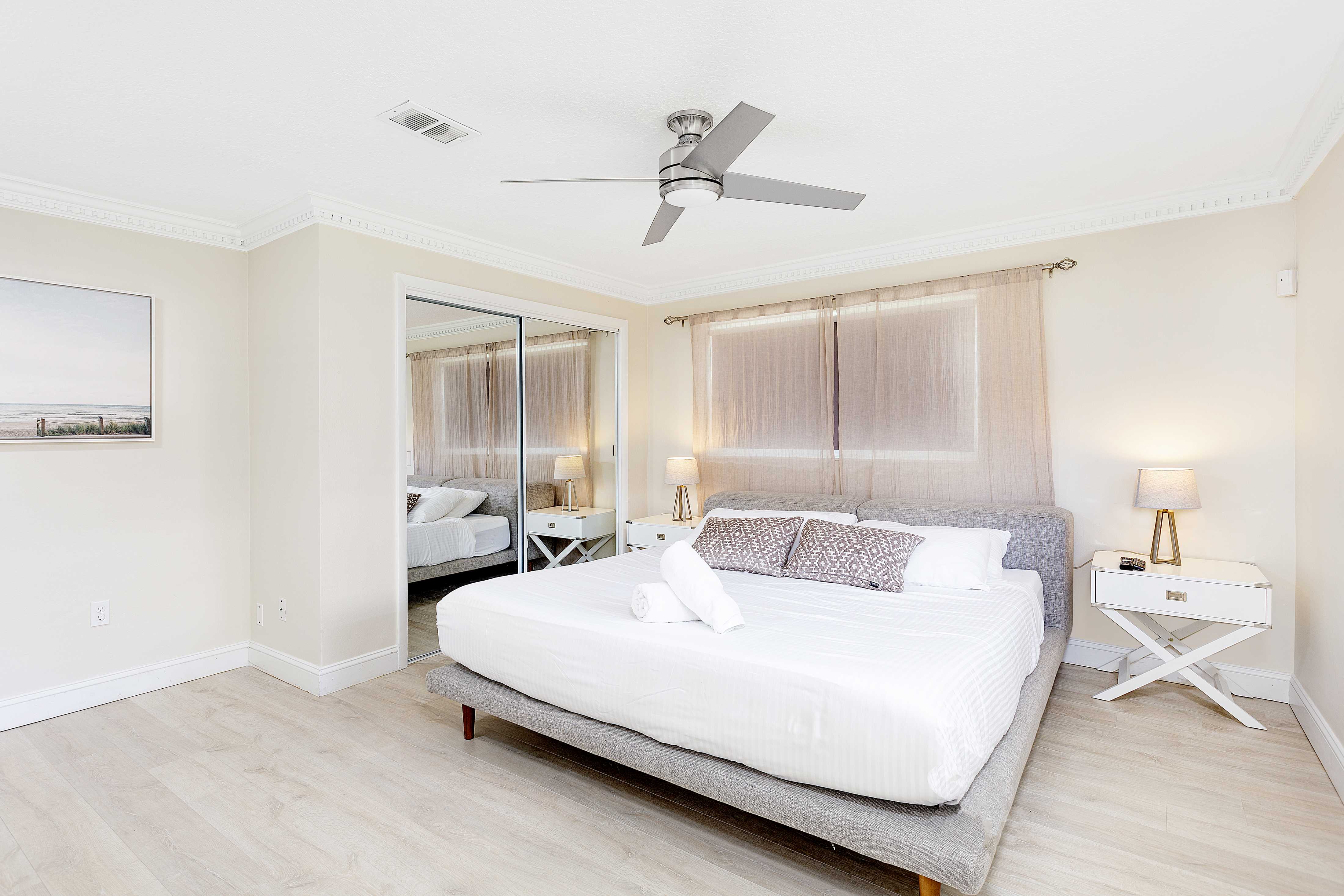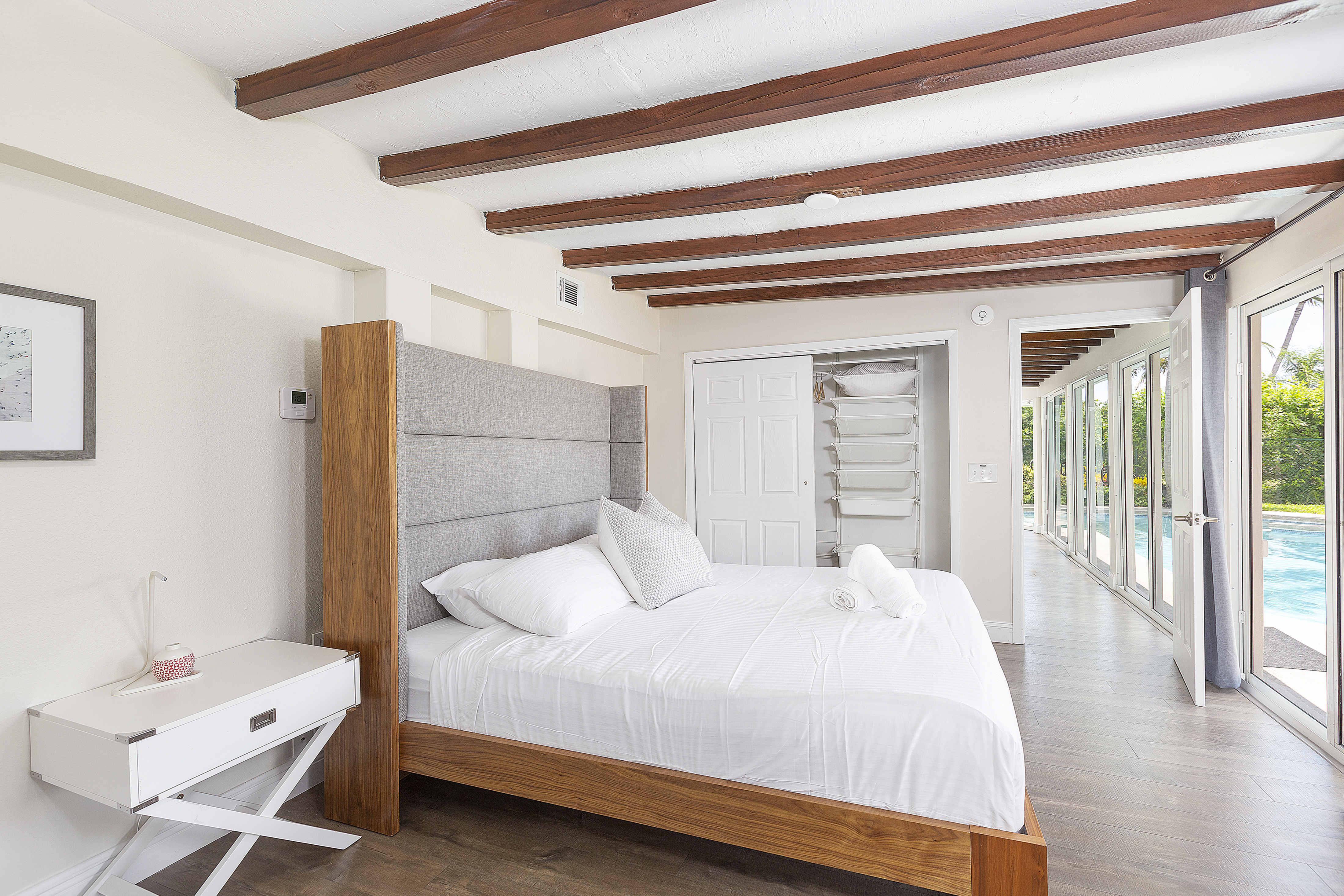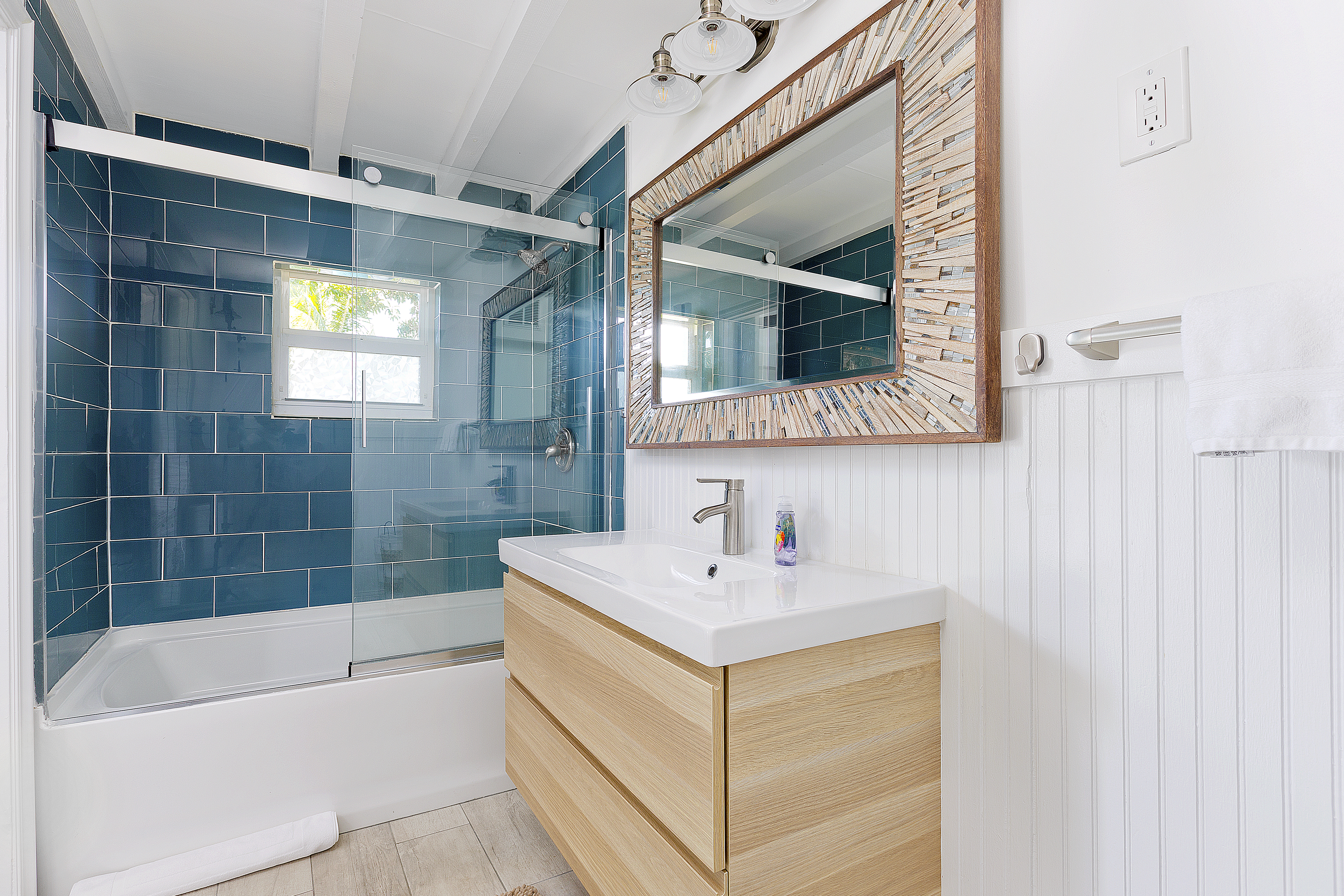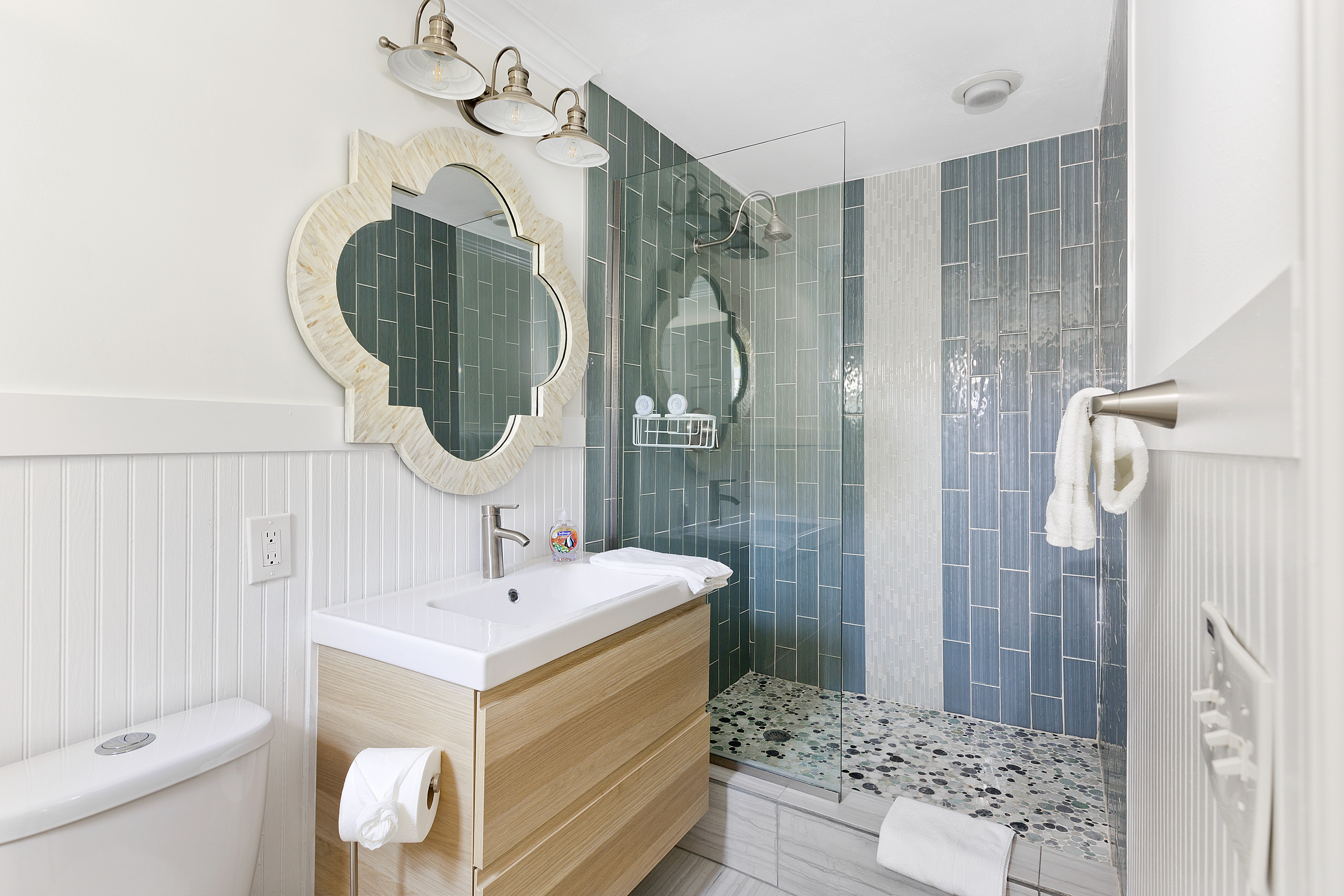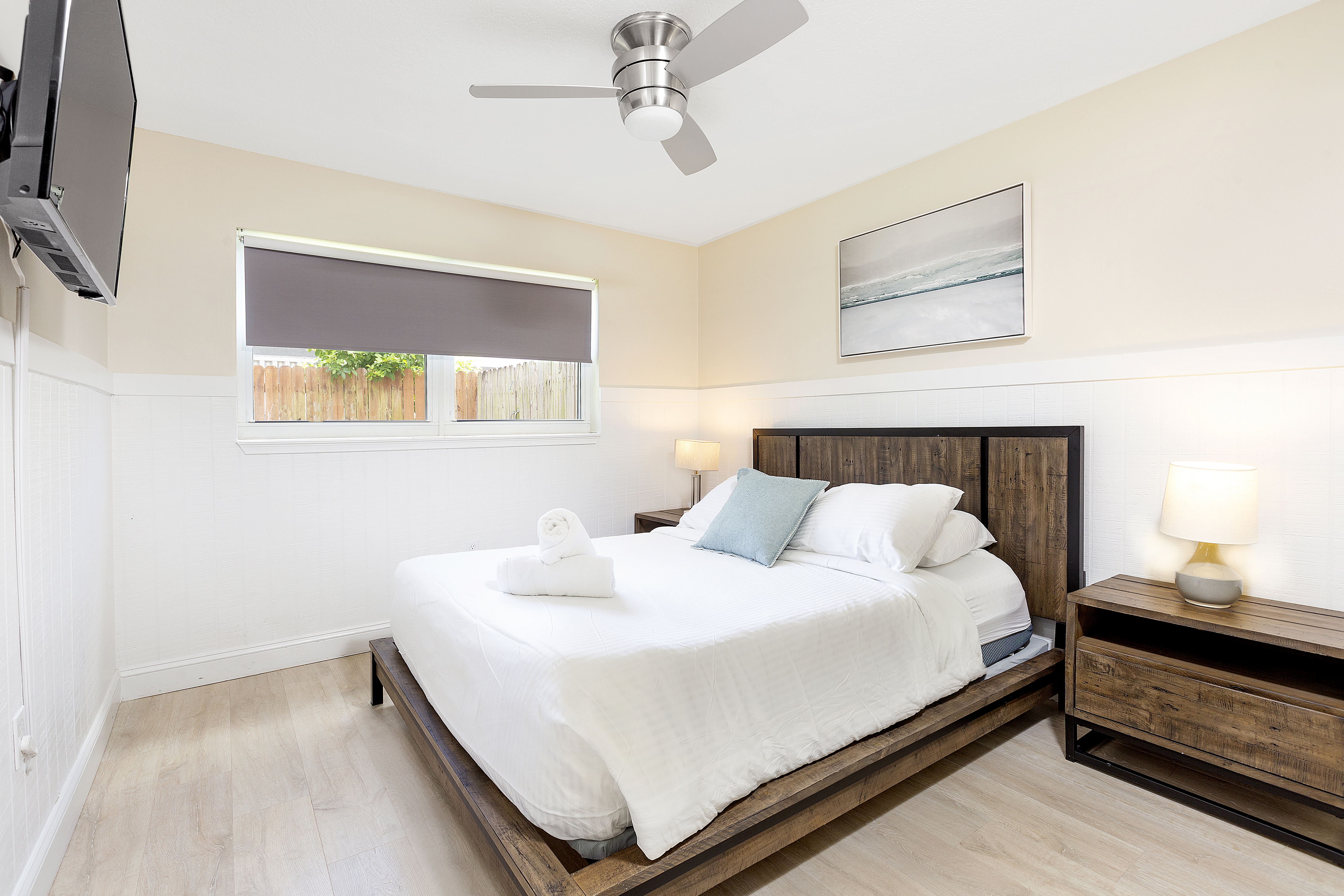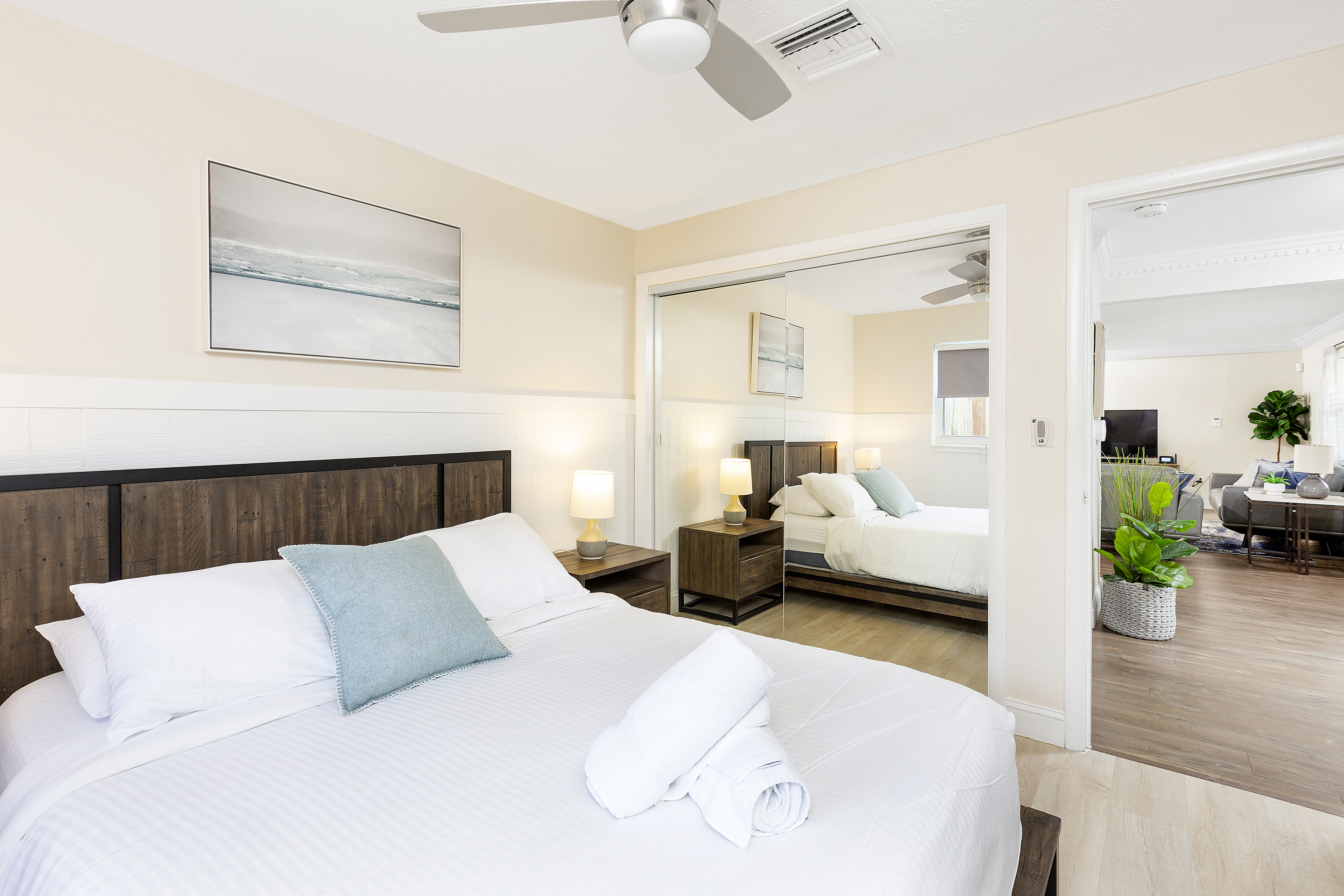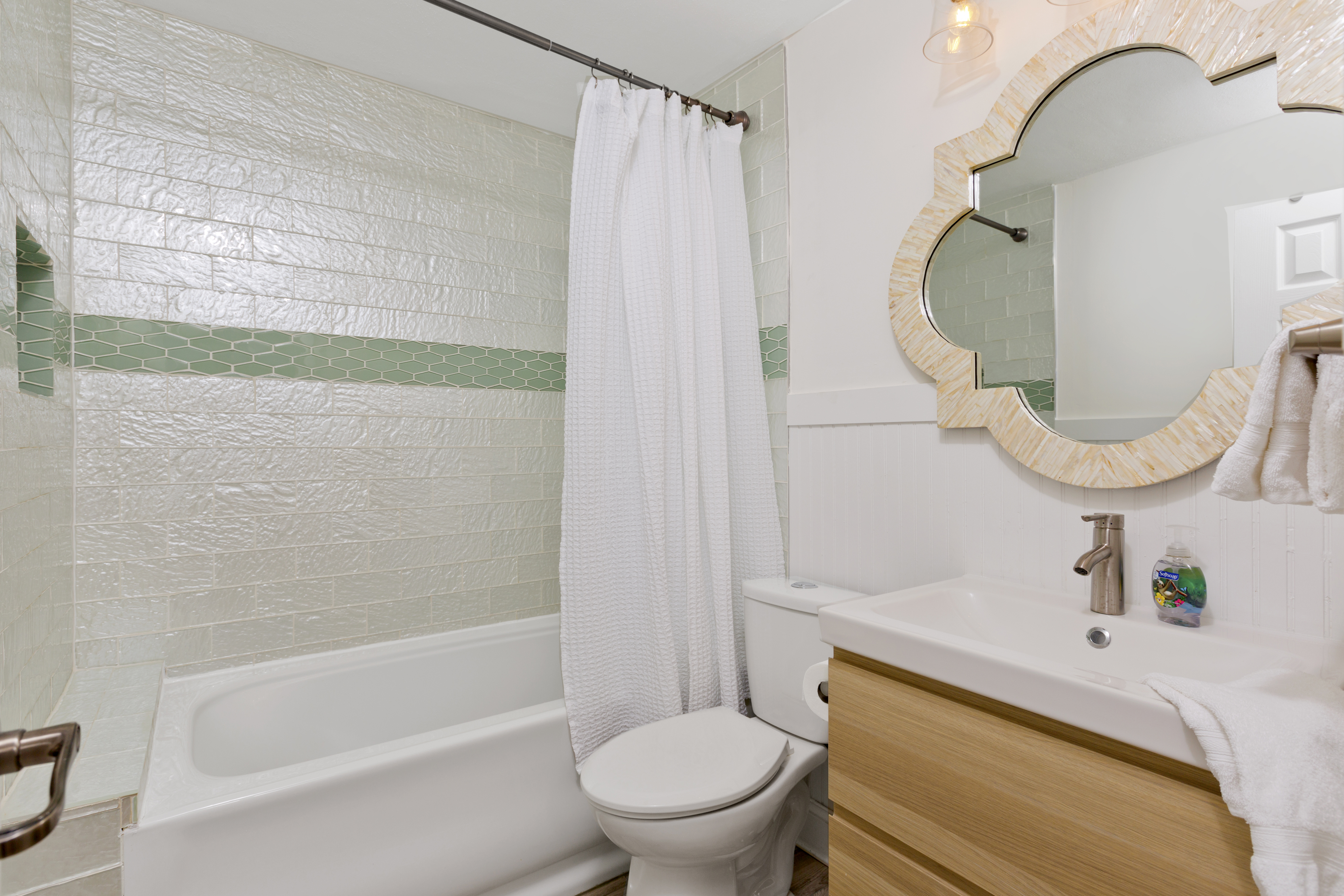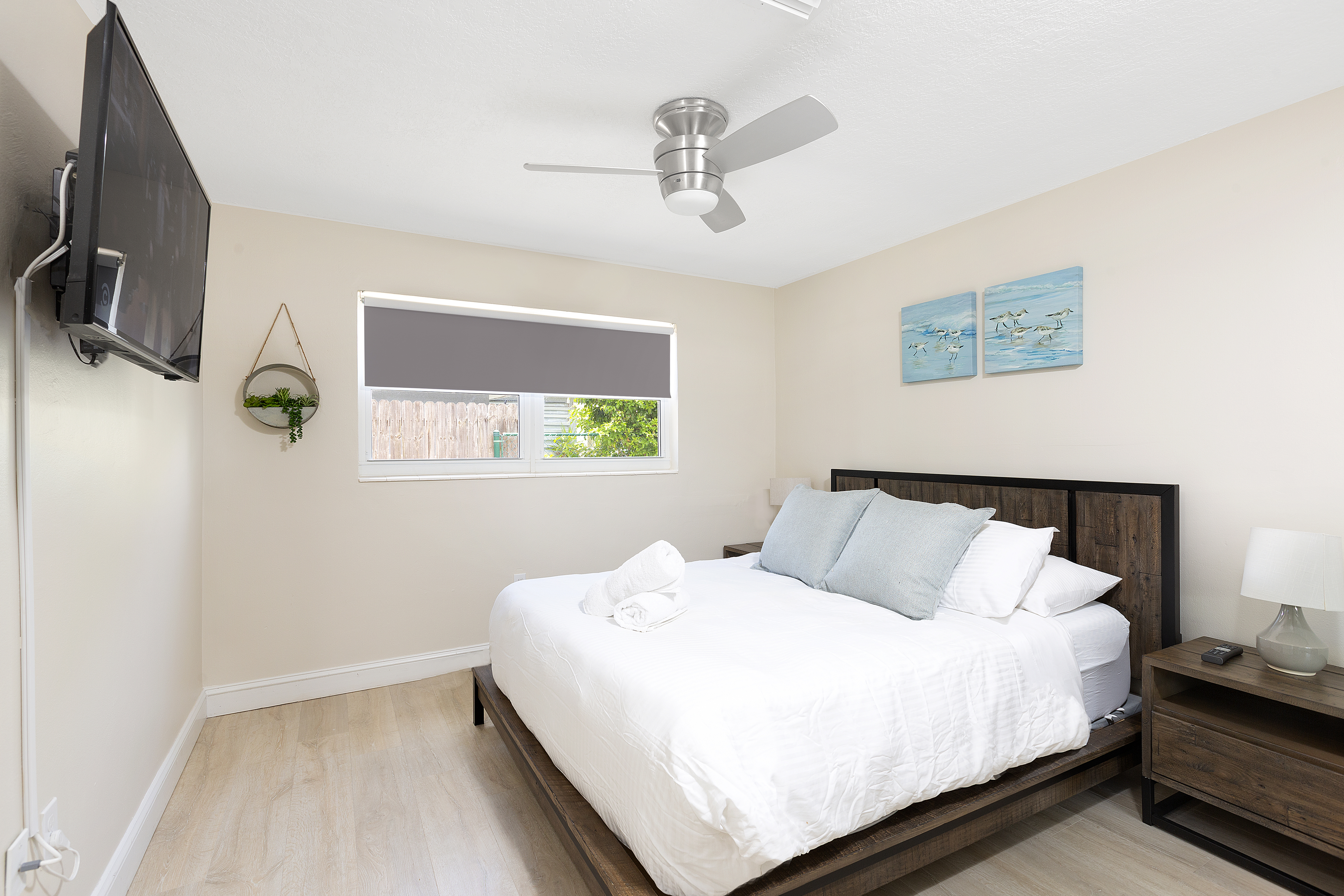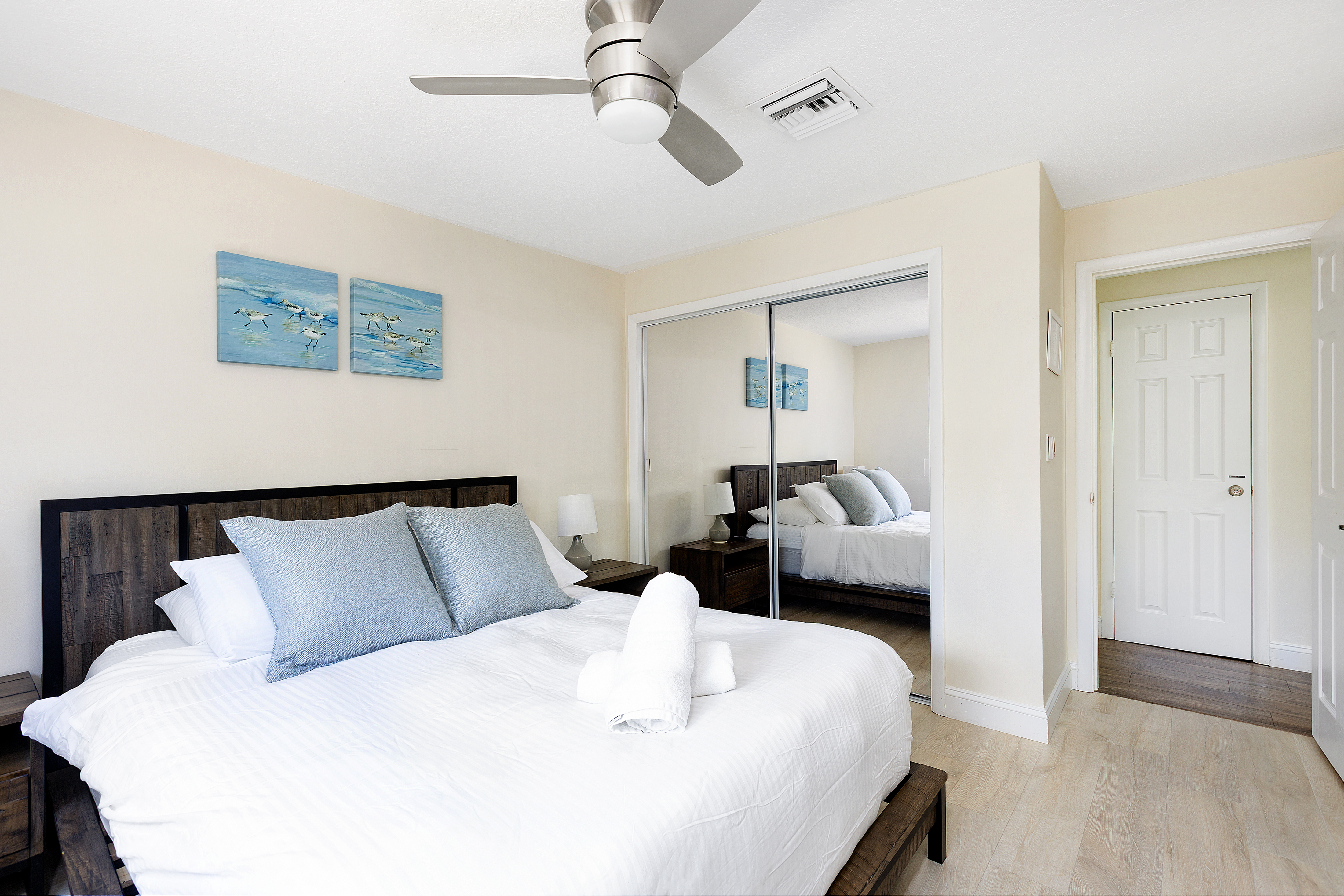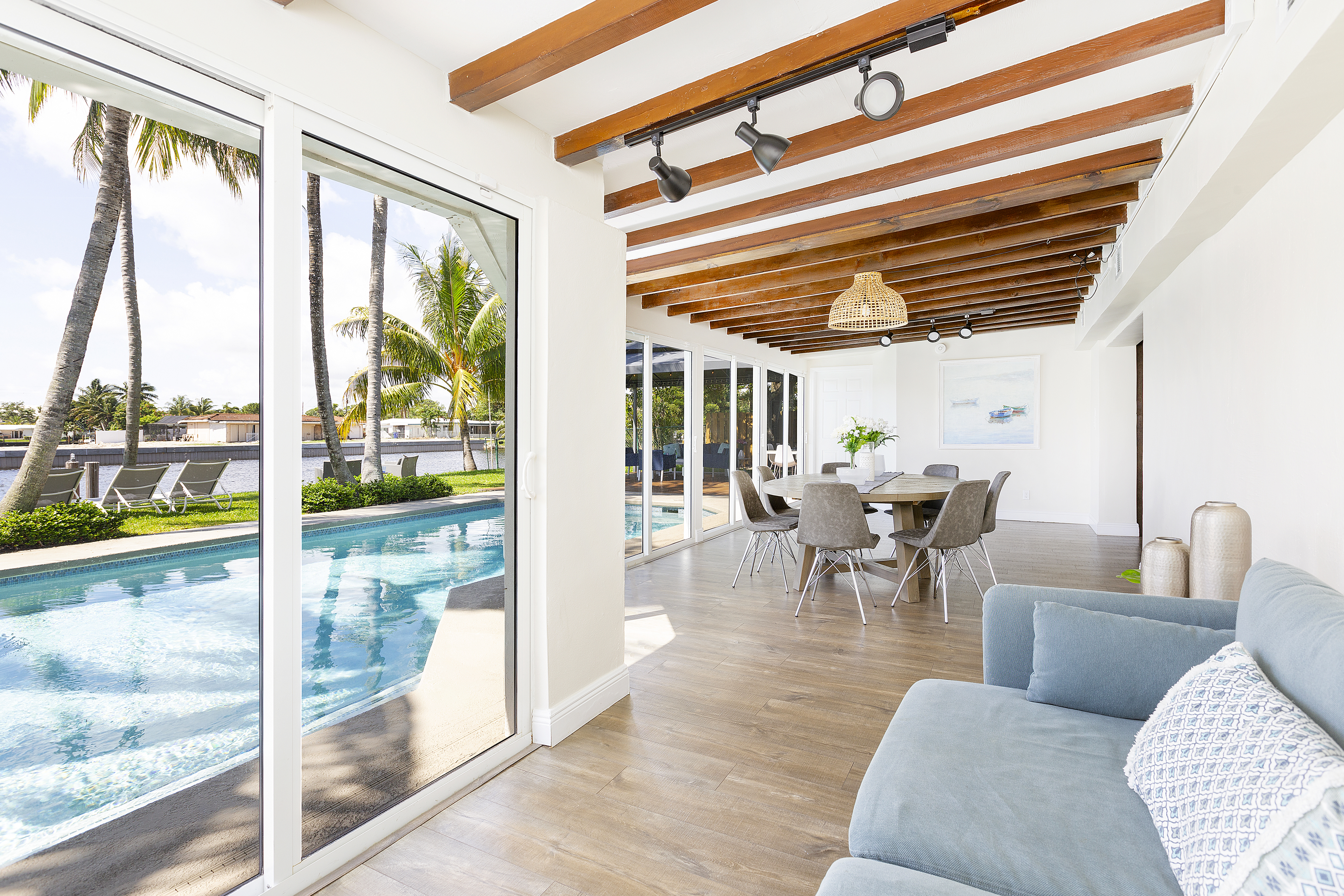 Pool View from Inside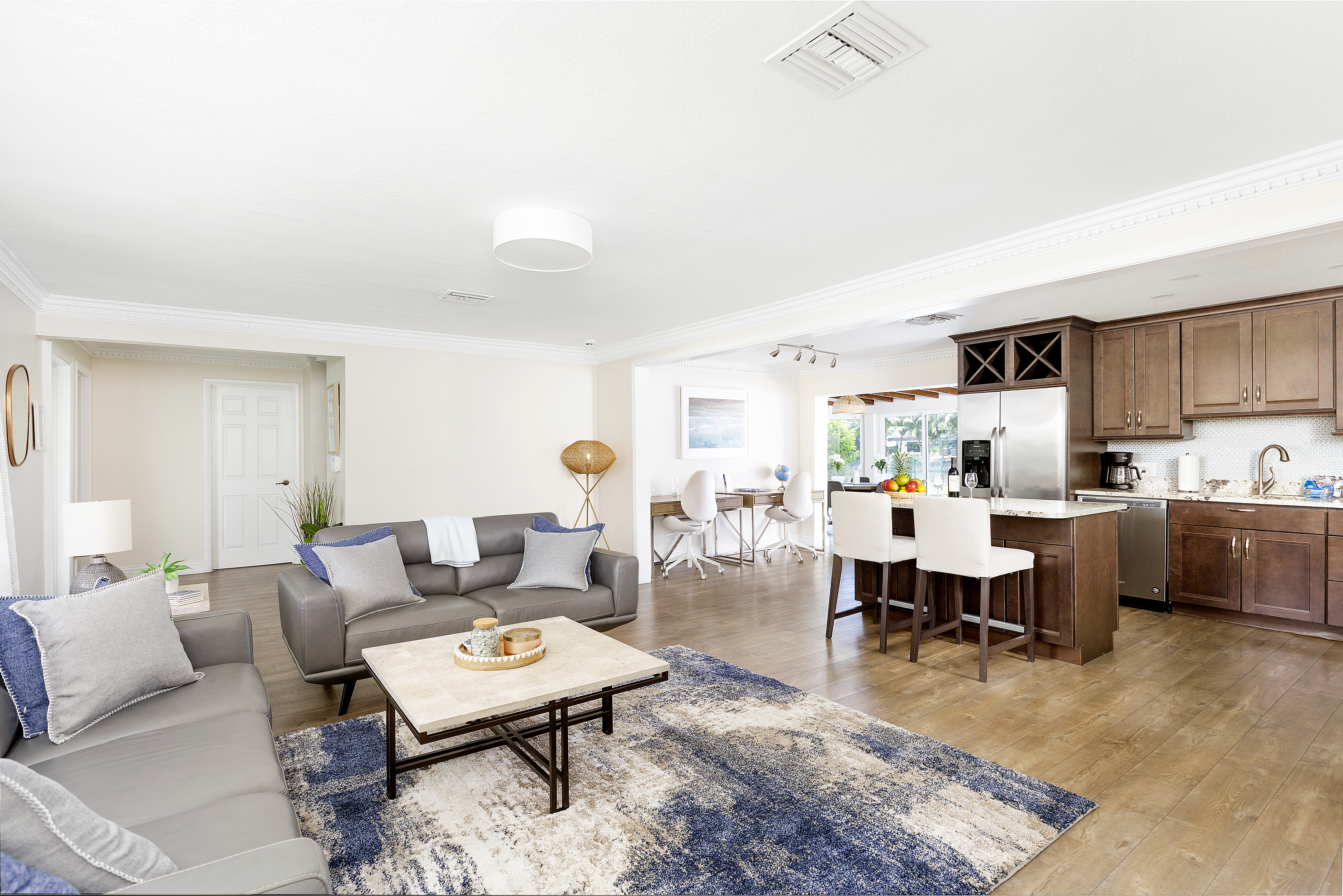 Living Room Layout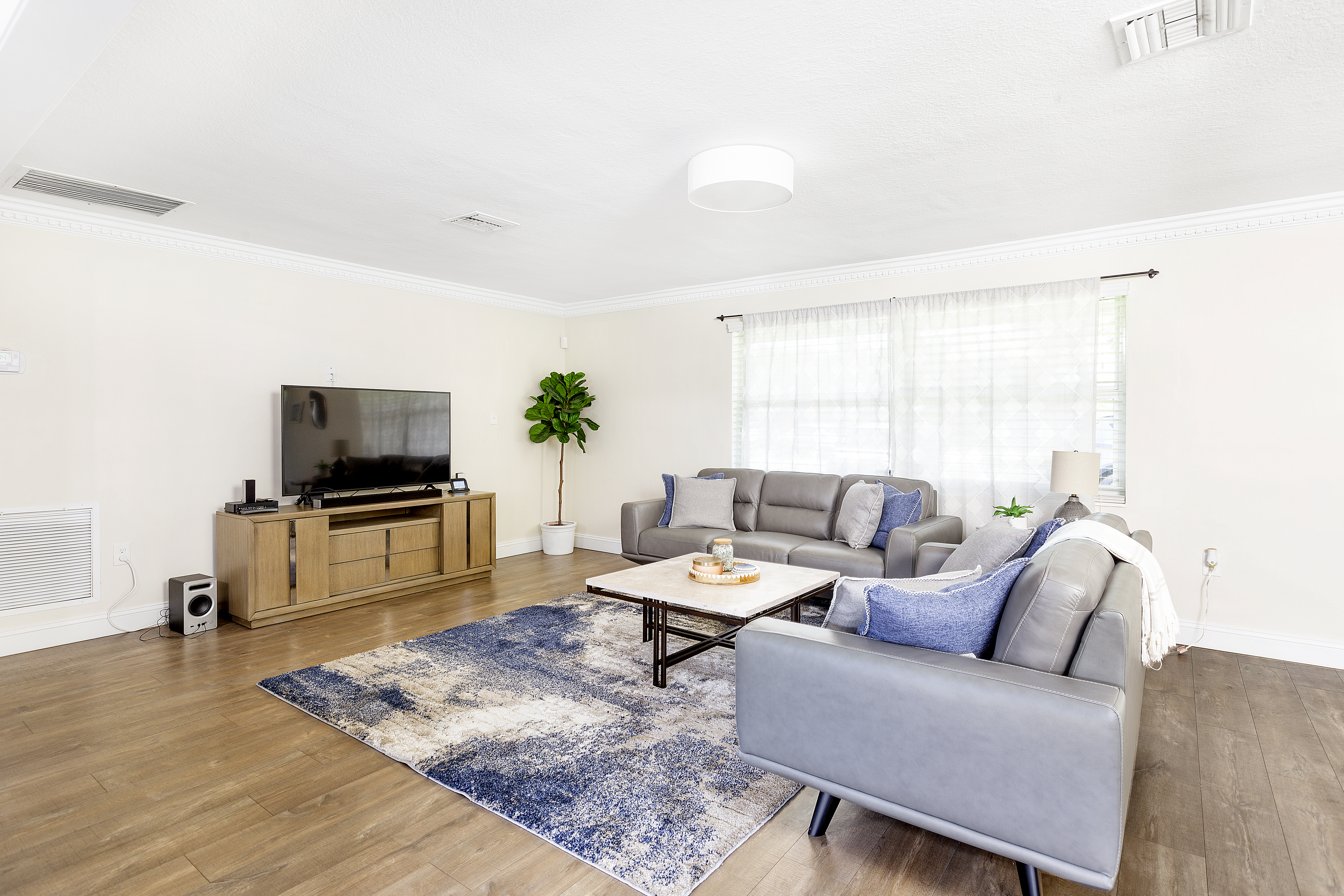 Living Room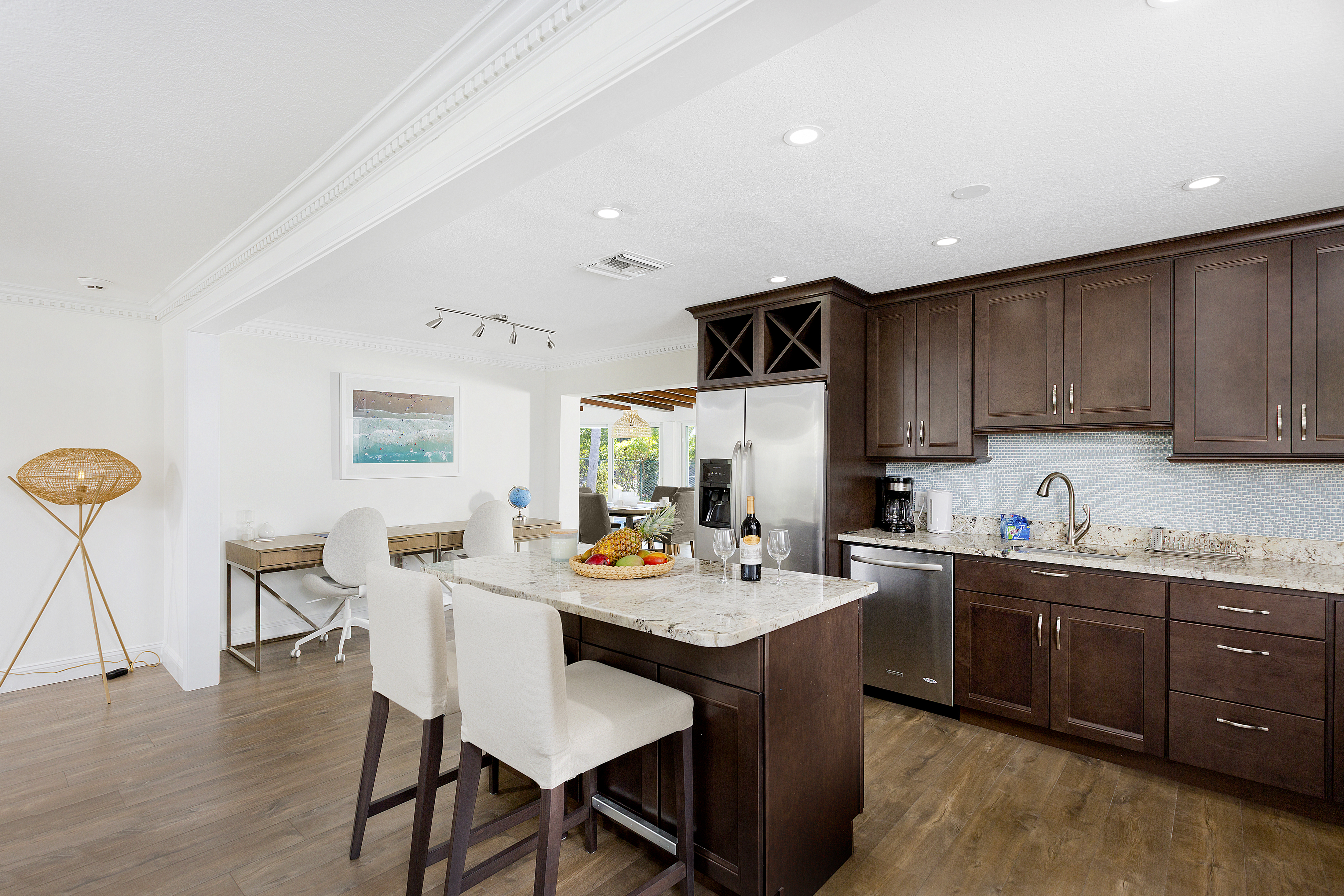 Kitchen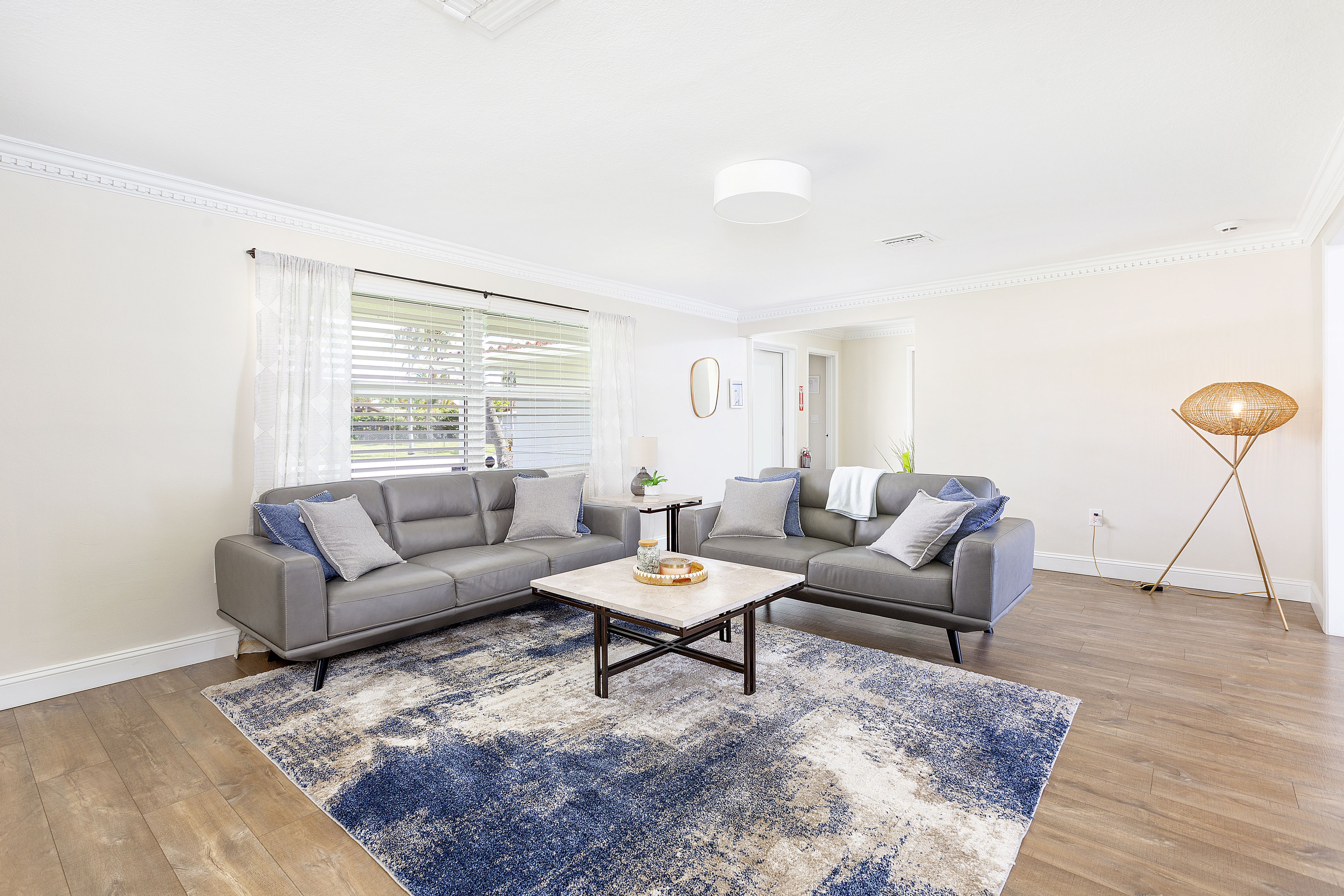 Living Room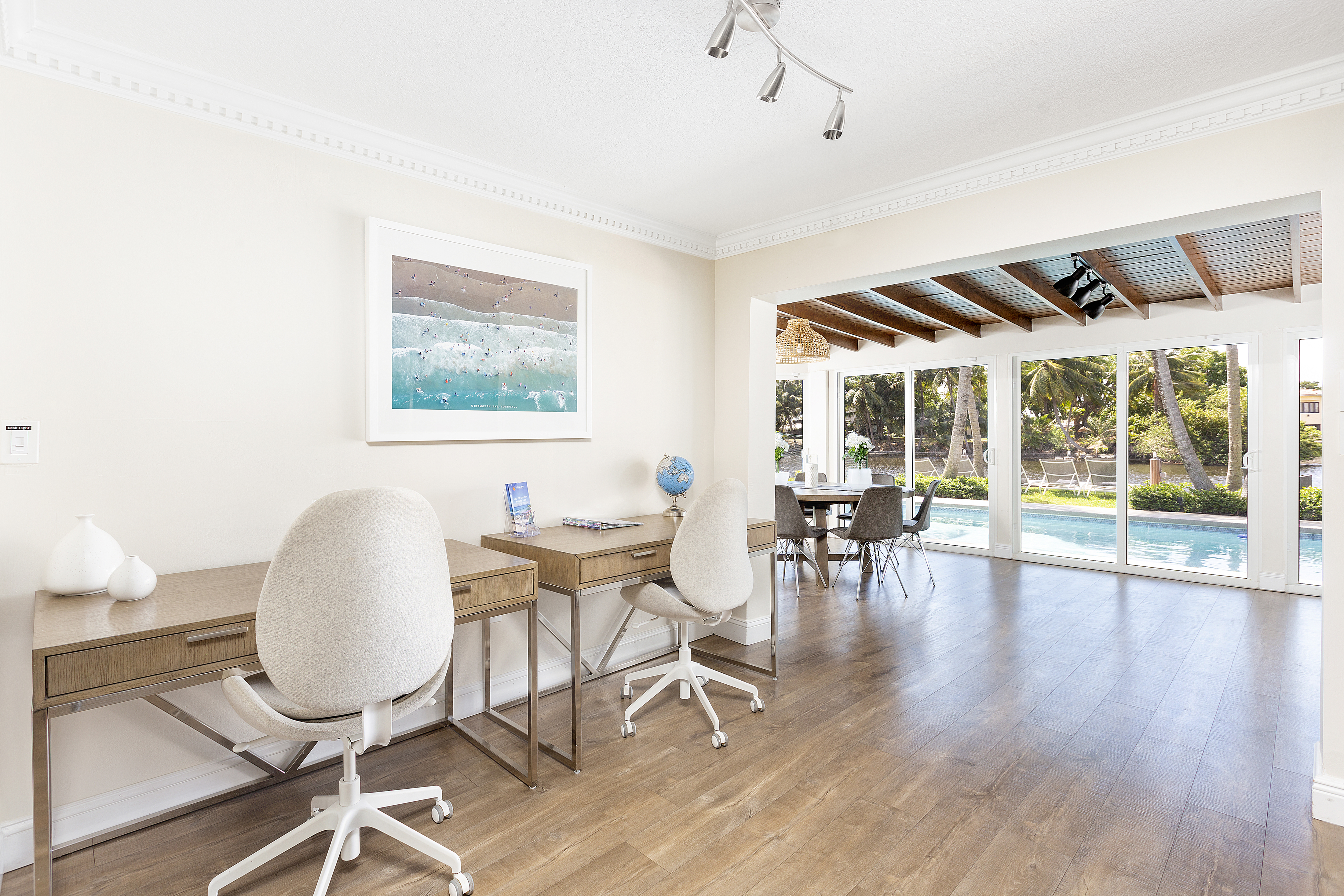 All Glass Florida Room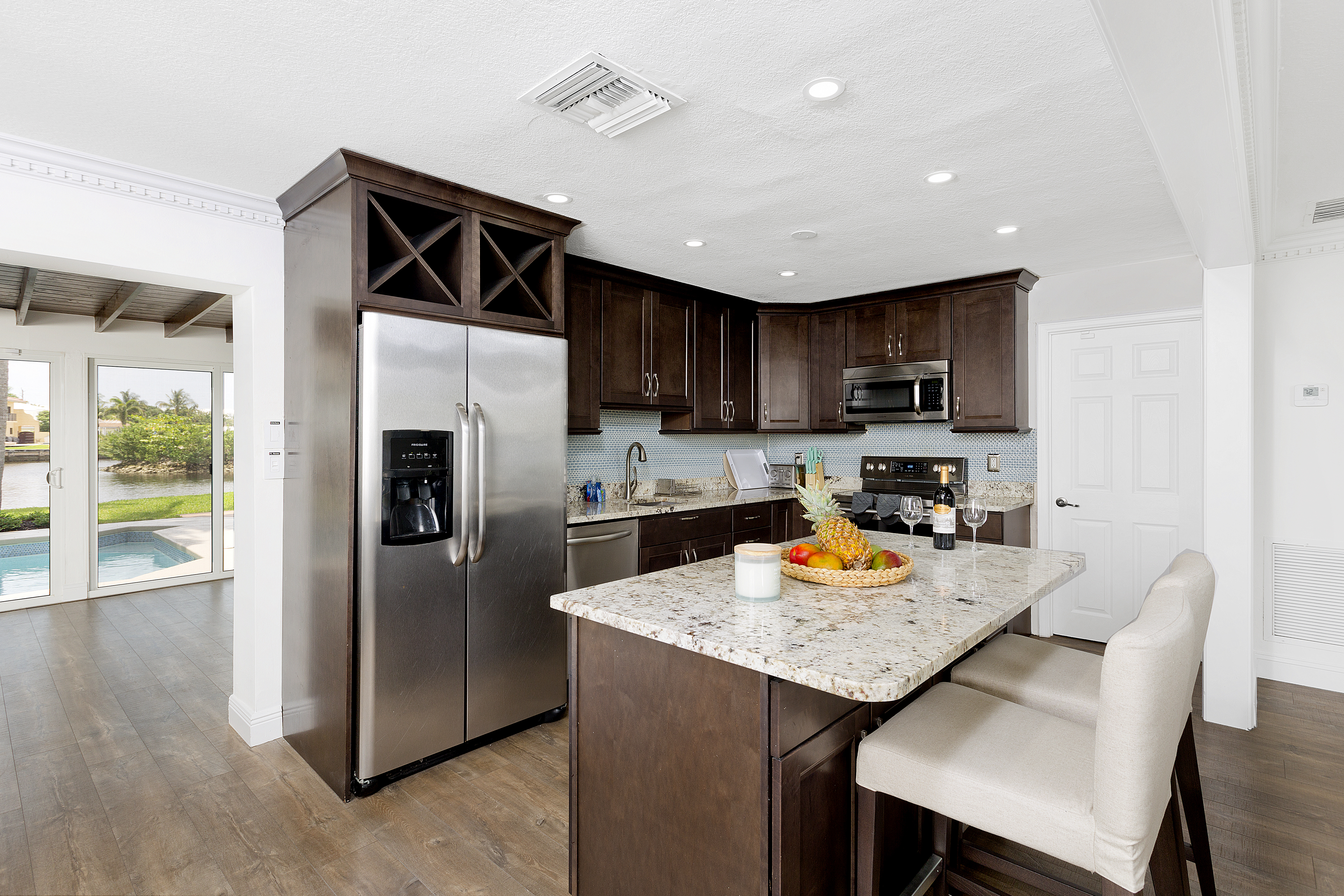 Kitchen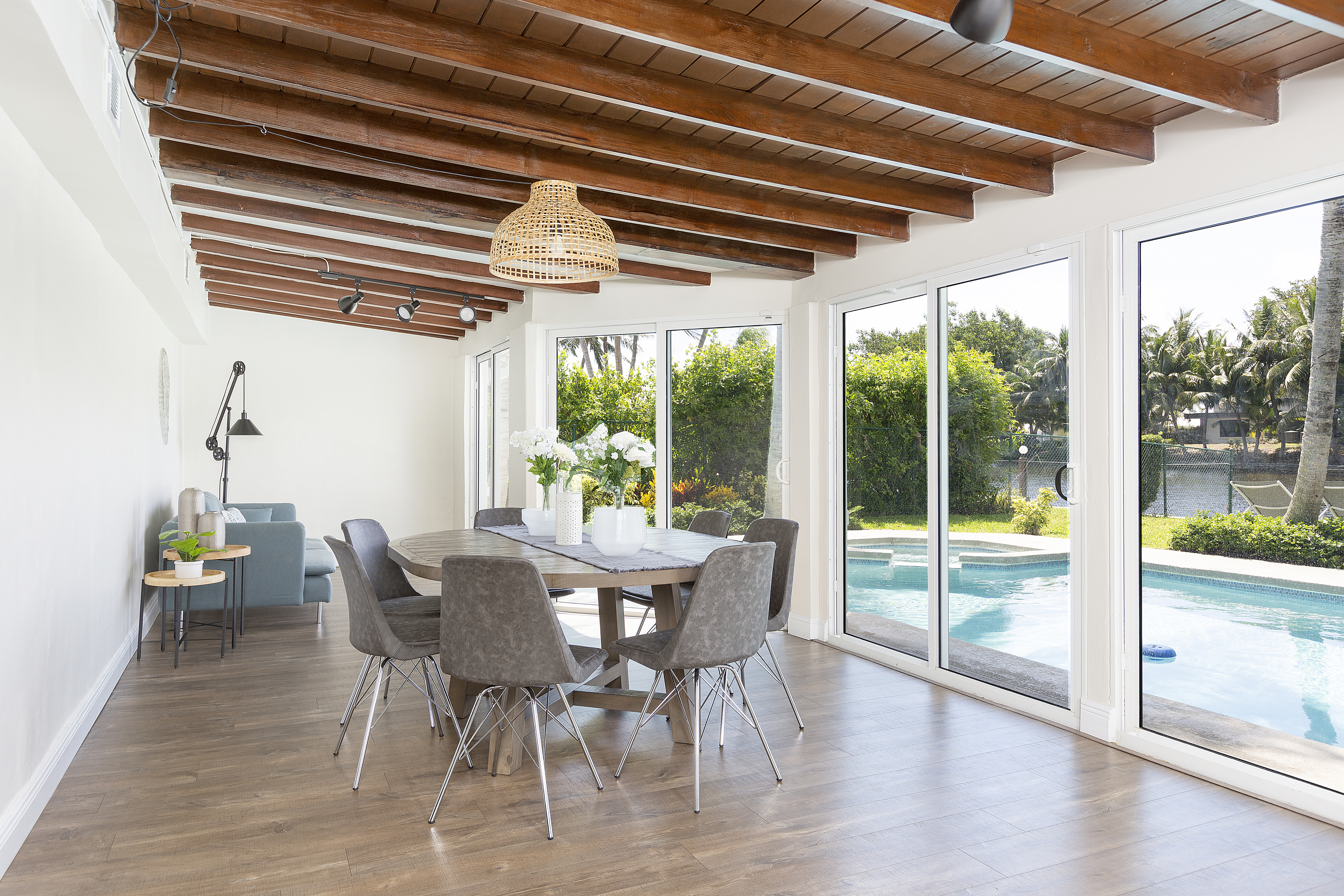 Glass Florida Room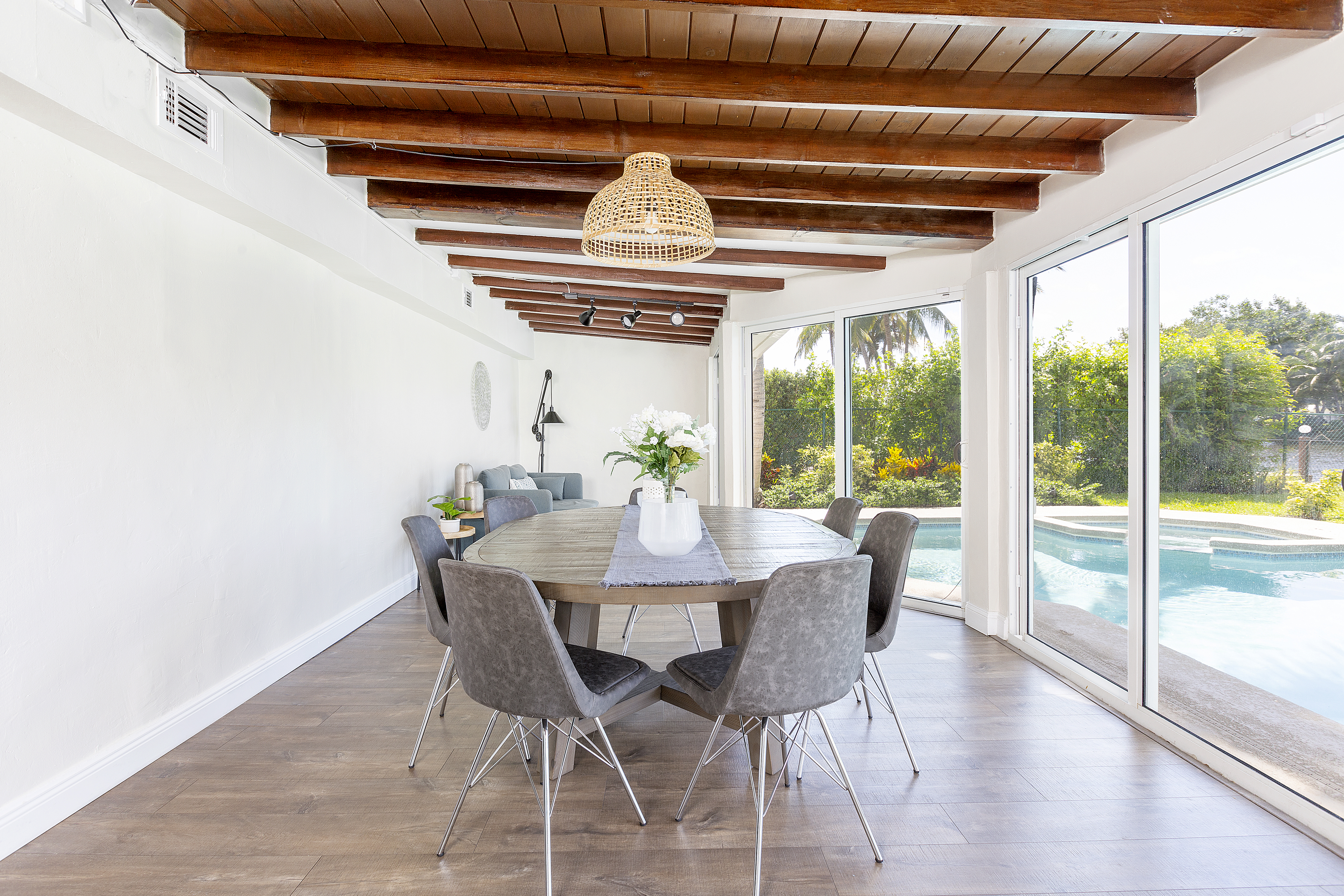 Glass Florida Room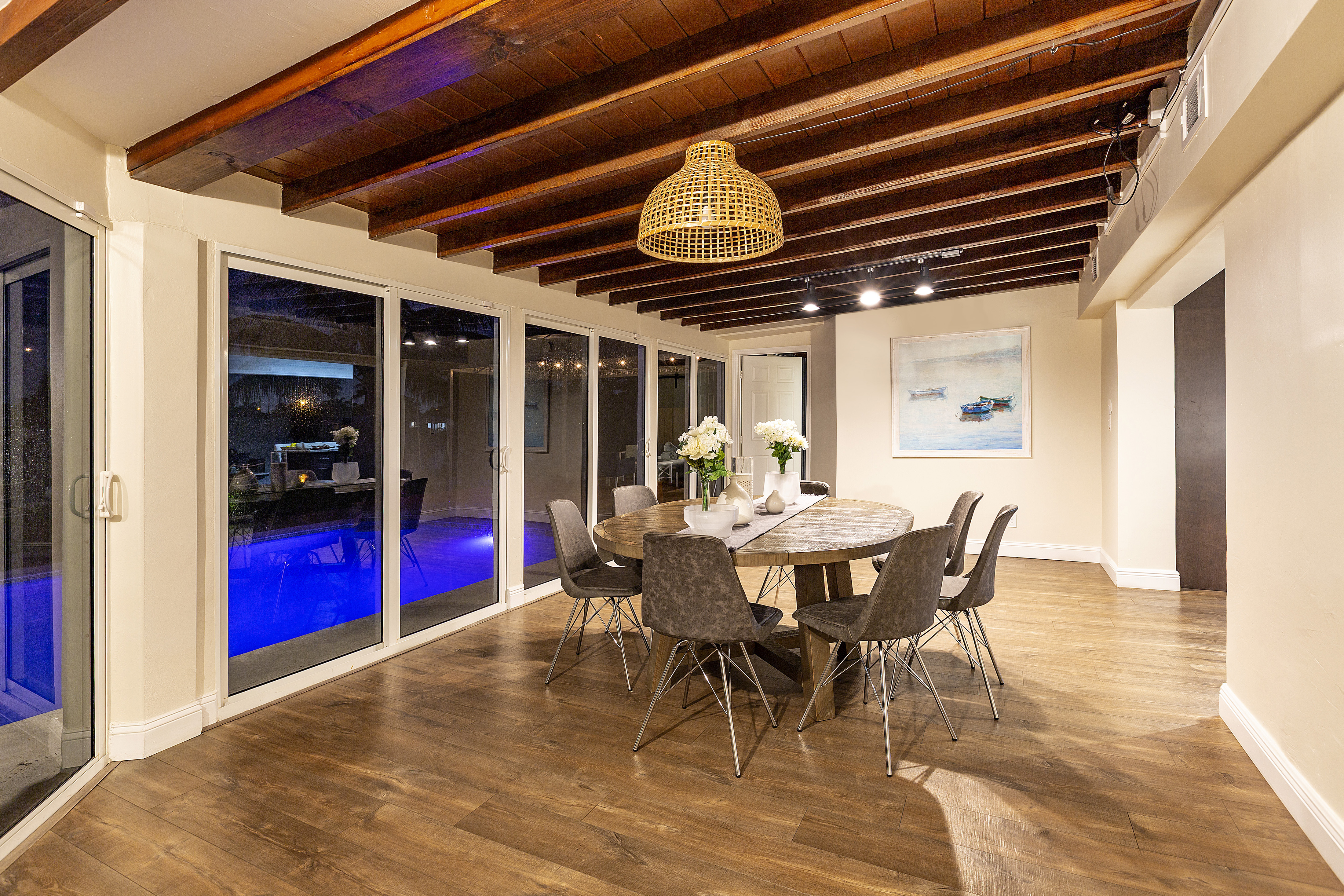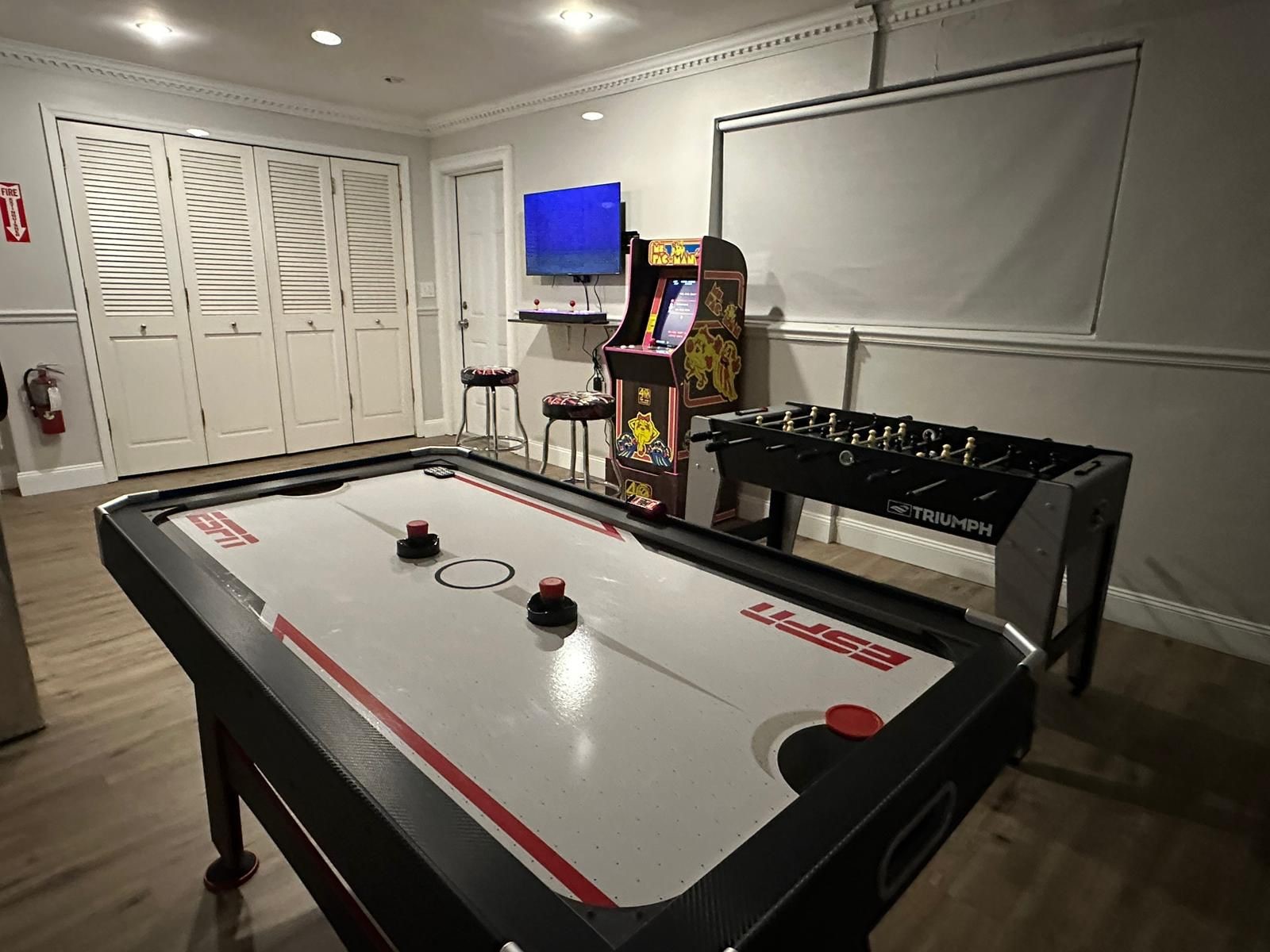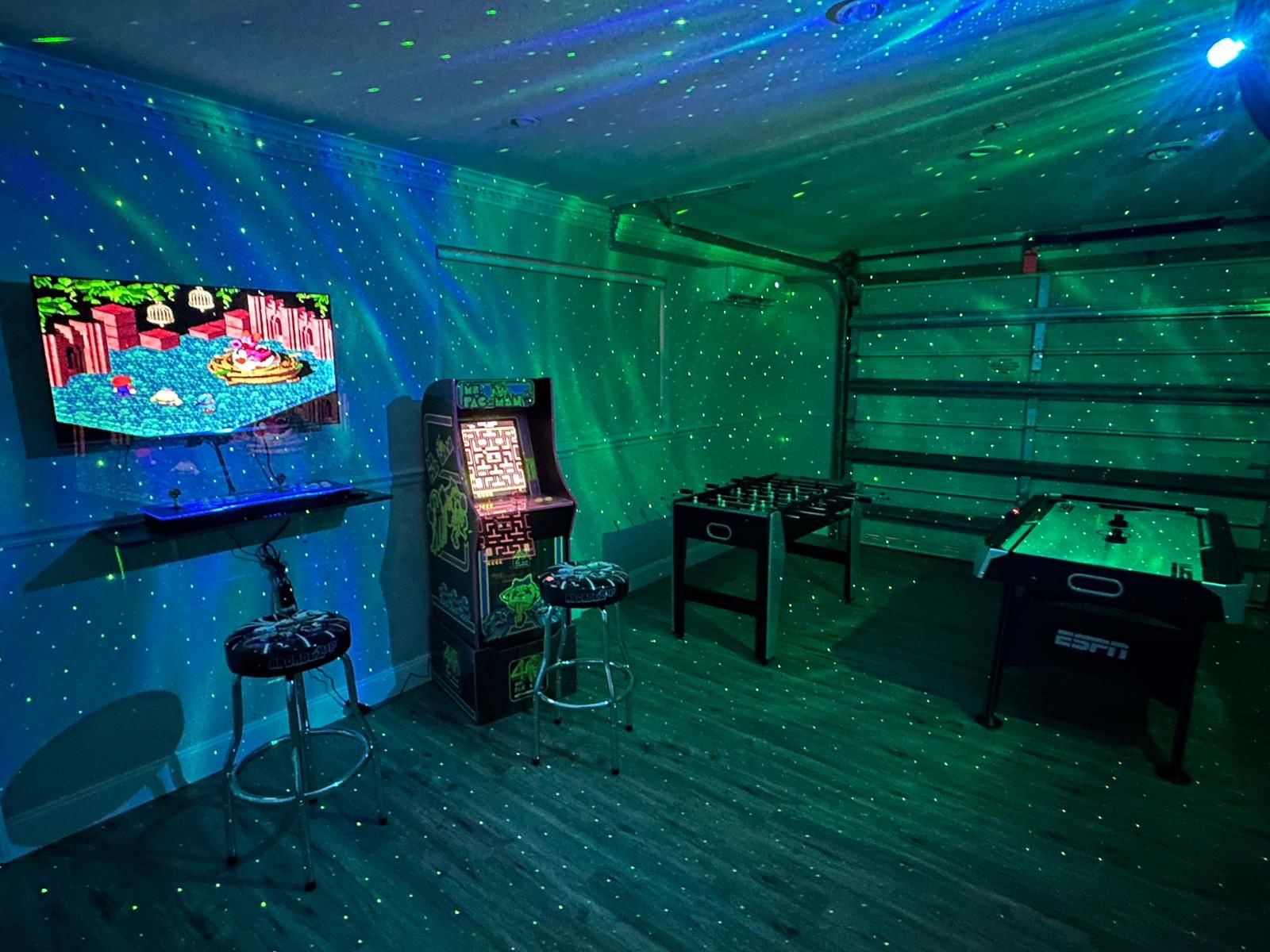 Dec 2023
S
M
T
W
T
F
S
1
2
3
4
5
6
7
8
9
10
11
12
13
14
15
16
17
18
19
20
21
22
23
24
25
26
27
28
29
30
31
Jan 2024
S
M
T
W
T
F
S
1
2
3
4
5
6
7
8
9
10
11
12
13
14
15
16
17
18
19
20
21
22
23
24
25
26
27
28
29
30
31
Feb 2024
S
M
T
W
T
F
S
1
2
3
4
5
6
7
8
9
10
11
12
13
14
15
16
17
18
19
20
21
22
23
24
25
26
27
28
29
Mar 2024
S
M
T
W
T
F
S
1
2
3
4
5
6
7
8
9
10
11
12
13
14
15
16
17
18
19
20
21
22
23
24
25
26
27
28
29
30
31
Apr 2024
S
M
T
W
T
F
S
1
2
3
4
5
6
7
8
9
10
11
12
13
14
15
16
17
18
19
20
21
22
23
24
25
26
27
28
29
30
May 2024
S
M
T
W
T
F
S
1
2
3
4
5
6
7
8
9
10
11
12
13
14
15
16
17
18
19
20
21
22
23
24
25
26
27
28
29
30
31
Jun 2024
S
M
T
W
T
F
S
1
2
3
4
5
6
7
8
9
10
11
12
13
14
15
16
17
18
19
20
21
22
23
24
25
26
27
28
29
30
Jul 2024
S
M
T
W
T
F
S
1
2
3
4
5
6
7
8
9
10
11
12
13
14
15
16
17
18
19
20
21
22
23
24
25
26
27
28
29
30
31
Aug 2024
S
M
T
W
T
F
S
1
2
3
4
5
6
7
8
9
10
11
12
13
14
15
16
17
18
19
20
21
22
23
24
25
26
27
28
29
30
31
Sep 2024
S
M
T
W
T
F
S
1
2
3
4
5
6
7
8
9
10
11
12
13
14
15
16
17
18
19
20
21
22
23
24
25
26
27
28
29
30
Oct 2024
S
M
T
W
T
F
S
1
2
3
4
5
6
7
8
9
10
11
12
13
14
15
16
17
18
19
20
21
22
23
24
25
26
27
28
29
30
31
Nov 2024
S
M
T
W
T
F
S
1
2
3
4
5
6
7
8
9
10
11
12
13
14
15
16
17
18
19
20
21
22
23
24
25
26
27
28
29
30
---
Pompano Hideaway was like an oasis to come home to after a long day out. This vacation rental was immaculately clean and well appointed. Booking was seamless with Runar who assisted with my requests. Upon arrival the exterior seemed plain but upon entry you knew you had arrived in a place of comfort. The pool and outdoor area in the back was perfectly delightful and relaxing. The children didn't want to leave the house for this reason. We had an afternoon tasting of ripe mangoes from the tree and all was well. I called the property manager Oliver who also helped with two requests and he responded immediately and was very helpful. It is always reassuring to know that at a moment's notice you can call someone who will respond when in a vacation rental. I have used this company before and highly recommend.
---
Great Vacation. Awesome House and amenities!!
---
The home was very clean, nicely decorated, and very up-to date. The pool and patio area was beautiful and perfect for a relaxing getaway.
---
Celebrated my Mother-In-Law's 60th/retirement. Was a great experience!
---
The house is as described, the neighborhood is extremely quite. It's not as 'entertained' as Fort Lauderdale, but if you have a car - you are fine We don't know much about the local restaurants - since we've cooked at home or went to Miami - but I would say it is not easy to find a good coffee shop close The house is welcoming and clean. It was rainy so we didn't use the pool - but it is a decent size pool and patio.
---
Lovely house!! Great quiet location and lots of amenities. Very stylish and lots of space
---
The house was exactly as described. Very clean, great location and lots of fun!
---
I rent this house for me and my family for the weekend just to getaway and not go anywhere else because of covid the house the pool and lake was beautiful
---
---
Vacation that exceeded expectations!
This home was beyond what the pictures can show. Quiet nights, beautiful views and friendly neighbors! Response time for one issue we had with AC was amazingly fast, someone was sent out in hours. I would 10/10 recommend this rental and plan on planning a vacation there in the future! Furniture had just been updated, everything was clean and any questions you may have are in a binder. 15-20minutes away from anything activity-wise and convenient stores down the street.
---
Beautiful vacation home. Spacious, relaxing, the mango tree was a bonus! Fresh mangos every day. We fished in the canal and we enjoyed swimming in the heated pool. Linen was provided as well a beach towels. Great vacation home!
---
We rented this house for approximately three weeks over the summer 2021. It was a wonderful and very spacious house with all the amenities. We enjoyed the pool and the backyard immensely! The recent addition of the cover over the patio was wonderful both during the day and at night with the wonderful lights above. The patio furniture has recently been replaced and was very clean. Inside the house we used all of the bedrooms and liked that there were two bedrooms that could be considered master suites with a bathroom connected. We did feel like one of the bedrooms did not cool as well as the rest of the house, but the ceiling fan made it very livable. The rest of the house was very well cooled and AC worked well, there are two units in the house.

The recent update to the living room furniture was really great and glad it was done as there was more seating space and it was much cleaner. Kitchenware has also been updated and there is more than plenty plates, utensils, cups, and cookware. I cooked meals multiple times at home during our stay.

Overall it was a wonderful stay and we really enjoyed the home. The most important consistent thing we have noted with all irenta properties we have rented so far, is that when you enter upon arrival the homes are extremely well maintained and clean!!! This is super important with rental properties and the amount of foot traffics they get!
---
Beautiful vacation house
We went down to Florida as a family of 5, two adults and 3 children under 12. Had an incredible time at our "Pompano Hideaway" which is the perfect name for this vacation home. Pulling up to the property, it is in a great neighborhood on a quiet street. Walking in, everything was immaculate. House was spotless, as well as all the furniture inside. The beds were beyond comfortable too which was a huge plus. There was plenty of space for us and this house could easily accommodate 8 people as described. The pool along with a lake view was absolutely beautiful and probably the highlight of our entire trip. Swimming to fishing, along with sunrises and sunsets what more could you ask for? Not to mention the outdoor seating area which made for some really great time spent outside too. All of the furniture and complaints from prior reviews seemed to truly have been remedied. Had no issues with the air condition and all the furniture was seemingly new. There were plenty of kitchen supplies which made making dinner at home easy for the nights we didn't feel like eating out. Property manager was super responsive and helpful for the couple things we did need / brought attention to. Overall, found this property money well spent for our trip and would highly recommend, so much so we would probably even return to this home specifically if ever in the area again! Only thing I wish there was a little more wiggle room with would be the opportunity for a early check in / late check out. Understandably though, this cant always be accommodated due to other bookings at the property and cleaning schedule so wouldn't knock off any points for that.
---
We had gone down as a group of 4 and enjoyed everything about the location. The house was clean, well taken care of, and the photos represented a true image of the location. Central to everything. Great place.
---
It was a wonderful stay with my family.
The house was find well equiped,a beatiful garden with a great suimming pool.
It was my third time renting with I.Renta and everything was perfect.
I am very greatful to you.
---
Nice family stay in Pompano Beach
Sean is a great host, first of all. The house is located in a decent neighborhood. The house was clean and modenized. My wife felt it could have been more seasonde, i.e. there were no family friendly things in or around the house for our granddaughters. Finally, the spa wasn't really a spa. It had only one jet and the temperature was the same as the pool. The poold was great. All in all, a decent family vacation.
---
We enjoyed a great week at the house. The property was as described on the Airbnb website. The outdoor space was amazing with plenty of comfortable seating and a large dining table. The inside was very comfortable with new modern furniture. The pool temperature was very comfortable. During our stay we went on a sailing charter, walked the Morikami Japanese gardens in Delray and went to the beach in Pampano.

---
Very relaxing week in a very comfortable setting. Pool side of the house was fabulous, as depicted by the photo. Amenities adequate - a few kitchen essentials missing but manageable. Clean property, quiet location.
---
We are satified and generaly happy with the house.Sean was very easy to contact and replied instantly.Great canal view cosy outdoor patio full window view.Nice area feels like arrival the house was clean.Perfect place to stay long term.Plenty of rooms for family lots of outdoor furniture.Overall we loved our stay.
---
Great stay. Clean and restful. Would love to go back. The only note would be to invest in better mattresses. They were very hard. Outside of that, it was great.
---
Everything was great. Can't say enough about this house. Location and layout were perfect for our family. We had two minor issues that were addressed immediately. Would definitely recommend!
---
I stayed here with my two adult children as our family vacation and to the explore the Ft. Lauderdale area as my son will be relocating there after college graduation next year. The house was beautiful, clean and comfortable. The pool and backyard views were relaxing and the location was perfect. Less than 30 mins to several beaches, convenient to restaurants and stores. With my son moving to the area I would not hesitate to stay at this rental again in the future!
---
2222 Kvadratfot
206 Kvadratmeter
4 Soverom
3 Bad
Sengeplasser til 8
---
Babykrybbe
Badkar med dusj
Kingsize seng
Queensize seng
Dusj
Toalett
Badekar
---
---
Bay/Sound
Lekeplasser
Restauranter
Synagoger
---
---
---
---
---
Bøker
Satelitt / kabel TV
TV
Cable Tv
---
A/C
Tørkertrommel
Hårføner
Oppvarming
Internett
Strykejern & Brett
Sengetøy
Stue
Parkering
Håndkler
Vaskemaskin
---
Kaffetrakter
Kjøkken-servise
Oppvaskmaskin
Kjøkken
Mikrobølgeovn
Stekovn
Kjøleskap
Komfyr
Brødrister
Komplett kjøkken
---
---
---
---
---
Oppvarmet Svømmebasseng
Privat Svømmebasseng
---
Golf
Snorkling
Svømming
Tennis
---
Barnevennlig
Ingen kjæledyr
---
Away From It All
Family
Romantic